Screen's chief film critic and reviews editor Fionnuala Halligan talks about the lack of screenings ahead of Cannes and what critics most want to see at the festival.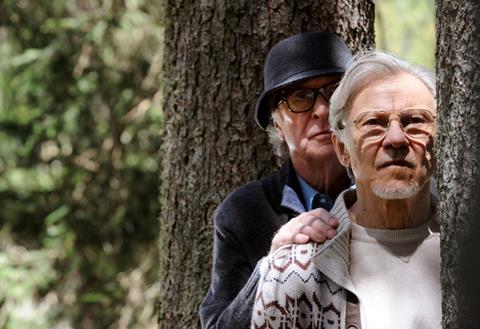 The word from Cannes Competition is that there is to be no word from Cannes Competition. No word-of-mouth, no buzz, no screenings for the international press in advance. Each 8.30am projection at the Palais des Festivals is to be an event.
Production companies are being encouraged to take advantage of the pent-up interest – to bask in the one day in the career of an art-house film where the world wants to know you, the critics are clamouring, where the auteurs are the superstars and Cannes is your Oscars.
Then it's straight back to being a tough foreign-language sales prospect and the scrabble to finance the next film – unless, of course, you win the Palme D'Or.
Your fate this year will rest in the hands of the Coen Brothers and their seven-man jury, heavily weighted towards the acting craft with five thespians on board: Rossy de Palma, Sophie Marceau, Sienna Miller, Jake Gyllenhall and actor-director Xavier Dolan.
Commercially, it's easy to see what the US buyers think will be palatable to their audiences in advance of the Palais Screenings – a strongly rumoured Fox Searchlight pickup for Paolo Sorrentino's Youth speaks volumes, and the Weinstein Company has been hooked up with Todd Haynes' Carol since Cannes 2013.
Denis Villeneuve's Sicario is with Liongate while interest is strong in Gus Van Sant's Sea of Trees, which has pre-sold widely. Elsewhere, though, silence shrouds the Competition, thus far.
The attempt to clamp down on previews has resulted in sales companies being tied up in knots. Opening film Standing Tall - out of Competition - has been screened to the French press, and opens in France on the first day of Cannes, but no international critics have been allowed to see Emmanuelle Bercot's delinquent drama.
Matteo Garrone's Tale of Tales opens in Italy on May 14, but, still, no advance screenings to overseas critics.
Some hush-hush screenings – mainly of films screening later in Competition - are beginning to slip out. The horse has truly bolted on Nanni Moretti's My Mother however, which opened in Italy in mid-April – reviews are out [read Screen's verdict here], and they're guarded.
And as per usual, some titles, such as Jacques Audiard's Dheepan (working title), aren't even finished at the time of writing this.
What do the critics most want to see?
Advance interest is high for Oscar-winning Paolo Sorrentino's Youth, which features Michael Caine as a semi-retired conductor on holiday in the Alps with his film director friend Harvey Keitel and daughter Rachel Weiz when he receives a call to perform one final concert for the Queen.
Sorrentino has been garlanded at Cannes over his six entries in 11 years (the Jury prize for Il Divo), but The Great Beauty was not recognised here.
Another splashy, critic-friendly entry is Carol, Todd Haynes' first film since 2007's I'm Not There (although he shot Mildred Pierce for HBO in 2011).
Set in 1952 New York, where a department store clerk played by Rooney Mara falls in love with the wealthier, married Carol (Cate Blanchett), this adaptation of Patricia Highsmith's novel The Price of Salt, once a mainstay of lesbian fiction, probably tops the critics' must-see list…
…along with Jacques Audiard's Dheepan. His previous features, A Prophet (winner of the Jury Prize) and Rust And Bone, have been loved by audiences and critics alike, yet the Palme d'Or has evaded this talented French director.
In Dheepan, which features three non-professional Sri Lankan lead actors, a Tamil Tiger flees his homeland with a makeshift 'family' – a woman and a little girl – in the hopes they will make his claim for asylum in France more credible. But life is also difficult in the slums of Paris.
Dheepan is co-written by Audiard and his regular collaborator Thomas Bidegain, whose directorial debut The Cowboys will screen down the Croisette in Director's Fortnight. Critics like the sound of that as well.
Critical catnip
Some director's names are Competition critical catnip: Matteo Garrone, Jia Zhangke, and Hirokazu Kore-eda, for example.
The edgy Garrone, Jury prize-winner for Gomorrah in 2008, has the English-language $14.5m fantasy-horror Tale of Tales, with Salma Hayek and Vincent Cassell headlining an Italy-shot feature based on three fairy tales from the 17th century collection of Giambattista Basile.
The politically provocative Jia Zhangke, in Competition for the fourth time, leaves China to set the final third of Mountains May Depart in Australia.
And the beloved Kore-eda (Like Father, Like Son) returns with Our Little Sister, another intimate Japanese story about three siblings who discover they have a younger half-sister while attending their father's funeral.
Allez la France!
Aside from Audiard, four compete from the host nation this year - allez la France! The names aren't quite so big as usual, with Arnaud Desplechin over in Director's Fortnight with My Golden Days.
But Valerie Donzelli has been bubbling under since Declaration of War as a name to watch, and Marguerite And Julien is a classy project, having first been developed for Truffaut and starring French cinema's current 'It Fille' Anais Demoustier. The film is about two 17th century French aristocratic siblings who were sentenced to death for adultery.
Maiwenn is a household name in France; Mon Roi stars Emmanuelle Bercot (director of Cannes' opening film Standing Tall) as a woman who looks back over her stormy relationship with the father of her child (Vincent Cassel).
Stephane Brize is an under-the-radar director; The Measure of a Man features Vincent Lindon as a security guard asked to snoop on his colleagues.
Guillame Nicloux has not, at least until The Kidnapping of Michel Houllebecq, been considered an art-house type. His Valley of Love is about a dead son who posthumously calls his parents Isabelle Huppert and Gerard Depardieu to Death Valley, California.
Big hitters
Some heavyweights return to Competition this year. Taiwan's Hou Hsiao Hsein has never been accused of taking things lightly, but that's all about to change with his wuxia genre film The Assassin, starring Shu Qi as a Tan Dynasty martial arts killer who will undoubtedly levitate in order to kill her beloved cousin Chang Chen.
Gus Van Sant is the Elephant in the line-up, having won in 2003 for that title. Van Sant, a Cannes habitué since he travelled to the Croisette with To Die For two decades ago, returns with Sea of Trees, featuring Matthew McConaughey as an American widower who travels to Japan's suicide forest where he meets Ken Watanabe.
….and upgrades
Cannes is also doling out some upgrades to much-fancied directors - Denis Villeneuve, for example, with Sicario offering a showcase role to Emily Blunt as an FBI agent who becomes in embroiled in a CIA mission to take down the boss of a Mexican drug cartel (Josh Brolin and Benicio del Toro co-star).
Also moving up is Joachim Trier, with Louder Than Bombs. Isabelle Huppert plays a war photographer who dies in a car crash; three years later her widower (Gabriel Byrne) and sons are mounting an exhibition of her work.
Yorgos Lanthimos competes with his second film in official selection, international co-production The Lobster, set in a future where single people are arrested and transferred to The Hotel. They then have 45 days to find a mate; Colin Farrell, Rachel Weisz, Ben Whishaw and Lea Seydoux star.
Where are the 'rosbifs'?
When the dust settles on this year's Cannes, questions will be asked about why British films don't seem to be to the French selectors' plats-du-jour. Financier participation aside, the UK's Macbeth is the only title to fly the flag for the nation, with an intense Michael Fassbender as the ambitious Scottish general and Marion Cotillard as his scheming wife. Snowtown's Justin Kurzel, moving up from Critic's Week, directs.
Michel Franco delivers a Cannes baby in Chronic, with the Mexican director having met his star, Tim Roth, on the Un Certain Regard Jury in 2012. Franco's English-language debut features Roth as David, a troubled nurse who helps the terminally ill and tries to reconnect with his own estranged family.
First among equals
And, finally, the first shall come last (in this piece, at least); first film, first festival, first Competition for Laszlo Nemes. Until last month his claim to fame was having worked as Bela Tarr's assistant. Now Nemes is heading up the red carpet with the first debut in Competition for four years, Son of Saul, tracking two days in the life of a Hungarian prisoner who is assigned to work in one of the crematoria at Auschwitz.
Whatever the critics may or may not want most to see, none of the above Competition titles in Cannes' 68th edition feel like a lesser prospect – or perhaps that's the Cannes 'no-pre-screenings' policy at work.
Screen International's unique Jury will be in operation throughout the festival, fielding scores from 10 international critics as the films are unveiled.
The Cannes Competition Blog will be up from the first day, May 13. Stay tuned.