The filmmakers describe the Gold Circle project as The Fault In Our Stars meets The Sixth Sense. Good Universe will commence international sales in Cannes.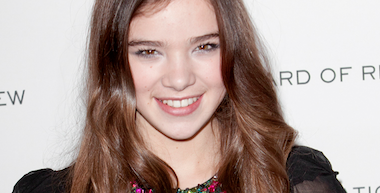 Scott Speer will direct from Jason Fuchs' adapted screenplay based on the YA novel by Daniel Waters.
Break My Heart 1,000 Times takes place in a world where ghost-like 'remnants' coexist with the living until one sends a threatening message to a young girl that will change her life forever.
Gold Circle's Paul Brooks will produce and Scott Niemeyer, Brad Kessell and Fuchs serve as executive producers
Steinfeld co-stars in Universal/Gold Circle's Pitch Perfect 2 that is due to open on May 15 and Barely Lethal, which A24 will release on May 29. She is preparing to shoot the lead role in Braveart Films' comedy Carrie Pilby.
Speer made his feature debut on Step Up Revolution. Fuchs' writing credits include Pan, which Warner Bros will release on October 9 and is directed by Joe Wright, and Ice Age: Continental Drift. He is writing Wonder Woman for Warner Bros.
Gold Circle is about to start production on My Big Fat Greek Wedding 2 in partnership with Universal, Playtone Productions and HBO Films.