The Indian company will show the titles, totalling 49, as part of an NFDC film festival.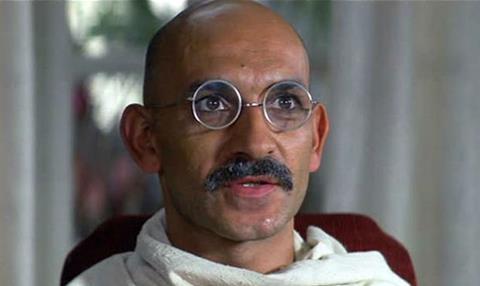 India's National Film Development Corp (NFDC) has licensed 49 of its library titles to Zee Classic, owned by leading Indian broadcaster Zee Entertainment.
The deal includes classics such as Gandhi [pictured], starring Ben Kingsley, Mira Nair's Salaam Bombay and Ketan Mehta's Mirch Masala, along with more recent titles such as Anup Singh's Qissa, which premiered at Toronto in 2013, and Gyan Correa's The Good Road, India's official submission to the 2014 Oscars.
Zee Classic is planning to broadcast the titles in an 'NFDC film festival' running for couple of months from July. NFDC has also licensed a package of titles to India's Epic channel and is closing deals with OTT platforms.
"Over the past ten years, the NFDC has introduced 18 first time feature filmmakers in 13 regional languages," said NFDC finance director Nazhat J. Shaikh. "We're delighted that we're now seeing wider distribution of both our classics and newer films."
Meanwhile, NFDC has also lined up a slate of theatrical releases over the next year, starting with Uday Bhandarkar's Marathi-language drama Vees Mhanje Vees on June 10 and also including Gurinder Singh's Cannes title The Fourth Direction, Ruchika Oberoi's Venice title Island City, Partho Sen-Gupta's Sunrise and M S Prakash Babu's Fig Fruits And The Wasps.