Virtual reality looks set to be the next big thing in film-making. The programming and panels at the Marché's annual NEXT event offered a glimpse of things to come.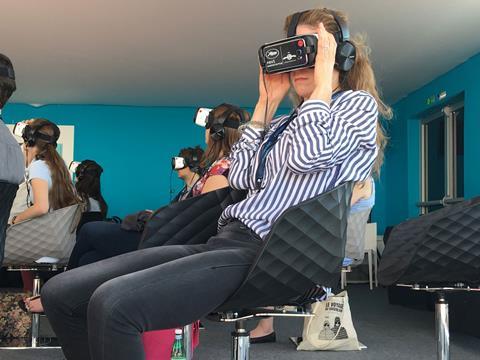 Virtual reality (VR) invaded the Marché du Film in its third instalment of NEXT. Focused on the future of cinema, the section has featured a jam-packed schedule of VR programming in an outdoor patio space located at the entrance of the International Village, as well as select locations around the Croisette.
NEXT has been brought to life thanks in part to consultant Michel Reilhac, former head of acquisitions at Arte, who now runs VR company Mélange. Reilhac's programming brought together a curated selection of panels, an outdoor cinema and installations allowing users to move beyond the traditional headsets and into a more interactive space.
"I am very pleased with the footfall at this year's event," Reilhac told Screen International. "It's too soon to give specific numbers, but I can say the VR cinema is full each day, and tickets are selling out for the game experiences. It shows the film industry is open to the idea of alternative storytelling. VR is not here to take the place of film; it is another interactive medium that allows film-makers to tell different kinds of stories."
Attracting audiences
A selection of panels kicked off the event (which runs until tomorrow) with topics ranging from monetisation and the future of VR to insights into the making of the films. The overall consensus was that it is too soon to place guidelines around monetisation, with the focus instead on enticing both film-makers and audiences. "At this stage, we need to focus on directing audiences to VR — to let them see for themselves just how imaginative and innovative immersive storytelling can be," said Reilhac.
In the 'VR and Cinemas: opportunities for monetisation' panel, moderated by Screen International's US editor Jeremy Kay, Jip Samhoud of The VR Cinema stated that audience engagement would ultimately drive monetisation. "We don't want to devalue content. It's simple — the more interesting content that is produced, the more viewers will want to pay," said Samhoud, who currently charges a typical cinema ticket fee for his VR Cinemas in Berlin and Amsterdam.
Oculus Story Studios presented its 20-minute film Allumette in a panel, revealing how it shot natively in VR using a bespoke VR creation tool. "This allows us to use pre-visualisation, storyboard and layout techniques," said Eugene Chung, CEO of Penrose Studios and Oculus's head of film and media. "Different from many other VR films, we work entirely in CG so we avoid the limitations based in 360-degree film-making. And we're able to better communicate the emotions of the characters."
Other film-makers spoke out about the challenges of stitching and 360-degree filming, concluding that the rapid progression of the field meant exploration was key. "Don't be afraid — try anything," said Tanna Frederick, co-director with Randal Kleiser (Grease) on VR series Defrost.
Attendees could be seen wearing an array of headsets that transported them into unknown spaces. VRWERX demoed its franchise game Paranormal Activity, an interactive experience in which users navigate their way around a darkened house. "There is not a better genre than horror for VR. People want to escape, and to be scared. And this is making people jump," said VRWERX's co-managing partner Alex Barder.
Previously, Barder was CEO of Strategic Film Partners, where he oversaw global film distribution and finance for studio films. "We know all about film distribution and sales. We're not trying to take away work from the film industry. This is a brand-new platform. And it's exciting to see so many people interested here in Cannes." The full version of Paranormal Activity has up to six hours of gameplay, and will be available this summer on HTC Vive, Oculus Rift and Sony PlayStation.
As part of the Swiss Digital showcase, creators Max Rheiner and Michel Zei brought their Sundance hit Birdly to NEXT, allowing participants to fly through the skies via a full-body contraption. Also in the Swiss showcase, Real Virtuality was presented with a larger set-up where users could interact with physical objects and meet other people via a motion-capture system.
Inside the Majestic Barriere hotel, Starbreeze previewed its zombie-fighting game The Walking Dead. Based on the television series, users sit in a wheelchair and are given a hand-held gun to shoot zombies. Further down the Croisette, Eric Darnell presented Invasion!, in which participants must fend off aliens. Darnell previously co-directed Antz and the Madagascar franchise. Ethan Hawke provides the voiceover.
Shared experience
Countries including Denmark, France and Switzerland presented VR films in the outdoor screening space. Users watched in tandem via headsets to create a shared cinematic experience. After the screenings, panels were held with the films' directors. "We want to create a space where film professionals can both experience and discuss these new experiences. While VR is not officially part of the competition line-up yet, we hope in the future it will have its own section," said Reilhac.
He continued by revealing a feature-length VR film was in the works for an end-of-2016 release. "Just watch what happens — Samsung Gear, HTC Vive, Oculus Rift and Sony PlayStation will all have their headsets available to consumers and a feature-length film is due for release. VR is going to get big."