Period romance stars Kristen Stewart and Jesse Eisenberg.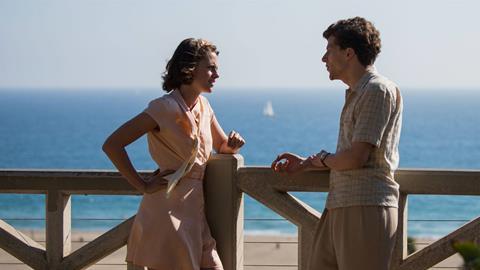 Woody Allen's new film, Café Society starring Kristen Stewart and Jesse Eisenberg, is to open the 69th Cannes Film Festival on May 11.
Screening Out of Competition title, it marks a record-breaking coup for the New York director who has already opened Cannes twice, in 2002 with Hollywood Ending and in 2011 with Midnight in Paris.
Scroll down for full list of Woody Allen titles at Cannes over the years
The film tells the story of a young man (Eisenberg) who arrives in Hollywood during the 1930s hoping to work in the film industry, falls in love, and finds himself swept up in the vibrant café society that defined the spirit of the age. The cast also includes Blake Lively, Parker Posey and Steve Carell.
It marks the third time Eisenberg and Stewart have starred opposite each other after Adventureland (2009) and American Ultra (2015).
Twilight star Stewart previously walked the red carpet at Cannes in 2012 for On the Road by Walter Salles and then in 2014 for Olivier Assayas's Clouds of Sils Maria, for which she became the first US actress to win a César, France's equivalent of the Oscar.
Jesse Eisenberg starred in Louder than Bombs by Joachim Trier, which played In Competition last year, while Carell walked the red carpet for Foxcatcher in 2014.
Woody Allen joined forces with Vittorio Storaro for the film. The director of photography was a member of the Feature Film Jury in 1991 and is a three-time Oscar winner for Francis Ford Coppola's Apocalypse Now (1980), Warren Beatty's Reds (1982), and Bernardo Bertolucci's The Last Emperor (1988).
Allen at Cannes
From Manhattan in 1979 to Irrational Man in 2015, this will be the latest in a string of films selected Out of Competition at Cannes for the US director, screenwriter, actor, writer and comedian (see list below).
Café Society marks Allen's 46th film as a director and was produced by Letty Aronson (Gravier Productions), Stephen Tenenbaum and Edward Walson, as a co-production with Helen Robin (Perdido Productions). Executive producers are Ronald L. Chez, Adam B. Stern and Marc I. Stern.
The film is sold by FilmNation Entertainment and will be distributed in France by Mars Films, with its released scheduled to coincide with the opening of Cannes on May 11. Amazon Studios acquired North American rights to the film in February.
The opening ceremony, hosted by Laurent Lafitte, will be broadcast by Canal+.
The 69th Cannes Film Festival will run May 11-22 and the Competition jury will be presided over by director George Miller, whose Oscar-winning Mad Max: Fury Road received its world premiere Out of Competition at the festival last year.
The Official Selection titles are due to be announced on April 14. Click here for Screen's predictions.
Woody Allen at Cannes
2016 - Café Society
2015 - Irrational Man
2012 - Woody Allen: A Documentary (himself)
2011 - Midnight In Paris
2010 - You Will Meet A Tall Dark Stranger
2008 - Vicky Cristina Barcelona
2005 - Match Point
2002 - Hollywood Ending
1989 - New York Stories
1987 - Radio Days
1986 - Hannah And Her Sisters
1985 - The Purple Rose Of Cairo
1984 - Broadway Danny Rose
1982 - Bonjour Monsieur Lewis (himself)
1979 - Manhattan
Awards
2002 - Honorary Palme d'Or
1985 - FIPRESCI International Critics Prize for The Purple Rose Of Cairo