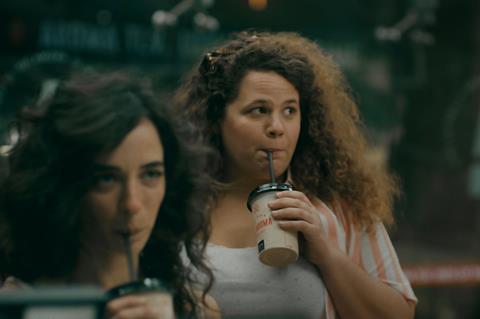 Israeli filmmaker Talya Lavie's comedy-drama Sad City Girls and Finnish director Teemu Nikki dark comedy Mister8 are among 10 new international series selected for the competition section at French TV festival Canneseries, running October 8-13.
Now in its fourth edition, Canneseries was originally conceived to coincide with the MIP-TV content market in Cannes in the spring. However, the Covid-19 pandemic has pushed it into the autumn for two years to run alongside MIPCOM, which returns as a physical event this year from October 11-14 for the first since 2019.
Sad City Girls marks Lavie's first fully-fledged TV show after feature films Zero Motivation and Honeymood.
Rising Israeli actresses Maya Landsmann and Einat Holland, who also recently appeared in satirical Israeli army conscript drama Dismissed, co-star as two close friends who stick together through the highs and lows of life.
Lavie co-wrote the script with actress and writer Shir Reuven. Yoav Gross Production was the lead producer; sales have yet to be set.
Mister8 is the latest collaboration from Nikki and producer-writer Jani Pösö under the banner of their Helsinki-based company It's Alive Films.
The high concept dark comedy stars Krista Kosonen as a high-flying chief executive with seven husbands – one for each day of the week. When she falls in love with an eighth man this poses a problem as there are not enough days in the week.
Further competition titles include Cold War thriller series Totems, which is among a raft of big-budget original European productions greenlit by Amazon Prime Video over the past two years as it ratchets up its investment in European content.
It stars Niels Schneider, Vera Kolesnikova, José Garcia, Lambert Wilson and Ana Girardot and is produced by Isabelle Degeorges and Arnaud de Crémiers, Olivier Dujols and Jérôme Salle for Gaumont.
In a sign of how the pandemic is continuing to impact attendance by US and Asian professionals at European festivals, there are few US or Asian shows in the selection. The US global streamers are also largely absent, with either US or European-produced shows.
As previously announced, the festival will open with the second series of French rap world drama All The Way Up, created and directed by French actor and director Franck Gastambide, who will also act as the master of ceremonies on the opening night.
Italian drama Gomorra – Final Season – the last season of the drama inspired by Roberto Saviano's best-seller about the Naples crime scene – will close the festival.
The festival will also showcase another two big drama productions out of Competition: Around The World In 80 Days, starring David Tennant as the 19th-century adventurer Phileas Fogg, and Sisi, starring Swiss-US actress Dominique Devenport (Night Train to Lisbon) as the legendary 19th-century Empress Elisabeth of Austria.
Canneseries 2021
Official Competition

Awake (Ser)
Creator: Srdjan Dragojević
Writers: Ljubica Lukovic, Matija Dragojević
Directors: Jelena Gavrilović, Uroš Tomić
Cast: Ivana Vukovic, Stefan Vukić, Dragoljub Ljubičić, Ljiljana Blagojević, Drena Mršić
Production: United Media
Sales: United Media
Broadcast: Nova S
Christian (It)
Creators: Enrico Audenino, Valerio Cilio, Roberto Saku Cinardi
Writers: Enrico Audenino, Valerio Cilio, Renato Sannio, Patrizia Dellea
Directors: Stefano Lodovichi, Roberto Saku Cinardi
Cast: Edoardo Pesce, Silvia D'amico, Giordano De Plano, Antonio Bannò, Francesco Colella, Lina Sastri, Claudio Santamaria
Production: Sky Studios, Lucky Red
Sales: Newen Connect
Broadcast: Sky
Countrymen (Nor)
Creators/writers: Izer Aliu, Anne Bjørnstad
Directors: Izer Aliu, Aurora Gossé, Brwa Vahabpour
Cast: Nader Khademi, Ayaz Hussain, Jonas Strand Gravli, Erika Strand Mamelund
Production: Rubicon, ARTE France
Sales: Banijay Rights
Broadcast: NRK, Arte
Dreams Of Alice (Rus)
Creators: Valeriy Fedorovich, Evgeniy Nikishov
Writers: Anastasiya Volkova
Director: Andrey Dzhunkovskiy
Cast: Alina Gvasaliya, Vasilina Yuskovets, Ekaterina Vilkova, Aleksey Rozin, Aleksandra Rebenok, Denis Shvedov, Ekaterina Stulova
Production: 1-2-3 Production
Broadcast: TV-3 Channel
Limbo… Hasta Que Lo Decida (Arg)
Creators: Mariano Cohn and Gastón Duprat
Writers: Margarita García Robayo, Ana Navajas, Nicolás Diodovich, Mariano Cohn Gastón Duprat, Javier Van de Couter, in collaboration with : Martín Bustos, Diego Bliffeld, Martín Vatenberg
Directors: Agustina Macri, Fabiana Tiscornia
Cast: Clara Lago, Mike Amigorena, Esteban Pérez, Enrique Piñeyro, Michel Noher, Andrea Frigerio, Carmen Maur
Production: Star Original Productions
Sales: DMED
Broadcast: Star+
Mister8 (Fin)
Creators: Teemu Nikki, Jani Pösö
Writers: Vesa Virtanen, Teemu Nikki, Antero Jokinen
Director: Teemu Nikki
Cast: Pekka Strang, Krista Kosonen, Olli Rahkonen, Chike Ohanwe, Elias Westerberg, Amir Escandari, Ville Tiihonen, Joonas Saartamo, Jari Virman, Matti Onnismaa, Hannamaija Nikander, Jouko Puolanto
Production: It's Alive Films
Sales: Federation International
Broadcast: Elisa Viihde
Sad City Girls (Isr)
Creators: Shir Reuven, Talya Lavie
Writers: Shir Reuven
Director: Talya Lavie
Cast: Maya Landsmann, Einat Holland
Production Yoav Gross Productions
Broadcast: HOT
The Allegation (Ger)
Producers: Oliver Berben, Jan Ehlert
Writers: Ferdinand von Schirach
Director: Daniel Geronimo Prochaska
Cast: Peter Kurth, Narges Rashidi, Sebastian Urzendowsky, Désirée Nosbusch
Production: Moovie GmbH
Sales: Fremantle
Broadcaster: TV Now, Vox
Totems (Fr-Cze-Sp)
Creators: Olivier Dujols, Juliette Soubrier
Writers: François Uzan, Thibault Valetoux, Julien Anscutter, Sabine Dabadie
Directors: Jérôme Salle, Antoine Blossier, Frédéric Jardin
Cast: Niels Schneider, Vera Kolesnikova, José Garcia, Lambert Wilson, Ana Girardot
Production: Gaumont (Isabelle Degeorges, Arnaud de Crémiers, Olivier Dujols, Jérôme Salle)
Distribution: Amazon Prime Video
Unknowns (Isr)
Creators: Guy Sidis, Nirit Yaron, Tawfik Abu- Wael
Writers: Guy Sidis, Nirit Yaron, Tawfik Abu- Wael
Director: Tawfik Abu-Wael
Cast: Yehuda Levi, Shani Cohen, Yaniv Biton, Amir Tessler, Ofek Pesach, Ben Sultan
Production: Rabel Films
Sales: Lee Shira
Broadcast: KAN Israeli Public Broadcasting Corp
Out of Competition
All The Way Up (Fr)
Creators: Franck Gastambide, Charles Van Tieghem, Xavier Lacaille, Giulio Callegari
Directors: Franck Gastambide, David Diane
Cast: Laëtitia Kerfa, Saïdou Camara, Brahim Bouhlel, Franck Gastambide, Sabrina Ouazani
Broadcaster: Canal+
Sales: Studiocanal
Gomorrah – Final Season (It)
Creators: from an idea by Roberto Saviano
Writers: Leonardo Fasoli, Maddalena Ravagli, Valerio Cilio, Gianluca Leoncini
Directors: Marco D'Amore, Claudio Cupellini
Cast: Salvatore Esposito, Marco D'Amore, Ivana Lotito, Arturo Muselli
Broadcaster: Sky Italia
Sales: Beta Film
Around The World In 80 Days (Fr-UK)
Creators: Ashley Pharoah, Caleb Ranson
Writers: Ashley Pharoah, Caleb Ranson, Claire Downes, Ian Jarvis, Stuart Lane, Debbie O'Malley, Jessica Ruston, Peter McKenna, Stephen Greenhorn
Directors: Steve Barron, Charles Beeson, Brian Kelly
Cast: David Tennant, Leonie Benesch, Ibrahim Koma, Jason Watkins, Peter Sullivan
Production: Slim Film + Television, Federation Entertainment
Broadcaster: France Televisions, ZDF, Rai (the European Alliance), PBS
Sales: Beta Film
Sisi (Ger)
Creators: Andreas Gutzeit, Robert Krause, Elena Hell
Writers: Ashley Pharoah, Caleb Ranson, Claire Downes, Ian Jarvis, Stuart Lane, Debbie O'Malley, Jessica Ruston, Peter McKenna, Stephen Greenhorn
Directors: Steve Barron, Charles Beeson, Brian Kelly
Cast: David Tennant, Leonie Benesch, Ibrahim Koma, Jason Watkins, Peter Sullivan
Production: Slim Film + Television, Federation Entertainment
Broadcaster: France Televisions, ZDF, Rai (the European Alliance), PBS
Sales: Beta Film