Dir: Clint Eastwood. US. 2008. 141mins.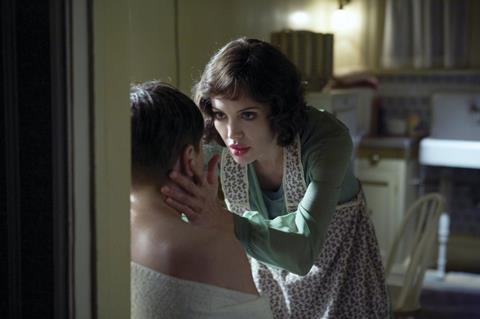 Clint Eastwood's late-life renaissance continues at full steam with a typically understated and emotionally wrenching drama based on true events from Los Angeles in 1928. Beautifully produced and guided by Eastwood's elegant, unostentatious hand, it also boasts a career-best performance by Angelina Jolie who has never been this compelling. Like Mystic River in 2003, it should go all the way from the Palais to the Academy Awards next March.
Jolie plays along with the general restraint, giving her most internal performance to date
In box office terms, The Exchange, only recently retitled from Changeling, has some challenges, notably a long running time and a harrowing subject matter which will make parents everywhere think twice before seeing it. But like other Eastwood films before it - Mystic River and Million Dollar Baby - it will ride on a wave of critical acclaim and awards, and rack up hefty grosses domestically. Mystic River grossed $90m domestically and $66.5m in international, Million Dollar Baby did $100.4m and $120m respectively.
Eastwood wastes no time in setting the scene. Jolie plays a working class single mother called Christine Collins who takes the tram every morning, drops off her nine year-old son Walter off at his school and goes on to her job as a telephone operator.
One Saturday (March 10 to be precise), Christine is called in to work and leaves Walter at home. When she returns, he has disappeared. An exhaustive search follows for several months to no avail, but five months later, when she has all but given up hope, police captain JJ Jones (Donovan) arrives at her workplace to announce that the boy has been found in Ilinois.
However, when he reaches Union Station in Los Angeles in a mass of cops, reporters and photographers, Christine is shocked to see that the boy isn't Walter. Afraid that he and the force will be embarrassed, Jones persuades her to take the child home, but, her worry for the real Walter reignited, she returns to the police the following day with irrefutable proof that the boy isn't hers - he is not only three inches shorter than Walter but he is circumcised whereas Walter wasn't.
As her despair for her son and her anger at the captain's inaction intensifies, she is approached by a community activist (Malkovich) who has a weekly radio broadcast in which he rails against the city's notoriously corrupt police force. He helps her mount a campaign to take on the system which is now questioning her sanity and fitness as a mother.
If the synopsis sounds like a woman-against-the-system story a la Erin Brockovich, the similarities end there. As played by Jolie, Collins is no vulgar broad with a push-up bra and shovelfuls of sass but a dignified, quiet woman whose fury is tempered by her maternal fears for her son's safety.
Nor does the Collins story proceed in a conventionally inspiring way. As Jones has her committed to a sanatorium and she begins a period of menacing incarceration, Eastwood concurrently introduces another plotline in the desert outside Los Angeles where Detective Lester Ybarra (Kelly) is pursuing an illegal teen from Canada for deportation and stumbles across a horrifying crime spree.
Eastwood's forte has always been as a storyteller with the most unobtrusive style. Yet he records the events in front of the camera with such a humanist eye that the resultant power of his material is immense. Indeed, for all the battle against injustice in this story, his compassion for a mother longing to have her son back is always his primary concern.
Jolie plays along with the general restraint, giving her most internal performance to date, while the supporting cast - notably Donovan, Kelly and Amy Ryan as a prostitute also wrongly incarcerated by the police - is uniformly fine.
Production companies
Malpaso Productions
Imagine Entertainment
Universal Pictures
Worldwide distribution
Universal Pictures/UPI
Executive producers
Tim Moore
Jim Whitaker
Producers
Clint Eastwood
Brian Grazer
Ron Howard
Robert Lorenz
Screenplay
J Michael Straczynski
Cinematography
Tom Stern
Production design
James Murakami
Editing
Joel Cox
Gary D Roach
Music
Clint Eastwood
Main cast
Angelina Jolie
John Malkovich
Jeffrey Donovan
Michael Kelly
Colm Feore
Jason Butler Harner
Amy Ryan