Sarah Lazarides from law firm Harbottle & Lewis on what you need to know before using a drone on a film shoot.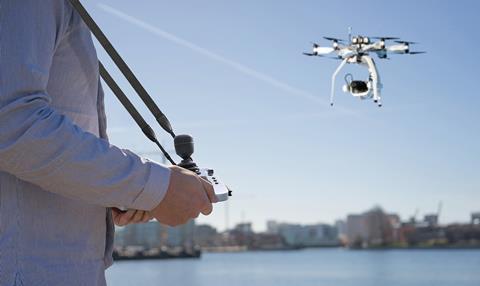 The evolution of drone technology has been ground-breaking for the film and television industry. For the first time, it is possible to get high quality and dramatic aerial footage without the expense of helicopters or cranes. But following a number of criminal prosecutions for misuse of drones, what are the potential legal pitfalls that producers should be aware of? Here is a brief guide.
Note that rules on drone use vary depending on the size of the drone and whether or not it is equipped with a camera. This article focuses on a filmmaker operating a camera-fitted drone weighing less than 20kg.
1. GET PERMISSION
If you're operating a drone for commercial purposes, then you must have permission from the Civil Aviation Authority (CAA). In order to get that permission the CAA may require you to undergo tests and training to demonstrate that you are a competent operator.
2. CONTROL YOUR AREA AND AVOID CROWDED SPACES
Unless you have particular enhanced permissions in place, you must not fly a drone within 50 metres of any person, vehicle or building not controlled by you. Therefore you will need to ensure that you are in control of the full flight path and may need to close nearby roads/areas.
The CAA also prohibits drone use within 150 metres of any crowd or built up area, so be aware that urban spaces might be a no-go. Many spaces such as parks, airfields, prisons and notable landmarks are also designated as no-fly zones. Guidance is on hand for this – check out the National Air Traffic Control Service's app, Drone Assist, which presents users with an interactive map of no-fly zones.
3. COMPLY WITH HEIGHT AND DISTANCE RESTRICTIONS
You might need to go back to the drawing board on your plans for that soaring mile high panorama shot – the drone must be kept within 500 metres horizontally and 120 metres vertically of the operator and in any case within his/her line-of-sight.
4. HEALTH AND SAFETY/INSURANCE
You should undertake a full risk assessment for the use of the drone, as it will be your responsibility to comply with health and safety laws.
Check your insurance policies to make sure you will be covered for drone use – if not consider taking out special drone insurance. Public liability cover of at least £5m will be required when using drones to film in London.
5. GET THE NECCESSARY PERMISSIONS TO USE THE LAND
Don't forget the usual permissions and rights clearances which would apply to filming on land. In particular, if you fail to get permission from the owner of the take-off and landing site, or the space which is actually being filmed, you may fall foul of trespass and nuisance laws.
6. PRIVACY
Using a drone to film someone without their consent could land you in breach of privacy and data legislation. Make sure you obtain releases from anyone that you film, particularly anyone who was on their own private land when you filmed them.
7. THE RULES ARE STILL EVOLVING
The Government is in consultation about new measures to regulate drone use. Proposals include mandatory registration of drones, new drone-specific standards of pilot competency, as well as new criminal offences and increased fines for misuse. It would be sensible to keep up to date on these developments and make sure check that the rules haven't changed before embarking on a project.