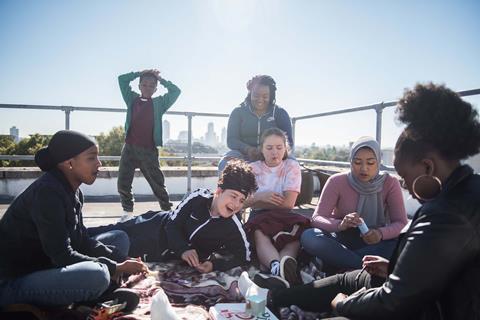 Terry Ilott, chair of the UK's Film Diversity Action Group, on why the UK should use the tax relief to forge a more diverse industry.
This year's Bafta and Oscar nominations give us reason to cheer, with an unprecedentedly high representation of female, black, Asian and minority ethnic filmmakers. When the awards themselves are announced – the Baftas on April 11 and the Oscars on April 26 – we can expect far greater diversity among the winners than ever before. Together, they constitute a big step forward.
But let's get real. The nominations reflect the heightened awareness of embedded racism and sexism that has arisen since the killing of George Floyd and the trial of Harvey Weinstein, events that gave powerful impetus to the Black Lives Matter and Me Too campaigns respectively. This heightened awareness, which is very welcome even though long overdue, has coincided with the emergence of a cohort of spectacular black, Asian and female talent on both sides of the camera.
While emerging diverse filmmakers will be much encouraged by this year's nominees, neither the awareness nor the talent can be guaranteed in future years unless we take steps to turn present success into a permanent rebalancing of our film culture.
Doubtless the widespread adoption of the BFI's Diversity Standards and Bafta's own rules concerning voting, membership and campaigning contributed to this year's diverse crop of nominees, as did the shame admitted by Bafta after not one actor of colour was nominated in 2020. Bafta's innovations include a longlist round of voting to encourage Bafta members to view a wider range of films, and the expansion of the number of nominees in the acting, directing and best film categories.
Like the Baftas, the Oscars have been shamed into action, and this year two women, Emerald Fennell and Chloe Zhao, feature in the best director category while nine of the 20 acting nominations went to actors of colour.
The big question now is how we can turn this year's success into a long-term and sustained change in the culture of the industry, so that it better reflects the composition and interests of the wider society. How do we change the fact that, while most film production jobs are in London, which has a population that is 40% black, Asian and minority ethnic, only 3% of the film workforce is BAME? Or that, while women comprise about half of film-school graduates, in 2016 only 17% of writers and 13% of directors of feature films in the UK were female?
Tax credits
There is one very simple step we could take in the UK: make diversity one of the criteria of eligibility for film production tax credits. At present, a tax credit of 25% of the qualifying costs of production is available for feature films that meet a minimum level of UK expenditure and that achieve 18 points (out of a possible 35) in the so-called cultural test. The test weighs the amount of the production set in the UK, the British nationality of the lead characters, British subject matter, English language, portrayal of British culture and heritage, exploration of diversity issues, location (measured by expenditure) of principal photography, visual and special effects, music recording and post-production, nationality of key contributors (director, writer, producer, composer, lead actors) and nationality of cast and crew.
Just as there is at present an overarching requirement that the production be a feature film intended for theatrical distribution and that, to qualify, it must also meet the minimum cultural test, so there should be the option that the production meet a minimum requirement for diverse employment.
There is already a certification and verification process within the BFI; it simply needs to be amended to allow a differential between diverse (i.e. those reaching a threshold of female, disabled and/or BAME employment) and non-diverse productions. (There is a precedent in that such a differential long existed in the tax treatment of larger and smaller budget productions.)
The government should introduce a 5% diversity tax credit, in addition to the 25% tax credit currently available for qualifying films. Film productions that not only meet the current criteria, but which can demonstrate that, say, 35% of personnel expenditure goes to female, BAME and/or disabled employees and contractors would be eligible for this additional benefit.
Five years after the introduction of the scheme, the diversity credit should be increased to 10% and the standard credit should be reduced from 25% to 20%. To qualify for this enhanced diversity credit, film productions would have to demonstrate that 40% of personnel expenditure goes to female, BAME and/or disabled employees and contractors.
After a further five years, the diversity credit should be increased again, to 15%, and the standard credit decreased to 15%. To qualify for the full 30% credit, film productions would have to demonstrate that 50% of personnel expenditure goes to female, BAME and/or disabled employees and contractors.
Our long-term aim would be to achieve 50% representation for women, 15% for BAME and 12% for disabled in UK film productions. We would look for these proportions to be achieved not just across the whole of a production's budget but in each department below-the-line, so that the benefit is spread as widely as possible.
The achievement of this ambition would transform the culture of the industry, such that no further selective incentives would be required. Hence, at some reasonable point in the future, we would expect the diversity credit to be retired on the grounds of redundancy and a single tax credit to apply to all qualifying films, as now.
Data on film school graduates and first-time filmmakers suggests that there are already more than enough suitably trained female and BAME candidates for such employment (data on disabled is harder to come by). Even so, we would want to see further enabling measures, backed by all responsible agencies and interested parties, not just in education, training, and work experience but in hiring practices and career development opportunities provided by film production companies. The Apprenticeship Levy and the Film Skills Fund could provide the financial support needed to implement these practical measures.
This proposal is compatible with BFI Diversity Standards and with the talent inclusion riders that are sometimes mandated by major directors and stars. Like them, it is voluntary (producers not willing or not able to meet the requirements could still be eligible for the standard tax credit, albeit that would diminish over time). Very importantly, our proposal would be applicable to all productions taking advantage of the UK tax credit, not just those funded directly by the BFI.
While there will always be objections to any new scheme, we do not believe that there is any insurmountable obstacle to the adoption of our proposal.
Increased diversity in film employment will contribute to greater creativity, a larger and much needed pool of talent, and connectivity with a wider audience. Hence, it will foster continued growth and sustainability, while helping to make the wider creative sector a world-leader.
It will thus deliver on the government's strategic ambitions to build on the UK's strengths and extend excellence into the future.
Terry Ilott is a former CEO of Hammer Film Productions, principal of consultancy firm Bridge Media, managing editor of Variety Europe and editor of Screen International. He is chair of the Film Diversity Action Group, which has been lobbying for a change in the tax credit rules to promote greater diversity.