The Bogota Audiovisual Market (BAM) opened on Monday night with British thriller '71, starring Jack O'Connell.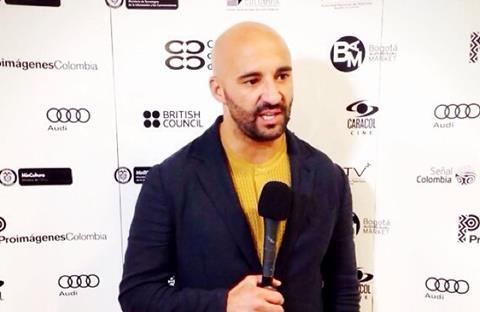 Four packed theatres in the Colombian capital of Bogota enjoyed an exclusive screening of British thriller '71 last night (July 14), launching the fifth Bogota Audiovisual Market (BAM).
London-based director Yann Demange, in Bogota with Crab Apple Films producer Angus Lamont, introduced the film to BAM delegates at the Cine Colombia, Avenida Chile.
"This was a very difficult film to put together and it's amazing how much we've travelled with it," Demange said of his film, in which a British solider (Jack O'Connell) in 1971 Belfast goes on the run from hostile locals after being accidentally abandoned by his unit.
"I remember sitting in a bar in Belfast 20 months ago with Angus trying to put this film together and we looked at each other and talked about whether anyone would ever actually see this thing.
"It's amazing that we're now in Bogota meeting lots of fancy, great people and presenting it to you so I hope you all enjoy it."
The film, which debuted at the Berlinale in February and is sold by Protagonist Pictures, is set for release in the UK this October.
The screening was preceded by UK-Colombian short film Leidi, which won the Palme d'Or Court Metrage at this year's Cannes Film Festival.
Colombian director Simon Mesa, who shot the short in Bogota, introduced the film and said: "We are very proud to present this film in Colombia for the first time to this audience – whether you like it or not!"
UK guest country
The UK is the guest country at this year's BAM and a 29-strong delegation from the British film industry has travelled to Bogota.
Will Massa, senior programme manager for film at British Council who is leading the delegation, said: "UK independent cinema is currently in a really special moment and it feels like the perfect moment to come to BAM when Colombian cinema is growing at such a healthy rate, not only critically on the international film festival circuit but also industrially with all the incentives and government support."
Speaking ahead of the screenings, UK ambassador Lindsay Croisdale-Appleby added: "I think doing this event together shows a number of things. The first is the talent in both countries represented here tonight.
"Tonight is also a sign of how much Colombia has changed. The fact that it's the fifth edition of BAM and that we're talking about a really modern industry shows Colombia isn't a country that just relies on traditional industries but one that is building industries for the 21st century."
Also helping to launch the market were Monica de Greiff, president of Bogota's Chamber of Commerce, and Claudia Triana, president of Colombian national film body Proimagenes.
De Greiff said: "The Chamber of Commerce has put all its trust in the creative industries because it knows there is an immense pool of talent in Bogota and they trust all present at BAM will be able to start and close great deals with partners in the UK and elsewhere."
BAM, which runs July 14-18, is attended by more than 1,000 delegates including 250 buyers from 20 countries and representatives of film festivals including Cannes, Berlin, Toronto, London, South by Southwest and Hong Kong among others.