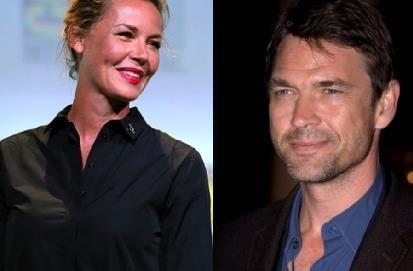 Wonder Woman star Connie Nielsen has replaced Toni Collette on the Epic Pictures thriller Sea Fever, which has begun production in County Wicklow on the east coast of Ireland.
Dougray Scott, whose credits include Enigma and TV series Woman In White, has also joined the cast, which features the previously announced Hermione Corfield from Star Wars: The Last Jedi. Collette left the project due to scheduling.
Epic Pictures co-founder Patrick Ewald and the sales team will commence pre-sales at the AFM later this month and introduce footage.
In Sea Fever, Nielsen will play the captain of a fishing trawler off Ireland's west coast who battles with her crew to stay alive when a mysterious parasite infests their water supply.
Irish BAFTA Award winner Neasa Hardiman (Jessica Jones, Happy Valley) directs from her screenplay. Cast members include Ardalan Esmaili, Jack Hickey, Olwen Fouéré, and newcomer Elie Bouakaze.
Epic Pictures serves as executive producer, while producers are Brendan McCarthy and John McDonnell of Fantastic Films (The Last Days On Mars). Co-producers are Belgian's Frakas Productions, Sweden's Bright Pictures, and Scotland's Makar Productions.
Financiers on Sea Fever are Screen Ireland, RTÉ Television, Broadcasting Authority of Ireland, Film i Väst, Swedish Film Institute, Creative Scotland, Creative Europe, Creativity Capital, Wallimage, Avanpost Digital Cube, Belgian Tax Shelter, Casa Kafka Pictures (powered by Belfius), and Voo TV.
The feature was developed with the support of both the Creative Europe MEDIA programme and Screen Ireland, and was also a participant at the Frontieres international co-production market.