The partners have hired Ted Geoghegan to direct the follow-up to his acclaimed SXSW 2015 selection We Are Still Here. MPI has begun talks with international buyers at the AFM.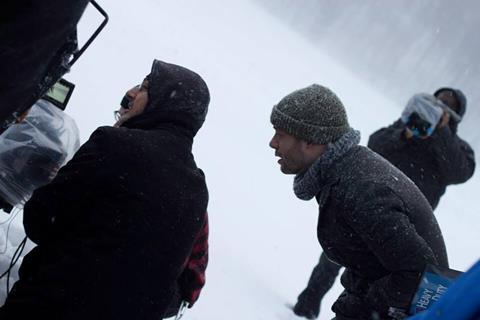 Satanic Panic charts a delivery girl's night of terror as she encounters a satanic cult among the leaders of an affluent neighbourhood.
Casting will begin shortly on the project that reunites Geoghegan (pictured in woollen hat) with producer Travis Stevens and Greg Newman. Grady Hendrix writes the screenplay.
"Equal parts supernatural horror and survival thriller, the film hinges on smart, funny dialogue and a clever, surprisingly badass female hero," said Geoghegan.

"A snarky, splattery takedown of the one percent, it places a trod-upon heroine up against the literally soulless societal upper crust. The banter and blood come fast and furious, and we're hoping to leave very little time to breathe between gasps and gags."
"We Are Still Here was incredibly well received by both critics and audiences alike," said Greg Newman, evp of MPI/Dark Sky Films. "We're happy to be working again with Ted Geoghegan, who has already created a unique voice and vision for modern horror.

"We're equally thrilled to be teaming up once again with Snowfort following our previous successes together on both We Are Still Here and Starry Eyes."

Producer Travis Stevens of Snowfort added: "I want to make something fun and fast and slick and sick; a film that plays like a good heavy metal song. A film that gets your heart rate up to the point where you burn calories while watching it."
MPI and Dark Sky collaborated this year on Sundance selection Call Me Lucky and theatrical releases of We Are Still Here and Deathgasm.
Snowfort is currently shooting Sarah Adina Smith's Buster's Mal Heart starring Rami Malek and DJ Qualls and is in post on Karyn Kusama's segment for the horror anthology XX, Jade Porter's Mexican skateboard documentary Concrete Futuro, John Carchietta's high school romance Teenage Cocktail and Ricky Bates Jr's Trash Fire starring Adrian Grenier.