EXCLUSIVE: First look image of Unstoppable Entertainment comedy about a 90s Britpop singer.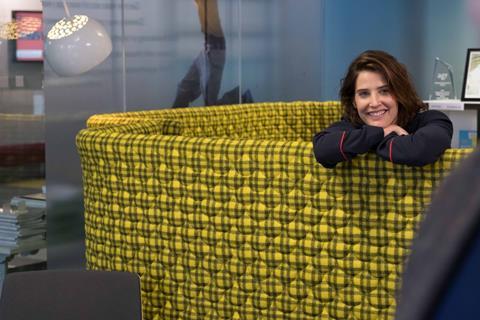 London-based sales outfit AMP International has boarded world sales on UK comedy Songbird, starring Cobie Smulders (Jack Reacher: Never Go Back), Noel Clarke, Jessica Hynes (Bridget Jones' Baby), Griffin Dunne (After Hours) and Emily Atack (The Inbetweeners).
Currently in post-production, the film follows the lead singer of a 90s Britpop band whose star has fallen considerably since her glory days.
When on a drunken night out she accidentally enrolls at a university she is shocked to discover that her fellow students have no idea who she is and are far more into yoga and kale smoothies than wild parties.
Songbird was written and directed by Jamie Adams (Black Mountain Poets) and is produced by Jason Maza and Noel Clarke of Unstoppable Entertainment (Brotherhood) and Maggie Monteith (Searching For Sugar Man) of Dignity Film Finance.
Rising actress Smulders, pictured above in the first image from the film, is best known for starring in long-running CBS TV series How I Met Your Mother but has also appeared in Marvel's Agents of SHIELD and Avengers: Age of Ultron.
James Norrie of recently launched AMP commented: "Jamie Adams is one of the most talented directors working in the UK today. His gift for eliciting comic performances through improvisation plus the stellar cast he has assembled ensures this will be a film that will resonate with audiences around the world."
Noel Clarke added: "We are pleased to announce our partnership with AMP International. We have every confidence they will find the best distributors to showcase our talented cast and crew in this very special film".
Songbird and concurrent feature 10x10 are the first films to be produced by Unstoppable since their summer 2016 box office success Brotherhood.