EXCLUSIVE: Paramount is understood to have closed a US deal in the $10m range for Suburbicon, the upcoming George Clooney-Coen brothers reunion that has been one of the most sought-after titles of the EFM.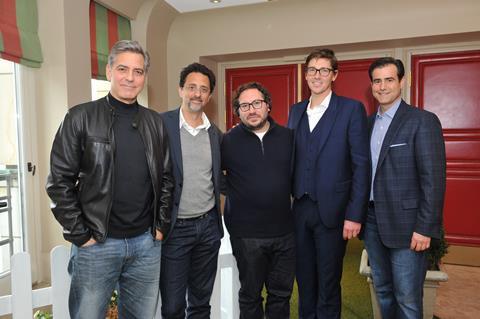 The studio pounced after Clooney dropped in to meet with buyers in Berlin yesterday (Thurs) ahead of festival opener Hail, Caesar!, directed by the Coens.
Black Bear Pictures fully finances Suburbicon, a dark comedy that peels back the horror of a suburban locale and will star Matt Damon and Julianne Moore based on a screenplay by the Coens.
Joel Silver will produce via his Silver Pictures alongside Clooney and his Smokehouse Pictures partner Grant Heslov, and Teddy Schwarzman of Black Bear.
Clooney is pictured with (L-R) Heslov, Schwarzman, Bloom chief Alex Walton and Silver Pictures CEO Hal Sadoff at the buyers presentation in Berlin.
CAA represents US rights and Bloom handles international sales at the EFM.
Paramount had not returned calls at time of writing.