AUGUST 1 UPDATE: The reunion of Matt Damon and director Paul Greengrass scored the second biggest opening weekend of Universal's 14-year spy franchise when unadjusted for inflation.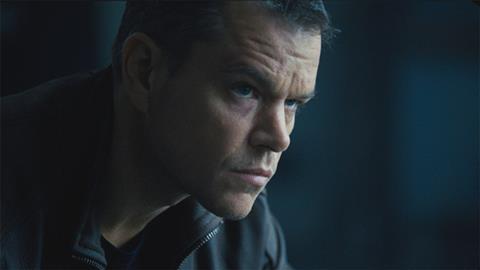 Jason Bourne arrived at number one in North America on a confirmed $59.2m from 4,026 theatres.
The promising debut marks the third collaboration between Damon and Greengrass, who return to the series after The Bourne Ultimatum in August 2007, which remains the highest earner in the five-film set.
Jason Bourne was not far behind the $69.3m debut of The Bourne Ultimatum, however in real terms the picture changes. Ultimatum's number becomes $80.6m when adjusted for inflation, while the $52.5m debut of The Bourne Identity in August 2004 morphs into $66.9m.
Despite mixed reviews, Jason Bourne should have little trouble overtaking the $113.2m final gross of The Bourne Legacy, which starred Jeremy Renner and was directed by Tony Gilroy and opened in August 2012.
Overtaking the final tally of The Bourne Ultimatum's $227.5m – the highest North American gross in the franchise – will require Bourne-like feats of endurance and strength. Jason Bourne grossed $50.1m from 46 international markets at the weekend.
STX Entertainment's R-rated comedy Bad Moms starring Mila Kunis, Kathryn Hahn, Kristen Bell and Christina Applegate arrived at number three on a fair $23.8m given that the studio claimed the film cost $20m to produce.
Internationally the comedy grossed approximately $1.4m from its first 12 markets including Spain. Suzanne Todd and Bill Block produced.
Lionsgate's thriller Nerve starring Emma Roberts and Dave Franco arrived in ninth place on $9.4m from 2,538 sites, rising to $15.5m since the Wednesday debut.
Last weekend's champion Star Trek Beyond crossed $100m and nestles in second place following a 58.2% drop on $24.8m for $106.5m through Paramount.
Ghostbusters also crossed the milestone in its third weekend via Sony and ranks seventh on $10.1m for $106.5m.
Hillary's America: The Secret History Of The Democratic Party, the documentary by conservative think tank member Dinesh D'Souza, dropped two places to number 11 in its second weekend on $2.5m from 1,066 sites for $8.7m via Quality Flix.
Woody Allen's Amazon-bound Café Society climbed five places to number 12 after expanding from 50 to 565 sites and added $2.3m for $3.9m in the third session.
The hit Sundance documentary Gleason opened on $91,583 from nine sites via Open Road Films at number 35 and will debut later this year on Amazon Prime Video. The Exchange handles international sales.
Roadside Attractions opened James Schamus' feature directorial debut and Philip Roth adaptation Indignation at number 34 on $93,125 in four venues, while SPC debuted the financial crisis drama Equity at number 36 on $82,434 in four.
Overall the top 12 generated $179.6m, marking a 2.2% drop on last weekend. The top 12 climbed 22.3% on the comparable session in 2015, when Mission: Impossible – Rogue Nation debuted at number one for Paramount on $55.5m and there was less strength in depth across the top 12.
This week's wide releases are Warner Bros' big hope Suicide Squad from DC Entertainment featuring an all-star case led by Will Smith, Margot Robbie, Jared Leto and Viola Davis; and comedy Nine Lives via EuropaCorp.
Confirmed top 10 North America July 29-31, 2016
Film (Dist) / Conf wkd gross / Conf total to date
1 (-) Jason Bourne (Universal) Universal Pictures International $59.2m –
2 (1) Star Trek Beyond (Paramount) Paramount Pictures International $24.8m $106.5m
3 (-) Bad Moms (STX Entertainment) STX International $23.8m –
4 (2) The Secret Life Of Pets (Universal) Universal Pictures International $18.9m $296.9m
5 (4) Ice Age: Collision (Fox) Fox International $10.9m $42.6m Ice Age: Collision
6 (3) Lights Out (Warner Bros) Warner Bros Pictures International $10.8m $42.9m
7 (5) Ghostbusters (Columbia Pictures) Sony Pictures Releasing International $10.1m $106.5m
8 (-) Nerve (Lionsgate) Lionsgate International $9.4m $15.5m
9 (6) Finding Dory (Buena Vista) Walt Disney Studios Motion Pictures International $4.3m $469.1m
10 (7) The Legend Of Tarzan (Warner Bros) Warner Bros Pictures International $25m $121.9m