Korea's two largest chains refuse to release movie.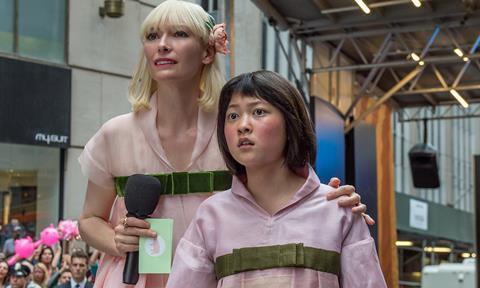 Korea's largest cinema chain CJ CGV is refusing to screen Netflix-backed Cannes competition movie Okja later this month saying its planned day-and-date release in the territory may damage the "distribution order".
According to the Korea Times CGV, which owns 139 out of 335 cinemas in the country, said a Netflix-produced film should follow a three week "holdback period".
Bong Joon-ho's sci-fi drama, starring Tilda Swinton, Jake Gyllenhaal and Ahn Seo-hyun, is due be released on Netflix worldwide and in cinemas in the US, UK and Korea on June 29.
However, CGV isn't alone in its misgivings.
Lotte Cinema, the second largest chain in Korea, said it will screen "Okja" only on condition that Netflix does not release the film simultaneously.
Lotte added that if Netflix continues with plans to release the movie in all formats on June 29, it will only make the film available in cinemas later in the form of a "re-release."
Megabox, the third largest local chain, is also reportedly against the simultaneous screening, but added that it will monitor developments on the issue before reaching a final decision.
The latest twist in the film's eventful journey to screen follows the outcry from French exhibitors about the film's inclusion at Cannes without guaranteed theatrical distribution.