Mojin – The Lost Legend and Mr. Six crossed $200m and $100m, respectively.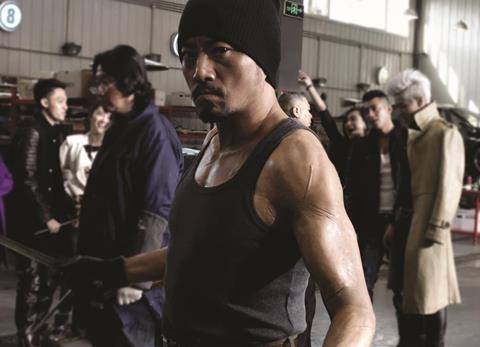 Strong local titles continued to rule the Chinese box office over the New Year holidays as Mojin – The Lost Legend and Mr. Six crossed $200m and $100m, respectively.
Fuelled in part by strong reviews, Mr. Six claimed the top spot with $68.5m during the period 28 December - 3 January.
The latest film from Cow director Guan Hu earned renowned director Feng Xiaogang a Golden Horse best actor award for his role as a former gangster who swings back to action when his son is kidnapped.
The action-drama opened in third place two weeks ago and climbed to the top last week. It has now amassed $108.45m after 11 days.
With the blackout of new Hollywood films still in place, last week's chart was entirely made up of Chinese titles, including five new local entries.
Detective Chinatown fared best of those entering in second place with $62.12m from its first five days and grossed $66.51m including previews. Directed by Beijing Love Story's Chen Sicheng, the action-packed comedy stars popular comedian Wang Baoqiang and Chen's wife Tong Liya.
Mojin – The Lost Legend held up well in third place with $52.80m. With a massive $242.51m after 17 days, the fantasy action film has become China's fifth-highest grossing film of all time, surpassing Avengers Age Of Ultron, Goodbye Mr Loser and Jurassic World.
Devil And Angel dropped to fourth place with $19.57m for $99.2m after 11 days. From the makers of last year's hit The Breakup Guru, the new comedy that revolves around two debt collectors features real-life couple Sun Li and Deng Chao (who is also co-directing with Yu Baimei).
Three new entries followed, including Zhang Cheng's Heart For Heaven, which debuted with $11.69m from its first four days. The comedy stars Shen Teng and Ma Li who were shot to fame through surprise 2015 hit Goodbye Mr Loser.
Little Door Gods, the debut film of Gary Wang's Light Chaser Animation, earned $9.72m from its first three days and grossed $10.62m including previews. The local 3D animation about two traditional door gods who are worried about losing their jobs, is directed by Wang, a founder of online video site Tudou.
The Piano In A Factory director Zhang Meng's family drama Everybody's Fine debuted with $3.71m from its first three days.
Anniversary added $0.85m from $1.72m after 11 days. As a follow-up to 2006's Marriage With A Fool, the new Hong Kong romance-drama reunites on- and off-screen couple Alex Fong and Stephy Tang with director Patrick Kong.
Period fantasy-comedy Surprise – Journey To The West dropped to ninth position with $0.62m for $50.29m for 17 days. New Chinese thriller Massagist, directed by Taweewat Wantha from Thailand, rounded out the weekly chart with $0.25m from its first four days.
The blackout period ended with Sherlock: The Abominable Bride which opened strongly yesterday and topped the daily chart with $5.27m, plus $0.12m previews. Star Wars: The Force Awakens is scheduled for January 9.