Worldwide sales agent eOne Features has struck a US deal on Ricky Gervais' comedy charting the post-The Office life of mockumentary sensation David Brent.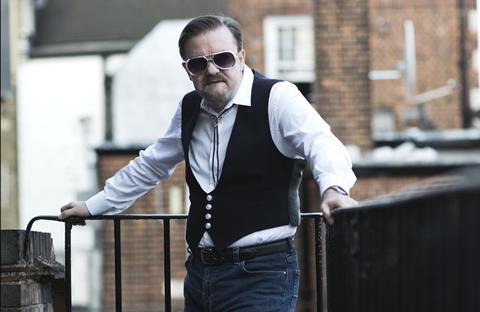 Gervais wrote and will direct Life On The Road, which catches up with the notorious former middle manager as he pursues his dream of rock stardom and finances a UK tour while working as a travelling salesman.
eOne and BBC Films finance the project
"David Brent getting a big US theatrical release? He can die happy now. (Spoiler alert – he does not die in this movie)," said Gervais.
eOne has confirmed that Life On The Road will open in the UK on August 19 2016, with Open Road planning a wide US theatrical release shortly thereafter.
eOne Features president Xavier Marchand and head of business and legal affairs for eOne Films UK Spyro Markesinis brokered the deal with Open Road CEO Tom Ortenberg, COO and general counsel Elliott Kleinberg and evp of production and acquisitions Peter Lawson.