EXCLUSIVE: UK debut backed by BFI and Creative England stars rising actor Josh O'Connor, Ian Hart and Gemma Jones.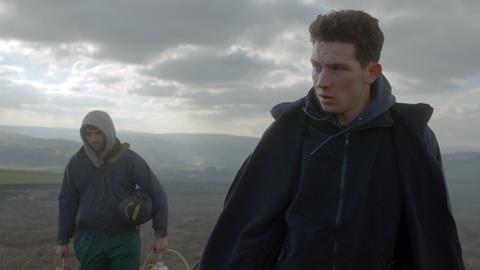 Protagonist Pictures has boarded world sales on UK writer-director Francis Lee's debut feature God's Own Country, which was recently selected for the Sundance 2017 World Dramatic Competition.
Screen Star Of Tomorrow Josh O'Connor, known for roles in ITV series The Durrells and supporting berths in Golden Globe nominee Florence Foster Jenkins and Stephen Frears' The Program, features alongside upcoming Romanian actor Alec Secareanu.
The supporting cast includes Ian Hart (Boardwalk Empire) and Gemma Jones (Sense and Sensibility).
God's Own Country follows Johnny Saxby, a solitary young sheep farmer who numbs his daily frustrations with binge drinking and casual sex. The arrival of a Romanian migrant worker (Alec Secareanu) ignites an intense relationship that sets the former on a new path.
The film is produced by Manon Ardisson and Jack Tarling for Magic Bear Productions and Shudder Films respectively, with Diarmid Scrimshaw (Tyrannosaur) and Anna Duffield (Donkeys) serving as executive producers for Inflammable Films.The production team also includes editor Chris Wyatt ('71, This Is England) .
Finance came from BFI and Creative England using funds from the National Lottery while the movie began its development through the iFeatures programme. Met Film Post and Paul Webster's PW Pictures completed the financing.
The film was shot on the Yorkshire moors in the north of England, where writer/director Francis Lee grew up. Lee, who originally trained as an actor, has made several acclaimed shorts set in rural locations – including The Farmer's Wife, Bradford Halifax London and documentary short The Last Smallholder.
Protagonist recently scored significant sales success with iFeatures drama Lady Macbeth.
Protagonist CEO Mike Goodridge commented: "Francis Lee's stunning directorial debut set against the wild landscapes of northern England stole our hearts. It's a beautiful love story marked by Lee's bold film-making choices and a sense of emotional authenticity and tenderness that we believe will resonate with audiences everywhere. This is very much a universal story of a young man learning how to trust and love."