Quentin Tarantino's The Hateful Eight will launch in 70mm on December 25 for a one-week tour of 100 nationwide theatres in which Tarantino and cast members will make surprise appearances.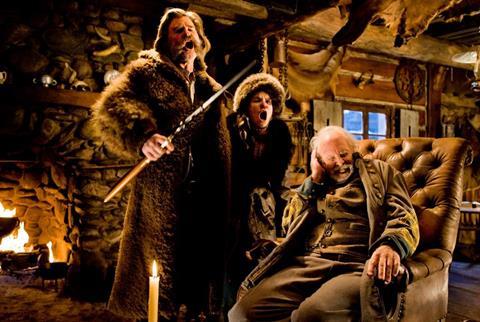 Following the engagement the film will open nationwide digitally on December 31 and continue to play in 70mm in select venues.
The roadshow is a throwback to the early to mid-20th century when a longer version of the wide release version of the film would screen with a musical overture to start the show and an intermission between acts.
These features will be part of the roadshow presentations. The film will open in 44 markets including New York, Los Angeles, Chicago, Philadelphia, Dallas, San Francisco, Boston, Atlanta, Washington DC, Houston, Austin and New Orleans.
The Hateful Eight, a Western set in the years immediately after the American Civil War as a motley crew descends on a snowbound tavern, premieres on Monday night in New York in 70mm at the Ziegfeld theatre.
Samuel Jackson, Kurt Russell, Jennifer Jason Leigh, Demian Bichir and Bruce Dern are among the cast.