EXCLUSIVE: On the back of its releases of Queen Mimi and It's So Easy And Other Lies earlier this year, the company has acquired global rights to four new titles.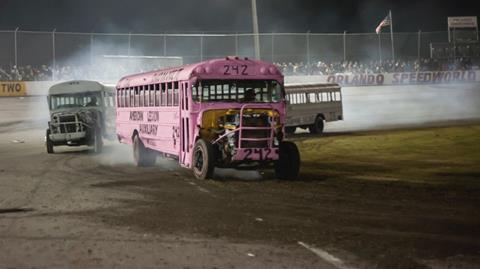 XLrator Media will co-release with Rugged Entertainment Jon Manning's Burlesque: Heart Of The Glitter Tribe in spring.
Julie Livingston and Manning produced the film in which 12 stars of the new wave of Burlesque discuss their work as a way of ultimate self-expression.
Who The F#@K Is That Guy?: The Fabulous Journey Of Michael Alago is directed by Drew Stone and recounts the tumultuous life of music industry veteran Alago.
As a young gay Puerto Rican living in Brooklyn, Alago made a name for himself as a talent booker at the Ritz in New York and became an A&R record executive who signed Metallica and John Lydon, among others.
Michael Alex and Drew Stone produced and XLrator Media and Rugged Entertainment will co-distribute in summer.
Smash: Motorized Mayhem (pictured) directed by Kevin Burroughs and narrated by W. Earl Brown follows three competitors and a track promotor as they prepare for an annual school bus race in rural Florida.

Burroughs and Peter Spirer produced and XLrator and Rugged anticipate a spring release.
Jon Reiner and Brad Rothschild directed and produced Tree Man, which will open on December 6 and centres on the life of a Quebecois man who travels to New York each holiday season to sell Christmas trees.
"This is a golden age of documentary filmmaking, and our goal is to make Lifeframe the pre-eminent curated releasing label for documentaries around the world," said XLrator Media CEO Barry Gordon.

"Our diverse and growing slate, embodied by these four remarkable films, will appeal to global audiences with their larger-than-life personalities, fascinating true stories and positive and inspiring messages in these turbulent times."