Those who caught the retro-fuelled adventure in Sundance will know the festival favourite is a little gem. Those who didn't can look forward to the August 28 US release via Epic Pictures Releasing.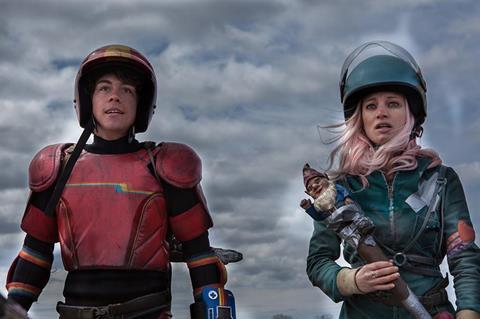 In the meantime there is the poster to savour. Marvel at the post-apocalyptic vision of 1997. Thrill to the young hero's man-stance as his female robot companion looks on admiringly. Hiss at the villainous Michael Ironside and his evil eyepatch.
Turbo Kid premiered at Sundance this year and follows a plucky youngster as he takes on a maniacal warlord in a future where water is in scarce supply.
The film has graced many a festival since Park City, winning audience awards at the likes of SXSW and Fantaspoa in Brazil.
Epic Picture Releasing will open it across key US markets in August including Los Angeles, New York, Austin and San Francisco.
But first, Turbo Kid will receive its North American premiere at the 19th annual Fantasia International Film Festival in Montreal on July 23.
The New Zealand premiere is set for the New Zealand International Film Festival on July 18 while the European Premiere takes place at FrightFest in London on August 27.
The RKSS Collective aka François Simard, Annouk Whissell and Yoann-Karl Whissell directed. Munro Chambers and Laurence Leboeuf star alongside Ironside.
Ant Timpson. Anne-Marie Gelinas, Tim Riley and Benoit Beaulieu produced the Canada-New Zealand co-production and Jason Eisener served as executive producer. Epic Pictures' Shaked Berenson and Patrick Ewald served as executive producer and handled international sales.