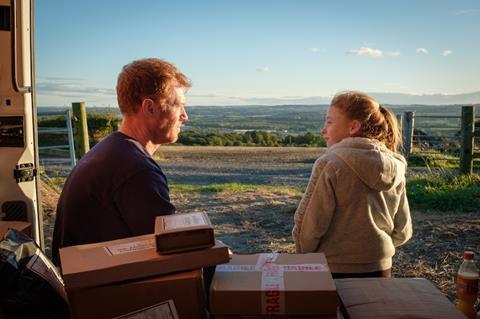 The 46 films recommended for nomination for the 2019 European Film Awards have been announced.
Scroll down for the full list of titles
The selection includes Berlin Golden Bear winner Synonyms and Cannes prize winners Les Miserables, Young Ahmed, Pain And Glory, Portrait Of A Lady On Fire and Little Joe.
The films were selected by a committee consisting of the EFA board and experts Giorgio Gosetti (festival programmer), Kathrin Kohlstedde (festival programmer), Paz Lazaro (festival programmer), Mary Nazari (exhibitor), Edvinas Pukšta (festival programmer) and Agathe Valentin (sales agent).
In the coming weeks, more than 3,600 members of the European Film Academy will vote for the nominations in the European film, director, actor, actress and screenwriter categories.
The nominations will then be announced on November 9 at the Seville European Film Festival in Spain before the awards ceremony on December 7 in Berlin.
EFA selection 2019
"I Do Not Care If We Go Down In History As Barbarians" (Rom-Czech-Fr-Bul-Ger) - Dir. Radu Jude
A Tale Of Three Sisters (Turkey-Ger-Neth-Greece) - Dir. Emin Alper
A Twelve Year Night (Sp-Fr-Arg) – Dir. Alvaro Brechner
A White, White, Day (Ice-Den-Swe) – Dir. Hlynur Pálmason
All Good (Ger) – Dir. Eva Trobisch
And Then We Danced (Swe-Geo-Fr) – Dir. Levan Akin
Bad Poems (Hun-Fr) – Dir. Gábor Reisz
Beanpole (Rus) – Dir. Kantemir Balagov
By The Grace Of God (Fr) – Dir. François Ozon
Chained (Isr-Ger) – Dir. Yaron Shani
Clergy (Pol) – Dir. Wojciech Smarzowski
Dafne (It) – Dir. Federico Bondi
Dirty God (Neth-UK-Bel-Ire) – Dir. Sacha Polak
Fire Will Come (Sp-Fr-Lux) – Dir. Laxe Oliver
God Exists, Her Name Is Petrunja (Republic of Macedonia-Bel-Slovenia-Fr-Cro) – Dir. Teona Stugar Mitevska
Gundermann (Ger) – Dir. Andreas Dresen
High Life (Ger-Fr-US-Pol-UK) – Dir. Claire Denis
Homeward (Ukr) – Dir. Nariman Aliev
I Was At Home, But (Ger-Ser) – Dir. Angela Schanelec
It Must Be Heaven (Fr-Qat-Ger-Can-Turkey-Palestine) – Dir. Elia Suleiman
Joy (Austria) – Dir. Sudabeh Morteza
Jumpman (Rus-Ire-Fr-Lithuania) – Dir. Ivan I. Tverdovsky
Les Miserables (Fr) – Dir. Ladj Ly
Little Joe (Austria-UK-Ger) – Dir. Jessica Hausner
Mr. Jones (Pol-UK-Ukr) – Dir. Agnieszka Holland
Non Fiction (Fr) – Dir. Agnieszka Holland
Oleg (Latvia-Lithuania-Bel-Fr) – Dir. Juris Kursietis
Pain And Glory (Sp) – Dir. Pedro Almodóvar
Piranhas (It) – Dir. Claudio Giovannes
Portrait Of A Lady On Fire (Fr) – Dir. Céline Sciamma
Queen Of Hearts (Den-Swe) – Dir. May el-Touhky
Sibel (Turkey-Fr-Ger-Lux) – Dir. Çagla Zencirci & Guillaume Giovanetti
Sons Of Denmark (Den) – Dir. Ulaa Salim
Sorry We Missed You (UK-Fr-Bel) - Dir. Ken Loach
Stitches (Ser) – Dir. Miroslav Terzić
Synonyms (Fr-Ger-Isr) – Dir. Nadav Lapid
System Crasher (Ger) – Dir. Nora Fingscheidt
Tel Aviv On Fire (Lux-Fr-Isr-Bel) – Dir. Sameh Zoabi
The Favourite (UK-Ire) – Dir. Yorgos Lanthimos
The Realm (Sp-Fr) – Dir. Rodrigo Sorogoyen
The Traitor (It-Ger-Fr-Bra) – Dir. Marco Bellocchio
The Whistlers (Rom-Fr) – Dir. Corneliu Porumboiu
Twin Flower (It) – Dir. Laura Luchetti
Werewolf (Pol-Ger-Neth) – Dir. Adrian Panek
Yesterday (UK) – Dir. Danny Boyle
Young Ahmed (Bel-Fr) – Dirs. Jean-Pierre Dardenne & Luc Dardenne