Holdover Fantastic Four significantly outperformed the latest Adam Sandler comedy in generating online buzz between August 6-12.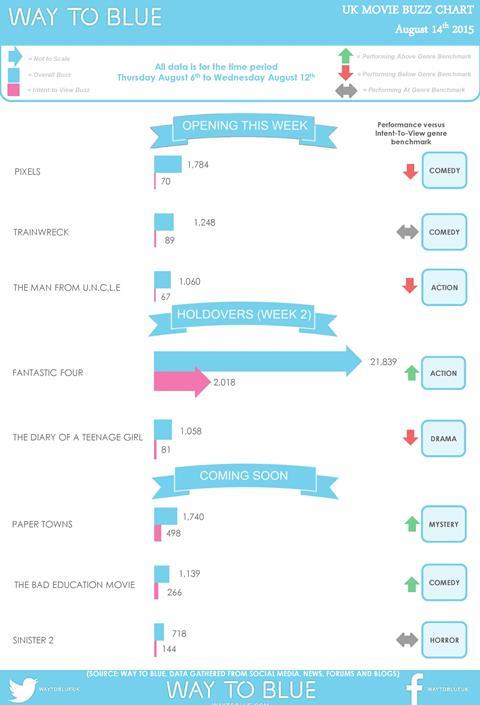 Fantastic Four has maintained its lead on the UK Buzz Chart (right) during its holdover frame.
After a week in release, the superhero film generated 21,839 postings across social media, news, forums and blogs, according to marketing firm Way to Blue.
Of this, 9% suggested intent to view (ItV), which indicates potential conversion of buzz into box office receipts.
In second place, action-comedy Pixels, which stars Adam Sandler, performed below expectations for its genre, receiving 1,784 mentions in the period. Of those, 4% indicated intent to view the film.
YA adaptation Paper Towns, which opens next week, came in third on the chart, outpacing Trainwreck, which is released this week. Paper Towns produced 1,740 impressions (29% ItV), whilst Amy Schumer's romantic comedy managed 1,248 (7% ItV).
Of upcoming titles, The Bad Education Movie came second for buzz with 1,139 postings (23% ItV), whilst Sinister 2 placed third with 718 (20% Itv).