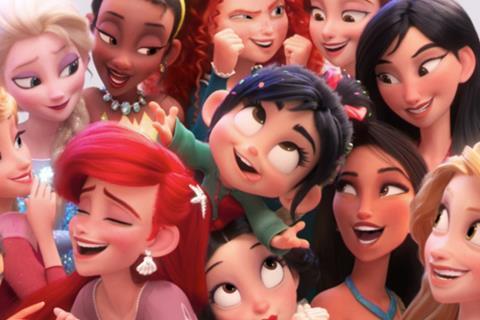 Ralph Breaks The Internet heroine Vanellope may not be a typical Disney Princess, but in the sequel she shares a playful scene with a gathering of royals from the studio's previous films, among them Cinderella, Snow White, Mulan and The Little Mermaid's Ariel.
Disney Princesses are among the studio's most protected and valuable assets, so Ralph director Phil Johnston, who spoke to Screen for our November 27 issue, was initially cautious about the scene. "This was probably the finest line we walked in the movie," he says, "because this is the legacy of the studio and we wanted to honour it but also to satirise it."
Ralph producer Clark Spencer advised the filmmakers to rough out the scene and include it in an early screening rather than risk being vetoed in advance.
"I said the only way to do it is to write the scene and storyboard it and put it in front of people," Spencer recalls. "If we execute it in the right way and make sure that we're only having fun with ourselves and not doing anything that feels like crossing a line, then I think everyone will say, 'Let's do it.' And that's exactly what happened."
To voice the scene, the filmmakers managed to recruit all the actresses who had played the characters in the original movies, including Kristen Bell and Idina Menzel from Frozen, Paige O'Hara from Beauty And The Beast, Auli'i Cravalho from Moana and Irene Bedard from Pocahontas.
"They all signed on immediately," says Spencer. "The most amazing thing was that each of them met with the animation teams and talked about their character, which really gave the animators a lot to work with."
When an early version of the scene was unveiled at Disney's D23 Expo fan event last summer, with 10 of the actresses in attendance, the response put Johnston's concerns to rest: "To the fans, it was like the Beatles had reunited," the director says. "They went crazy."