From barefoot stars championing gender equality to the arrival of virtual reality and a noisy Palme d'Or debate, Melanie Goodfellow reflects on what went down on the Croisette this year.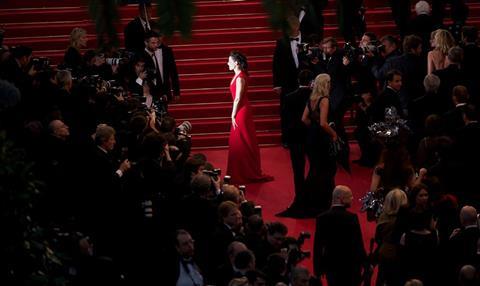 One of the enduring images of the 69th Cannes Film Festival —alongside the gunships in the bay as France remained on high terror alert — will surely be Julia Roberts, Armani gown held up to her knees, bounding barefoot up the red carpet towards a surprised Thierry Frémaux at the premiere of Jodie Foster's Money Monster. Kicking off her vertiginous sandals was a provocative act at the world's most glamorous film festival, which until last year had an unofficial but rigorous heels-only protocol for women walking the red carpet.
It also embodied a wider mood sweeping Cannes and the industry in general in which female film professionals are calling for greater gender equality, particularly behind the camera. "Even if [Roberts] didn't do it as a feminist statement, it happened organically," says Melissa Silverstein, founder and publisher of the Women and Hollywood platform. "It was like, 'Goddammit, my shoes hurt! I don't care.' For one of the world's biggest stars to do that at Cannes — a festival that has always focused on women's appearances — was empowering."
The gesture came hot on the heels of a raft of reports that laid bare the extent of the film industry's gender bias. These revealed women directors account for just 20% of the feature films made in Europe, and only 7% of those in the US. "There's no more fear," says Silverstein of the growing volume of the debate. "Women used to be scared to say anything because they thought it could lose them their jobs if they made waves."
Susan Sarandon and Geena Davis also kicked off their shoes as they were honoured at a dinner for Women in Motion, a now annual joint venture between luxury goods conglomerate Kering and Cannes Film Festival, which explores the challenges for women working in cinema. Sarandon, Juliette Binoche and Salma Hayek were among the speakers at the series of talks on the top floor of the Majestic Hotel alongside rising directors Alice Winocour and Houda Benyamina. The latter went on to win the Camera d'Or for her debut feature Divines, about a teenage girl growing up in a tough Paris suburb.
In her Kering talk, Jodie Foster cited access to finance as the key challenge for female film-makers in a risk-adverse industry. "It's a financial issue," she said. "It's where art and commerce are coming together, and commerce is winning."
Finance was the leitmotif that ran through all the various Cannes conversations debating the challenges of women in front of and behind the camera. One panel event hosted by Directors UK to explore the findings and recommendations of its 'Cut Out Of The Picture' report discussed the call for 50% of publicly funded films in the UK to be directed by women by 2020.
Panellist Amanda Nevill, CEO of the British Film Institute, said the organisation was on track to hit that figure — as promised under its diversity standards launched in 2014. Indeed, women directors were attached to 30% of the 30 films the BFI has supported over the last year, BFI Film Fund director Ben Roberts revealed in an op-ed in The Guardian published during Cannes.
Nevill also revealed the BFI is mulling childcare subsidies for film professionals, a suggestion that would have been unthinkable until recently. It was no idle promise. UK lobby group Raising Films, aimed at improving working conditions for parents in the film industry, confirms it is consulting with the BFI on the idea.
"A lot of noise at Cannes, through the celebrity endorsements and high-profile discussions, is hugely beneficial when it comes to pushing the issue of diversity and inclusion," says Raising Films co-founder and producer Nicky Bentham. "There's a real momentum now but we need to make sure we go beyond the debates and bring change with practical measures, which is what we're trying to do."
The group is now set to unveil its recent UK-wide survey on the issue at an event entitled 'Making It Possible: Parents and Carers in the Film Industry' at Edinburgh International Film Festival on June 22.
But although the issue of women in film was on many people's lips, Andrea Arnold, one of just three woman film-makers in Competition, was the only one in official selection to pick up an award: the Jury Prize for American Honey. That was seen widely as a consolation for a film that many had considered a frontrunner for the Palme d'Or, or at least the Grand Prix.
Indeed, the prizes meted out by George Miller's jury left many critics and industry cold on a number of levels. There was a widespread outcry over the exclusion of German director Maren Ade's adored black comedy Toni Erdmann, and many expressed surprise there was no recognition for many other films, particularly Jim Jarmusch's Paterson and Paul Verhoeven's Elle.
The jury's out
"Looking back at jury results — 30 years in my case — there have been some notable omissions but this year was a nadir," says veteran UK film critic Derek Malcolm. "I remember [jury chair] Clint Eastwood being influenced badly by a certain French star into ignoring [Krzysztof] Kieslowski to give the Palme to Pulp Fiction, and [Robert] Bresson and [Andrei] Tarkovsky being ignored in favour of The Mission. Almost always it is the fundamental fault of the president, weak or strong."
Ken Loach's Palme d'Or win for I, Daniel Blake, a devastating portrayal of poverty, divided the crowd. France's traditionally tougher critics, who usually lap up Loach's work, were less receptive than usual. Les inRockuptibles referred to the win as "heart-breaking", a provocation that left Wild Bunch co-chief Vincent Maraval — who has sold Loach's films for several years — fuming.
"The French press does not matter the rest of the year but in Cannes, because of the press screening being before the public screening and the internet, they feel powerful and take advantage of that," says Maraval. "They distort the truth of the reaction, relating what happens at the press screening among themselves and not at the public screening. The Palme d'Or received a standing ovation at the closing ceremony. [The critics] do not reflect what arthouse audiences like or not."
While Maraval calls for press screenings to follow the public ones, Malcolm point outs that a French critical backlash is nothing new. "The French critics have always been a good deal more argumentative than most of us," he says. "They hate more and they love more. I don't think this has altered much in recent years, and certainly not this year."
One big change among reviewers is the advent of the Twitter age. An increasing number of critics take to Twitter to vent their dislike before the final credits have even rolled. "It's as if tweeting has become the new walkout," says Screen's chief film critic Fionnuala Halligan. "Fewer people walk out now than in the past. Now they stay and tweet."
VR
While it remains unlikely that a virtual-reality (VR) feature will make it into official selection soon, Cannes 2016 marked the moment VR emerged into the mainstream. There was a plethora of VR-themed events, the most prominent of which was a showcase of more than 35 recent VR works, hosted by the Marché du Film's NEXT Pavilion and curated by transmedia film-maker Michel Reilhac. "I saw a lot of traditional film people, producers, directors and writers coming to the NEXT Pavilion to see what VR is," says Reilhac.
The works on display ranged from Eugene Chung's animated Allumette to the found-footage horror work Paranormal Activity VR, taking the viewer into the heart of an old haunted house, which prompted a noisy response as a number of viewers leapt out of their skin, and the documentary Notes On Blindness: Into Darkness, a spin-off from the multi-platform work about a professor who started to lose his sight in his 40s.
Reilhac is convinced VR is here to stay. "It is too late for it to fail, because of the size of the investments that are being made in many, many more fields than just the audiovisual one," he says. "The power behind those investors expecting a return at some point is going to make it happen. The only question is how quickly will it become a disruptive technology in the same way smartphones have become disruptive to the point they are changing our lives."
CANNES 69: WINNERS
Palme d'Or
I, Daniel Blake, Ken Loach (UK)
Grand Prix
It's Only The End Of The World (Juste La Fin Du Monde), Xavier Dolan (Canada)
Best Director
Olivier Assayas, Personal Shopper (France)
&
Cristian Mungiu, Graduation (Bacalaureat) (Romania)
Best Screenplay
Asghar Farhadi, The Salesman (Forushande) (Iran)
Jury Prize
American Honey, Andrea Arnold (UK)
Best Actor
Shahab Hosseini, The Salesman (Forushande)
Dir. Asghar Farhadi (Iran)
Best Actress
Jaclyn Jose, Ma' Rosa
Dir. Brilliante Mendoza (Philippines)
Camera d'Or
Divines, Houda Benyamina
Un Certain Regard Award
The Happiest Day In The Life Of Olli Maki, dir. Juho Kuosmanen
Directors' Fortnight Award
Wolf and Sheep, dir. Shahrbanoo Sadat
Critics' Week Grand Prize
Mimosas, dir. Oliver Laze