Screen profiles some of the hottest projects from Asia, Middle East and North Africa in 2017.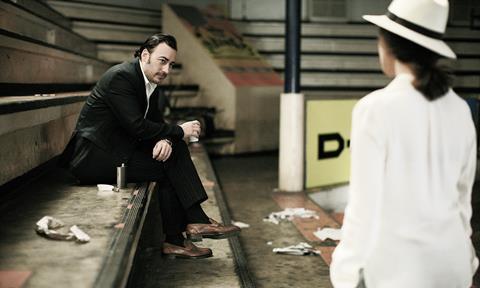 Asia
Samui Song (Thai)
Dir: Pen-ek Ratanaruang
Renowned Thai director Pen-ek's latest film (pictured above) is about a Thai soap-opera actress whose foreign husband is drawn into a cult-like religious sect. Chermarn 'Ploy' Boonyasak and Vithaya 'Pu' Pansringarm (Only God Forgives) star. Ratanaruang's Monrak Transistor and Last Life In The Universe travelled the festival circuit.
Contact: Urban Distribution International - udi@urbangroup.biz
Close-Knit (Jap)
Dir: Naoko Ogigami
The first new film in five years from Japanese writer-director Ogigami tells the story of 60 heartwarming days in the life of three individuals - a transgender woman, her boyfriend and a lonely girl. A regular at the Berlinale, Ogigami's debut feature Yoshino's Barber Shop received a special mention in 2004, while Glasses won the Manfred Salzgeber prize in 2008. Her last film, Rent-a-Cat, premiered in the festival's Panorama section in 2012.
Contact: Nikkatsu - international@nikkatsu.co.jp
Our Time Will Come (HK)
Dir: Ann Hui
Leading Chinese actress Zhou Xun and Taiwanese actor Eddie Peng star in this new film from Hong Kong auteur Ann Hui. It is a war drama about a group of youths fighting for freedom during the Japanese occupation of 1940s Hong Kong. Hui's most recent credits, A Simple Life and The Golden Era, premiered at Venice.
Contact: Distribution Workshop - dw@distributionworkshop.com
Pop Aye (Sing-Thai)
Dir: Kirsten Tan
Singapore writer-director Tan's debut feature will premiere as the opening film of the World Cinema Dramatic Competition at Sundance. The Thailand-shot road movie follows a disenchanted architect who takes an elephant on a redemptive journey across the country. Executive produced by the Camera d'Or-winning director of Ilo Ilo Anthony Chen, Pop Aye was developed at Berlinale Talents, Cannes l'Atelier and TorinoFilmLab, where it won the production award in 2014.
Contact: Cercamon - sebastien@cercamon.biz
Middle East and North Africa
Beauty And The Dogs (Tunisia)
Dir: Kaouther Ben Hania
A critique of contemporary Tunisian society, Beauty And The Dogs marks Ben Hania's fiction feature debut following her award-winning mockumentary Challat Of Tunis and documentary Zaineb Hates The Snow. Based on true events, the film stars Mariam Alferjani - who recently featured in Screen International's inaugural Arab Stars of Tomorrow - as a young woman who fights for justice after being raped by corrupt police officers.
Contact: Jour2Fete - sales@jour2fete.com
The Preacher (Egypt)
Dir: Magdy Ahmed Ali
One of the most buzzed-about titles at Dubai International Film Festival in December, Ahmed Ali's upscale thriller tackles the politics of religion in Egypt. Amr Saad stars as Sheikh Hatem, a charismatic TV preacher whose fiery sermons are at odds with his more moderate private persona. A potentially explosive question of faith from one of his show's handpicked audience members propels Hatem into a web of political intrigue.
Contact: Cedars Art Production (Sabbah Brothers) - sadek@sabbah.com
Sheikh Jackson (Egy)
Dir: Amr Salama
Ahmed El Fishawy stars as an Islamic fundamentalist cleric with a secret passion for the music of Michael Jackson. He is jolted into reappraising his life by the shock of the unexpected death of the pop star in June 2009. Sheikh Jackson is the latest feature from Mohamed Hefzy's Cairo-based production house Film Clinic, which produced Mohamed Diab's post-revolutionary feature Clash.
Contact: Film Clinic - info@film-clinic.com
Read more:
15 most exciting UK films of 2017
19 most exciting European films of 2017
16 most exciting US and Latin American films of 2017