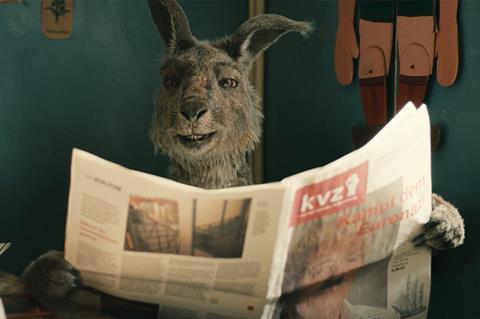 More than 40% of Germany's 1,700 cinema screens remain shut at the end of September, over six months on from being ordered closed in March as part of the country's Covid-19 lockdown.
The precarious state of the sector was highlighted by the German Federal Film Board (FFA) in its half-yearly report, which noted box office revenues for the first six months of 2020 were down by over 50% compared to the same period in 2019 — from €461.5m to €220.1m. This figure would have been even lower if not for the renaissance of drive-in cinemas which generated €14m in sold tickets between April and June.
The nationwide closure of cinemas in March has been particularly bitter for two highly-anticipated German productions: Dani Levy's comedy The Kangaroo Chronicles and Stefan Ruzowitzky's Narcissus And Goldmund.
Speaking at the arthouse exhibitors trade show and conference in Leipzig in September, X Verleih's CEO Leila Hamid pointed out The Kangaroo Chronicles was the biggest title in the company's history and had great potential after opening strongly with more than €4.6m box office in its first 10 days before disappearing completely from cinema screens due to the lockdown.
Similarly, the timing of Sony Pictures' release of Ruzowitzky's adaptation of the Hermann Hesse novel adaptation on March 12 meant the film was only able to muster around €200,000 in its four days on screens before the screens went dark.
The distributors' of both films were able to reach an agreement with the FFA and the exhibitors' associations for a reduction of the holdback window for VoD exploitation from the usual six months to just one month after the theatrical release.
"That was a big decision for us at the time because we didn't know how things were going to develop," recalls Hamid. "We didn't know if the cinemas were going to re-open at Easter, it was so uncertain."
As a sign of solidarity with the cinemas, the two distributors committed to channeling 15% of the streaming revenues from these two films into an emergency support fund.
The Kangaroo Chronicles proved to be a popular choice with the programmers of the drive-in cinemas, and later included an additional scene in 3D on its 'reloaded' release into the reopened cinemas from July 2. To date, the film has taken over €6.6m and been seen by more than 700,000 cinema-goers.
When the first cinemas started re-opening, it was German productions that featured at the top of the weekly box office chart, albeit with relatively modest admission figures. These ranged from the feature animation Conni – Secret of Mau The Cat(released by Wild Bunch) to Berlinale competition films Undine (Piffl Medien) and Berlin Alexanderplatz (eOne).
Several titles that had already been on release before lockdown such as Nightlife and When Hitler Stole Pink Rabbit (both distributed by Warner Bros.), and Das Perfekte Geheimnis (Constantin Film) were also released.
Some cinema chains waited for the release of Christoper Nolan's Tenet via Warner Bros on August 27 to reopen. The film opened on 2,200 screens and took €3.2m on its first weekend. Exhibitors looking for mainstream fare were rewarded by Leonine's decision to open Russell Crowe thriller Unhinged on July 16, ahead of its release in other territories, and Studiocanal's launch of the Christian romantic drama I Still Believe on August 13.
New rules of play
The hygiene and protection plan devised by Germany's exhibitor associations HDF Kino e.V and AG Kino - Gilde deutscher Filmkunsttheater to protect cinemas' employees and their patrons followed the same lines as initiatives adopted in other countries. These included rules on social distancing throughout cinemas, hand hygiene, and coughing and sneezing etiquette, as well as protective masks and gloves, the use of protective screens at ticket offices and counters, contactless ticket checks and more frequent cleaning. Greater priority is now also given to the online purchase of cinema tickets, and contactless payment for snacks and drinks.
However the divergent decisions taken by the 16 federal states on the minimum distances required between cinema-goers in their regions' cinemas — which range between 1 metre and 1.5 metres — has been a particular bone of contention for exhibitors and distributors. Both desperately want to return to some semblance of a viable business model.
"Operating a cinema doesn't make any sense with the current distancing rules," argues Christian Bräuer, AG Kino chairman and co-CEO of Berlin cinema Yorck Kino. "It would be more efficient to close your doors and put your staff on short-time working than to open."
"It's a race against time to see how long one can hold out," says the FFA's CEO Peter Dinges, who recently commissioned a study from auditors PricewaterhouseCoopers (PwC) about the challenges faced by exhibitors in Germany.
Dinges pointed to one finding that suggested "the cinemas will make a loss of €250m-€325m this year if the current situation — namely the minimum distance in the cinema — remains as it is and the films continue to be missing to the extent that is currently the case. If you extrapolate that for the next few months, the situation will at some point become a threat to their very existence."
Upcoming releases
As everywhere else, the next big title on the horizon after Tenet is Universal's rescheduled opening of No Time To Die on November 12.
In the meantime, cinema-owners looking for fresh new mainstream fare have two local comedies - Andre Erkau's God You're Such A Prick on October 1 (Leonine) and Marc Rothemund's Es Ist Zu Deinem Besten, starring Heiner Lauterbach and Hilmer Sözer (October 8, Studiocanal) - as well as family titles such as Jim Button And The Wild 13 (October 1, Warner), The Secret Garden (October 15, StudioCanal), Tomer Eshed's 3D animated fantasy adventure Dragon Rider, (October 15, Constantin Film) and the first film based on the bestselling book series The School of Magical Animals (November 26, Leonine). Leonine also has another animation feature – the Belgian-German co-production Yakari – A Spectacular Journey - opening on October 29.
Moritz Bleibtreu's directorial debut, the thriller Cortex, starring Bleibtreu and rising star Jannis Niewöhner, could have strong box office potential for Warner (29 October) after its world premiere at this week's Filmfest Hamburg.