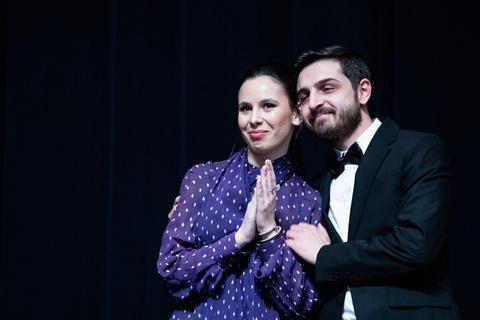 "In our society, you must be a good girl. We are fighting to get rid of that mindset."
This is the passionate call of Taki Mumladze, co-writer and co-lead of A Room Of My Own, the Georgian drama competing in the Crystal Globe main competition at Karlovy Vary International Film Festival (KVIFF) this week.
The film is the second in two years to launch at KVIFF for Georgian director Ioseb 'Soso' Bliadze, after Otar's Death last year, in which Mumladze had a supporting role.
A Room Of My Own centres on Tina, a reserved young Georgian woman moving in to a flat share while she awaits her boyfriend's arrival in the city. Her new flatmate is a free spirit, and Tina learns there is more than one way to live a life.
The film shot in the flat in Georgian capital Tbilisi where Mumladze and co-lead Mariam Khundadze were living during the pandemic. Having taken eight years to bring Otar's Death to fruition, it was "a dream" for Bliadze that the new script came together in just three weeks.
Filming took place on 26 shooting days spread over seven months from December 2020. While that schedule might raise shivers in some filmmakers, it was suitable for the unique lockdown situation. "It was less stress, because we didn't have a budget!" says Bliadze. "We were more flexible. Because of the pandemic, nobody was shooting anything. So we could shoot six hours a day; if we didn't like something, we'd re-shoot it." Screen's review described the film as "one of the first dramatic features to successfully incorporate the pandemic."
Having also produced Otar's Death, producers Eva Blondiau and Elmar Imanov of Germany's Color Of May came on-board halfway through shooting, when Bliadze showed them early footage. "I was so blown away," says Blondiau. "It was moving, authentic and telling something important. I had to get involved to help them finish it."
Collaboration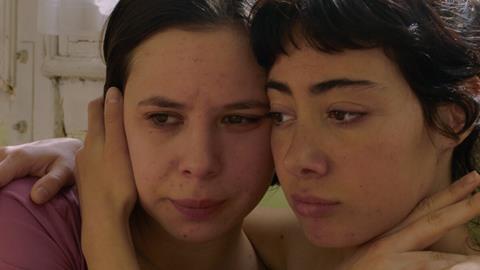 The protracted schedule posed challenges for the actors, to which they adapted. "We were living in that house, so it seemed like we were not leaving the set," says Khundadze. "It felt like we were in the process all the time."
"It was stressful for me; I was always thinking about how Tina's body language would be," adds Mumladze. "I tried to live how she would live; sometimes I couldn't cope with that. But when we finished shooting, I was so used to it; sometimes I miss her!"
Although Bliadze is the director, he is clear this was a collaborative film, with particular credit for Mumladze's writing. "Taki said, 'If you're going to make a film about women, maybe you're going to need me as a co-writer – I have more experience than you!'" he recalls. "This film really touches on important issues that are happening in Georgia." Among those are the restrictions placed upon women in what the director calls "a conservative, patriarchal society."
"When I was thinking about the script, I always had this question: where is the place where we have the chance to live our own life, feelings and experience?" says Mumladze. "In our society – and not just there – you must be a good girl, a lady."
"We don't even know what that is," adds Khundadze. "We don't have sex education [in Georgia]. Women don't even know that they have freedom of choice, or to explore sexuality or live. You have a feeling of guilt – that you're wrong. It's very important to see that world yourself – this is what I like, this is what I want, this is what I need."
"This film first of all is for Georgians," says Bliadze. "We want to find all the Tinas in Georgia."
There's a resonance beyond those borders too, which drew Blondiau to the project. The main characters "are standing for a lot of women all over the world," says the producer. "Also in Germany, I face situations that lead to me getting angry, because I'm a woman. Following the #MeToo movement, I have the right to be angry – and I'm really angry, actually!"
Sex education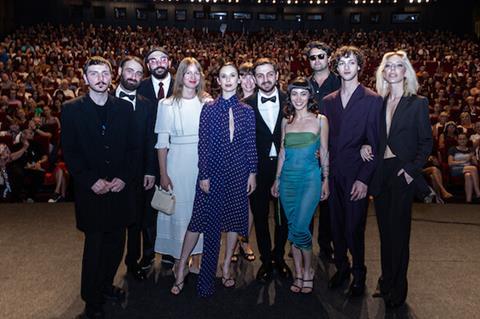 The low-fi nature of production meant sex scenes were shot like everything else, with just two or three people plus the actors on set, and no intimacy coordinator. "Soso told us 'If you don't want to be naked, we can find another way'" says Mumladze. "But it was our choice! It was very important for Georgian women, and Georgian actresses, to be free."
"[Taki and I] talked and decided how to do the sex scenes together, which was much safer," says Khundadze. "I know her, we lived together."
Far-right protests against female and LGBTQ liberation are still common in Georgia, while both Mumladze and Khundadze describe the government as "pro-Russian." "They're using their influence to stop us progressing, to stop us going to the EU and having that future," says Khundadze.
The team believe this is leading to an exodus from the country, especially of young people and women. Khundadze lives and works in London – the film includes a neat joke about her crisp English accent – while Mumladze is keen to move to the UK capital. "This is a big failure of everybody – our government, our parents' generation," says Bliadze. "Thirty years after the Soviet Union collapsed, we're still facing the same problems, including Russian aggression and oppression. These kids are fed up – they want to live a normal life."
This begs the question – why stay connected to the country? "I love Georgia – I was born and raised here, I have my family here," says Bliadze. "It's hard to be an independent woman [in this society], but it's worth it," says Bliadze, with Khundadze adding "it's scary to make this kind of statement, but I think we should."
"We told each other if we want to be free, we should do this," adds Mumladze. "It's one step – we just start fighting."