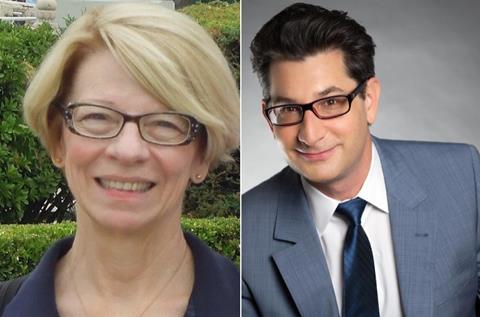 The Independent Film & Television Alliance (IFTA) trade organisation has more than 140 member companies from more than 20 countries, ranging from production and distribution operations to sales agents and financiers.
Jean Prewitt has been president and CEO of the Los Angeles-based group since 2000 and Clay Epstein, president of Film Mode Entertainment, was recently elected chairperson for the 2021-23 term.
Clay, what made you want to take on the role of IFTA chairperson?
Clay Epstein: I feel a sense of responsibility and duty to the industry, more now than ever. I remember hearing about AFMA [the American Film Marketing Association, as IFTA was originally known] 20 years ago when I was answering phones in my first job, and volunteering early in my career.
What are the key industry issues for IFTA right now?
Epstein: Advocacy is absolutely crucial — to protect independent filmmakers and independent voices worldwide. A lot of times there's a misconception about what's an independent film, yet so many of the movies that audiences love were made in the sector. If the sector is threatened, audiences will eventually become well aware there are fewer great films out there.
Jean Prewitt: Our advocacy interests have always been about market access for independents at every level, both territorially and on platforms and in theatres. Over the last few years, that's become a much more complicated issue.
With the US government, we're talking through why it was that all the agreements that were reached to give us access to China were never implemented on the Chinese side. And country after country, including the US, is beginning to address what fairness and competition means within the context of very large [streaming] platforms, which are able to simply substitute their own production for third-party production, seemingly at will.
Those are the sorts of issues we are following in concert with other independent film groups across the world. In the US, we were the first people to speak up with respect to not only the lack of pandemic insurance for film production but also how poorly served — that's a slight overstatement — the production community was by some of the rescue programmes: many of the loan programmes [offered to pandemic-hit industries by the US federal government] can't be used effectively in the production context.
What kind of support has IFTA provided over the challenging past 18 months?
Prewitt: We have tried to create online the very strong community that we tried to create in other years face-to-face. That's included a programme of webinars and member meetings where people are able to share what's working and what isn't in this situation, particularly in terms of streaming and various forms of VoD.
New business models for VoD and streaming emerged or strengthened in different territories [during the pandemic], so we initiated a review of our model agreements to ensure licensing deals could reflect standard understanding of these new models and capture the relevant business terms. From the beginning we have done a regular report on production conditions country by country, the guidelines for producing safely during the pandemic, and the same thing with respect to cinema openings and rescue programmes.
Some time toward the end of last year, we realised our members needed to see each other and that was when we started more fulsome large-group [online] sessions called IFTA Talks. Those have been interesting because you realise that everybody has been starved of the serendipitous encounters during which you acquire not only information but also encouragement from your peers.
How do you see the independent landscape evolving over the next few years?
Epstein: We're going to see more globalisation. Streamers are operating worldwide, or in large parts of the world, and some independent distributors are acquiring rights to multiple territories, either through partnerships they have with local distributors or by self-distributing on platforms. Not to say this is good news or bad news, it's just a change, an evolution. Having said that, I also think it's important for our membership to at the same time respect and try and support local distributors all over the world.
How do you see the future of AFM after its pivot to being entirely online for 2021?
Prewitt: People are so enthusiastic about coming back to Santa Monica that there isn't any question in our minds that next year we will be back with the full presentation, and the world will greet that with enthusiasm.
Epstein: If the virtual markets proved anything, it's that the industry needs markets, maybe now more than ever.