It all began in a restaurant for the producer of Guillaume Canet's Cannes title Blood Ties. Alain Attal tells Melanie Goodfellow about his US debut.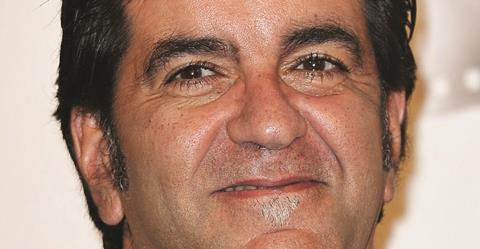 French producer Alain Attal will feel a double sense of satisfaction when he walks up the Cannes red carpet for the premiere of Guillaume Canet's English-language debut Blood Ties on May 20.
Not only does Canet's Brooklyn-shot picture — starring Clive Owen and Billy Crudup as rival brothers, one a police officer, the other a gangster — mark Paris-based Attal's first foray into shooting in the US, it is also a production that nearly got away.
"This is the craziest, riskiest adventure in my producing career… I wasn't even supposed to make the film," says Attal, sitting behind a script-covered desk in his Les Productions du Trésor film company in Paris's hip Marais quarter.
Attal first met Canet in the late 1990s through a restaurant he owned around the corner. "My early attempts to make films hadn't come to much and I had to make a living somehow, so with a friend I opened a restaurant called Le Trésor. All the serving staff were aspiring actors or directors," recounts Attal.
Alongside Canet, who would "help out from time to time", directors Philippe Lefebvre and Patrick Mille were waiters; comedian Franck Dubosc would do stand-up sets and actor Gilles Lellouche was a regular at the bar.
"Those years laid the foundations for Les Productions du Trésor," Attal says. "It was during this period I started producing short films for the likes of Guillaume… my office was between the crates of Coca-Cola and the fridge."
A decade later, Les Productions du Trésor has some 20 titles in its catalogue including Canet's Whatever You Say, Tell No One and Little White Lies, Radu Mihaileanu's Golden Globe-nominated The Concert, Maïwenn's Cannes 2011 Jury Prize winner Polisse and Régis Roinsard's Populaire, which The Weinstein Company is opening in the US on September 6.
Canet hit on the idea for Blood Ties — an English-language remake of Jacques Maillot's 2008 Les Liens Du Sang — while co-starring in the original film opposite Francois Cluzet. "It was impossible for me to be involved. Production house LGM, which made the original and held the rights, and French distributor StudioCanal wanted to do the remake," Attal remembers.
A year later, however, Canet had a script, co-written with James Gray (The Yards, We Own The Night), but no cast or US financing in place, so he approached Attal for help. "I'm not sure why it wasn't working. I think part of it was that Guillaume found it difficult to work with a different set up from here. I told Guillaume that I would only board the project if I had all the keys to the shop and then set about negotiating with LGM and StudioCanal," explains Attal. "They, with a touch of class, handed them over."
Attal and Canet started assembling the cast, comprising European and US actors — Owen, Crudup, Canet's wife Marion Cotillard, Mila Kunis, Zoe Saldana and Matthias Schoenaerts — so the production could tap into financing systems on both sides of the Atlantic.
John Lesher of Le Grisbi Productions helped out in Los Angeles, above all with the cast, taking a producer credit. "John gave us credibility in Los Angeles, handling negotiations with CAA's Jimmy Darmody who was the agent for Owen, Crudup and Kunis," says Attal.
Concurrently, Attal set about financing the film like a classic French production, securing the backing of Wild Bunch, French distributor Mars Distribution and broadcasters Canal Plus, Ciné Plus, France 2 and M6. "Wild Bunch and Mars were the film's biggest supporters. Wild Bunch loved the film from the start and put in $6m upfront on the basis of sales estimates, giving the project real credibility," says Attal.
The production started to roll in Brooklyn last May but there was still a hole in the $25m budget. The solution came through Wild Bunch sales chief, Vincent Maraval, who introduced Attal to US-based Worldview Entertainment, producers of James Gray's Palme d'Or contender The Immigrant, which Maraval is selling. After a meeting last Cannes, Worldview invested, taking US and Canadian rights as a guarantee.
Undeterred by the twists and turns in the making of Blood Ties, Attal hopes the picture will be the first of many transatlantic productions and to this end has opened the US-based Trésor Company.
"The idea is we will produce one English-language film a year," says the producer, who has two English-language projects in development. He will also produce Canet's next film — to be announced — and is developing Lellouche's second film as director, an adaptation of Irish novel Jackie Loves Johnser OK?, among others.