Altitude's joint CEO, Andy Mayson, tells Wendy Mitchell about how the company has expanded smartly and why distribution is the next focus.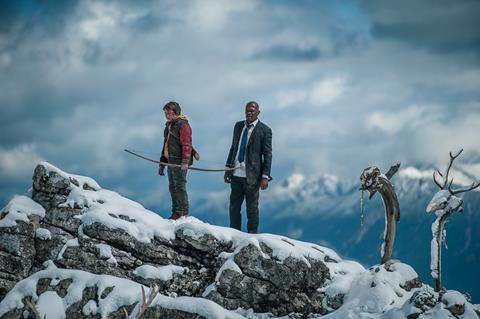 Altitude Film Entertainment can offer a new example of how to grow vertically and organically. The company was launched in May 2012 by ex-Optimum Releasing head Will Clarke, joint CEO Andy Mayson (formerly of Exclusive Media) and Mike Runagall (ex-Pathé International).
The idea was that Clarke and Mayson would spearhead the production side of the business while Runagall ran Altitude Film Sales. Building from those two businesses and three employees, the company now boasts 12 employees across three integrated businesses: production, sales and UK distribution.
"We wanted to be smart in the way we've structured and timed it," Mayson says. "It sounds like a lot [more employees] but we still keep it very entrepreneurial. The staff is still very lean. We're not trying to be a studio, we're trying to create an integrated British company," Mayson tells Screen. "Each sector feeds off each other."
Production is robust — films shot this year include their biggest outing to date, adventure story Big Game starring Samuel L Jackson; and Owen Harris's Britpop era dark comedy Kill Your Friends starring Nicholas Hoult. Bradley Quirk left Pathé to join Altitude as head of development in March.
'We're not trying to be a studio, we're trying to create an integrated British company'

Andy Mayson, Altitude Film Entertainment
Mayson says a film like the $13m Big Game shows what the company is capable of delivering. "We want to make quality, commercial films that we're proud of. Big Game has used all our expertise. Will and I have complementary skills. Will could get Samuel L Jackson on board and I could help pull together the financing."
The film includes both German and Finnish soft money, a small amount of equity investment and a US bank loan.
Another big title being prepped is Cannes hot seller SAS: Red Notice, a $20m Andy McNab adaptation being made with Parabolic Pictures and Vertigo Films. Nick Love will direct Luke Evans and the film is likely to be set up as another European co-production. And James Watkins, The Woman In Black director who is a key talent partner for Altitude, is lined up to produce The Loch, an upcoming horror film to be directed by Simon Duric.

Roster of titles
The sales arm now has about 20 titles it is actively selling, including the productions already mentioned plus Son Of A Gun starring Ewan McGregor; documentaries Pulp: A Film About Life, Death & Supermarkets and Bolshoi Babylon; and Christopher Smith's holiday family title Get Santa starring Jim Broadbent.
The next focus will be growing the distribution arm, which hired Momentum veteran Hamish Moseley as head of distribution in late October 2013. The outfit's first release was documentary 20 Feet From Stardom, a modest success at $325,000 (Altitude acquired the film before its Oscar win).
Next to launch theatrically will be Ryan Coogler's Sundance 2013 winner Fruitvale Station on June 6 and Nick Nevern's comedy spoof The Hooligan Factory on June 13.
The company also recently signed a home entertainment partnership with Spirit Entertainment, which is working on a full slate of releases including library titles such as Eat Drink Man Woman, Austin Powers, Belleville Rendez-vous and Exit Through The Gift Shop.
The distribution arm will not automatically take UK rights to Altitude's productions or sales titles, only when the fit is right.
"We have great partners like StudioCanal, eOne and Lionsgate, so we don't exploit all our productions ourselves in the UK," Mayson says.
Yet he is clear the distribution outfit will take on some ambitious releases. "We aren't just dealing in small films; we're set up to do larger movies too," he says, pointing to forthcoming titles such as Asif Kapadia's Amy Winehouse documentary and the big-screen adaptation of Spooks. "But committing to really large MGs [minimum guarantees] is not really what we're doing now."
Altitude plans 12-18 theatrical releases per year, which will be busy with its lean staff. "You have to be really entrepreneurial about it," Mayson adds. "The combination of three businesses adds value to each one but it's a challenge with resources."
In the hyper-competitive UK distribution market, he says Altitude "is trying to be clever, not just taking a formulaic approach" with its marketing. "We look at each release with a blank sheet of paper and be creative with ways to reach the market. We're taking on quality commercial titles with the possibility to break out."
Being knee-deep in distribution also helps to inform Altitude's work across the value chain. "You can't develop and produce in a vacuum," Mayson reiterates. "And also being a sales company, distribution helps you stay close to the market."