Crafting an illuminating documentary about Amy Winehouse required sensitive diplomatic skills and nerves of steel. Director Asif Kapadia and producer James Gay-Rees tell Matt Mueller about the challenges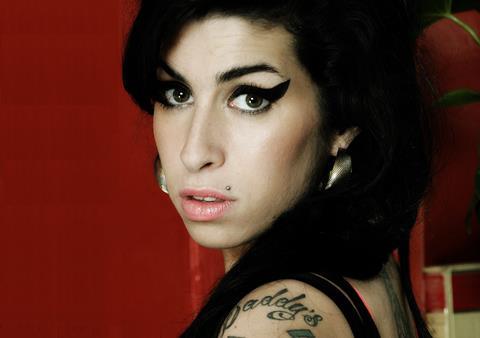 From any film-maker's perspective, trying to encapsulate a life as brilliant but troubled as Amy Winehouse's in a two-hour documentary was always going to be daunting.
But with Amy, which is showing in a Midnight slot at this year's Cannes Film Festival, director Asif Kapadia and producer James Gay-Rees have assembled an intimate, revealing and at times painful-to-watch portrait of one of the most famous women on the planet, who died tragically young, at the age of 27, of alcohol poisoning in 2011.
Kapadia and Gay-Rees, who collaborated on the director's first feature documentary Senna, about Brazilian Formula One champ Ayrton Senna, were approached in late 2012 by David Joseph, chairman and CEO of Universal Music UK, about making a "warts-and-all" documentary on the singer.
Universal Music Group, who released Winehouse's studio albums under its Island banner, fully financed the film then sold territory rights at the 2013 Cannes Market, where a Winehouse documentary from the Senna team generated bidding wars in some territories.
Former Focus Features International co-president Alison Thompson is selling Amy through Cornerstone Films, her recently established sales and production outfit with Mark Gooder; A24 recently acquired US distribution rights.
Creative control
UMG gave the Senna pair full editorial independence on Amy, as well as the rights to use her music, including previously unheard material.
London-born Kapadia had fielded several offers in the wake of the multi-award winning Senna to make more documentaries about colossal sporting figures - "Some of the biggest names you can imagine," he says - but he was drawn to Winehouse's tragic tale as a young woman from his own neck of the woods: north London.
"Senna came from another universe but Amy felt like someone I could have gone to school with," he says. "For me it became personal because the more research I did, the more I realised that she had lived just down the road from me."
While not a particularly huge fan going in, Kapadia immersed himself in Winehouse's music and resolved that the spine of Amy would be her music and lyrics.
"It was almost my version of doing a Bollywood film," he muses, "where the songs are the narrative and we have to find a way to link between these very personal songs."
As he did in Senna, Kapadia forgoes any talking-head chats, instead piecing together Winehouse's story through archive footage and voiceover interviews with a vast array of friends, family, former partners and music industry professionals who, at one point or another, found themselves in her orbit.
Of the archive footage, much of it derives from media appearances, studio sessions and concerts, but the most compelling are the private videos supplied by family and friends, which start off revealing a bright, talented, witty girl before she began to fray at the edges under the scrutiny of fame and her growing addictions.
The starting point was approaching people from Winehouse's life, few of whom had any interest in participating at first. Those close to her largely clammed up after her death, devastated by her passing and stung by her treatment (or in some cases their own) at the hands of the media.
It is an impressive feat Kapadia and Gay-Rees have pulled off in being able to corral every key figure in Winehouse's life (not least her father Mitch and the man demonised by many of her close circle not to mention fans, ex-husband Blake Fielder-Civil) and convince them to go on the record.
"Nobody wanted to be involved in this movie," admits Gay-Rees. "It took a lot of trust building. You try to get in front of the family and talk about it.
"Senna was obviously a great selling document. It helped when we told them we meant to do a piece with sincerity and integrity. But it was a delicate process. It required a lot of managing.
"Sometimes it was about saying, 'Listen, you were close to her - if you don't put your side of the story, it's not going to be in the movie.'"
Even more than with Senna, Kapadia says, sensitive handling skills were paramount. "There was a lot of distrust and paranoia," he notes.
"My job as a director on this film came in earning the trust from people who had never spoken before, who had been carrying this trauma of what went on, and getting them to open up. One by one, somebody would trust me and say, 'You should talk to his person.'"
Kapadia calls Senna and Amy "yin and yang", and believes the adulation for the former compared with the mockery of the latter (in some quarters) can partly be attributed to the fact Winehouse was a woman.
"Senna has this heroic story in the macho world of race-car driving," he says. "And then you have the inverse of that journey - a young girl who's not built for it, not comfortable in the glare and treated quite badly. Because she's a girl, the media felt entitled to comment on her weight, her look, her hair, her boobs, whatever."
Back in black
Eventually, Kapadia and his team conducted around 100 interviews. His process was methodical: he would sit with each person in a Soho sound studio and dim the lights or sometimes turn them off completely.
"I would say to the mixer, 'Just turn the lights down,' because people tend to be very uncomfortable," says the director. "I'm a fan of the power of speech and imagination and because I'm not filming you, I don't need to see you."
Unsurprisingly, the sessions provoked tears, sorrow, guilt and recrimination. "Everybody would break down at some point," says Kapadia.
"The whole process was a form of therapy for people to get off their chest what they'd been privately carrying."
His mission became messianic, too, about showing 'the real Amy'. Kapadia notes that even seasoned entertainment professionals seemed to have formed negative opinions of Winehouse based on her media portrayal.
"When I mentioned I was going to do the film, one person in particular looked me in the eye and said, 'Why do you want to make a film about a junkie?'," he reveals.
"I remember thinking, 'How can you say that about someone you've never met? How can you form that opinion so decisively?' That's why I had to make this film, because people like that have this opinion about someone who was only a kid."
"We set out to re-educate people about her because she had almost become a laughing stock," says Gay-Rees. "A line was crossed by certain parts of the media in a pretty unacceptable way."
In terms of the nuts-and-bolts assembly of a Kapadia documentary, the methodology involves a team of researchers pulling footage, as Gay-Rees describes it, "left, right and centre for six months", before the creative editor - in Amy's case, Chris King, who also edited Senna and two other Gay-Rees-produced projects, Exit Through The Gift Shop and All This Mayhem - comes on board.
From an initial assembly that can run several hours in length in rough chronological order, Kapadia and King start to winnow down, working out where the holes are and what they need to fill them. As they went along, and participants were asked to return for second, third and sometimes fourth interviews, Kapadia's interrogation became more pointed.
With their objective approach to Winehouse's story, some figures inevitably end up coming off in a less flattering light than others.
"You can't make this movie without going to some uncomfortable places," admits Gay-Rees. "We never had an agenda to say, 'Right, here is who's responsible for what happened.'
"It was about trying to show the real person. But in trying to condense 10 years into under two hours, you can't represent everything that everybody would like in the movie."
"It had to be as honest as we could make it," concludes Kapadia. "The person who comes out of it amazingly is Amy and she's the one I'm interested in."
Hot Docs
Top 10 docs by global box office*
This Is It
(dir. Kenny Ortega) $261.1m
Fahrenheit 9/11
(dir. Michael Moore) $222.4m
One Direction: This Is Us
(dir. Morgan Spurlock) $68.5m
Bowling For Columbine
(dir. Michael Moore) $58.1m
An Inconvenient Truth
(dir. Davis Guggenheim) $49.8m
Sicko
(dir. Michael Moore) $36.1m
2016: Obama's America
(dir. Dinesh D'Souza, John Sullivan) $33.4m
Madonna: Truth Or Dare
(dir. Alek Keshishian) $29m
Super Size Me
(dir. Morgan Spurlock) $20.6m ν
Capitalism: A Love Story
(dir. Michael Moore) $17.4m
America: Imagine The World Without Her
(dir. Dinesh D'Souza, John Sullivan) $14.4m
* Excluding concert, nature and wildlife docs