In 2017 and 2018, Loving Vincent, Polish artist/filmmaker Dorota Kobiela's oil-painted animated feature about Vincent van Gogh, grossed over $40m at the international box office and secured an Oscar nomination.
There is therefore huge curiosity about her next project, and Kobiela will be participating in a work-in-progress presentation at Annecy Festival on Friday (June 18) of her new hand-painted feature The Peasants, which is being sold by New Europe Film Sales.
Distributors have already been circling the film, which is expected to be ready for release in the second half of 2022. On the eve of the Annecy presentation, New Europe announced further deals on The Peasants to South Korea (First Run) and the Czech Republic and Slovakia (Bohemia).
As previously announced, The Jokers acquired the film for France and Koch Media for German-speaking Europe. New Europe is in discussions with buyers in several other territories and will present new footage at Cannes in July.
Based on a novel by Nobel Prize-winning Polish author Wladyslaw Reymont, The Peasants is the tragic, Thomas Hardy-like story of a beautiful peasant girl forced to marry an older, wealthy farmer when she is actually in love with his son. The finished film is expected to consist of around 80,000 hand-painted images and run to two hours, considerably longer than its 93-minute predecessor.
Painters are currently working on the project in Poland, Serbia and Ukraine. The release may be more than a year away but the filmmakers are frantically busy and have renovated a 1930s power station in Sopot, Poland as their studio base.
How to follow 'Vincent'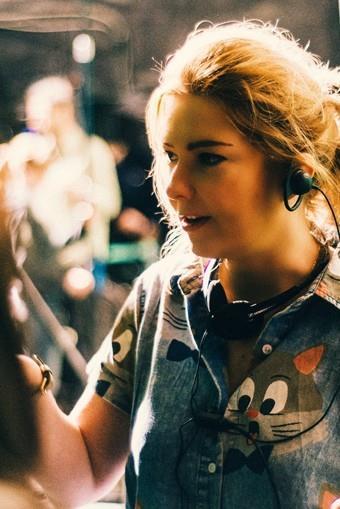 As Kobiela and her British partner Hugh Welchman explain, there was some discussion after Loving Vincent that they should look for another artist whose story they could tell in the same style.
"The logical thing was to see if there were any other uber-famous artists where we could tell the biopic of their lives using their paintings. But we very strongly felt that we didn't want to do that as a follow-up. We're open to that in the future, but we wanted to try something new," says Welchman, co-writer and producer on both features, and also co-director on Loving Vincent.
After that idea was dismissed, another thought was to do an animated horror partly inspired by Spanish artist Francisco Goya's war paintings. This has also been shelved for the time being.
It was around the same time that Kobiela thought of The Peasants, a book she had first read at school without it leaving much impression on her. However, a few years later, when she listened to the audiobook version and then re-read the novel, she fell in love with it.
"I like the writing, the style, its epic format. I liked the characters and the fact that everyone is so undefined. There is no evil, bad or good. Everyone is shady and interesting," says Kobiela, who also liked the way the story was "connected to the land" and to the seasons.
The director gave the book to Welchman as a present in 2016. While the archaic English translation was on the "turgid" side, he also spotted its adaptation potential.
"The one thing that stood out was that everything was so painterly," he says. "There are these incredible descriptions of nature, the life in the village. When I was reading it, I was seeing paintings in my head, like realist paintings from the 19th century."
This, they decided, was a story that would lend itself perfectly to the oil-painted animation technique patented on Loving Vincent, albeit with a visual style that would be "much more realistic than the post-impressionist style of Van Gogh," as Kobiela puts it. She also recognised that there "would be more artistic freedom" than on Loving Vincent, with Van Gogh's paintings very familiar to most people.
The filmmakers' main concern was whether the project would have the universality to work with foreign audiences. While Reymont's novel – which was published in four parts between 1904 and 1909, before winning him the Nobel Prize for Literature in 1924 – is on the national curriculum in Poland, it is little known abroad. However, Penguin Classics is preparing a new English translation which will be issued to tie in with the film's planned release in 2022.
"This was a pure peasant story and also a gripping, passionate love quadrangle," Welchman says of the novel. "What could be more different from Loving Vincent than a very dynamic, passionate film that is full of fighting and dancing and singing, and with two female leads.
"There is a lot of sex and violence in it," he adds.
Creative support
The Peasants has been more straightforward to finance than its predecessor. It is again made through Breakthru Films, the company founded by Welchman in which Kobiela serves as creative director alongside CEO Sean Bobbitt (who is lead producer on the new film).
The strategy was to secure the Polish support first and then build out from there. The Polish Film Institute boarded early, as did Warsaw-based New Europe Film Sales. "We were impressed by what [New Europe] have achieved and they seem like an agency that is going places," Welchman says. "They know the novel and they like the ambition of the project."
The early pre-sales suggested there was an international appetite for the film. At $5m, The Peasants' budget is roughly the same as Loving Vincent, and relatively modest given its scope.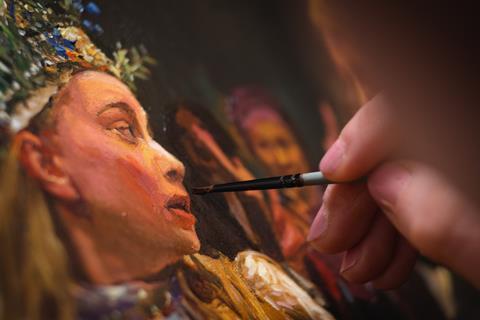 As with Loving Vincent, the filmmakers have been in touch with museums, and there are discussions underway about an accompanying exhibition, showcasing the film's artwork alongside paintings from the Polish New Realists.
The filmmakers' exhaustive attention to the visuals has also been extended to casting. For the lead role of Jagna, they launched a nationwide talent hunt. "In the book, she is described as incredibly beautiful," Kobiela notes. "That was one of the reasons we were looking for a girl who is spectacularly beautiful."
"We are fairly familiar with all of the famous actors in Poland," adds Welchman. "We just weren't convinced that there was someone among that selection who was Jagna. So we wanted to do a grassroots casting process. We put ads on Facebook and Instagram and other social media platforms; we contacted all of the acting schools, and the high schools as well. We had a couple of thousand people sending us showreels."
In the end, Kamila Urzedowska was chosen for the role, with the rest of the cast made up of leading Polish actors. While Urzedowska has a few small screen credits, she is mostly unknown but now being tipped as Poland's answer to Julie Christie, a star in the making. Kobiela talks of her "very intriguing, modern look" which she hopes will appeal to a younger audience.
While live-action shooting was suspended last year due to the pandemic, it has since resumed and is due to be completed in the early autumn. Ultimately, the filmmakers say they will have no objections if local distributors decide to dub The Peasants. "There is so much going on in the picture that it is a shame for people to have to read the subtitles," Welchman suggests.
In their Annecy session, the team won't just be presenting footage from the project. They may also be looking to recruit new artists to work on it.
"It would be nice if there are a lot of people sitting in the audience who happen to be amazing animators and amazing painters," Welchman says. "I hope the word gets out and we get more applicants for the painting/animation process."