The Iraqi producer-director is making award-winning short films that portray the chaotic complexity of life in his home country.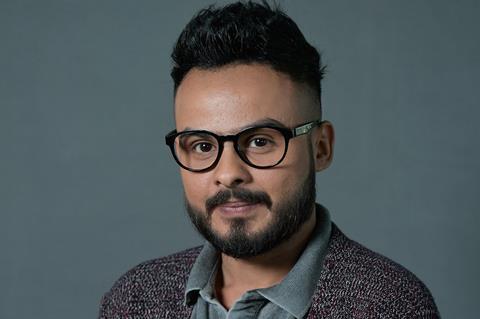 It was the noise he remembers most. Iraqi director and producer Ayman Al-Shatri was an 11-year-old schoolboy, growing up in the city of Nasiriyah on the Euphrates River, when the US-led coalition invaded Iraq in 2003. "When the war began, it was really loud. We were all scared but my father tried to reassure us," Al-Shatri recalls. "We couldn't go to school. We were stuck at home. There was no TV or any means to communicate, only the light of the lantern, the darkness and the sound of the explosions.
"I loved Jackie Chan, Arnold Schwarzenegger, Jean-Claude Van Damme, Jet Li and Bruce Lee when I was young. When the war broke out, me and my younger brothers would tell one another stories inspired by their films."
The war, and the 14 years of violence that have followed, are a big part of why 25-year-old Al-Shatri has become a filmmaker. "It stems more from wanting to capture the current reality of Iraqi society," he explains. "Our lives as Iraqis are films. Our reality is full of strange and suspicious stories. I have lived through all the stories, scary, painful and deadly, and I'm always thinking, 'How can I can represent this?'"
Al-Shatri's award-winning 2015 short Warm Night stars his younger brother as a schoolboy trying to memorise his Iraqi history lesson at home, while a local cameraman attempts to capture a new chapter in Iraq's history outside on the conflict-hit streets.
"I loved the character of the boy in Warm Night," says Al-Shatri. "He represents our current generation as we were then in 2003, not fearing anything or thinking about war, only thinking about the future."
Al-Shatri, who works as the head of editing and graphics at a TV production company in Baghdad, moved to the Iraqi capital to study at the Film and TV department in Baghdad University's College of Fine Arts in 2011.
It was during this time he met his band of faithful collaborators including Ameer Ihsan, Aws Al Lami, Karrar Al Mahdi and Mounir Saleh. The group work closely together as an informal collective making self-financed micro-budget short productions. Ihsan is also a director and has worked as a co-writer and producer on nearly all of the films Al-Shatri has made to date. Al-Shatri has supported Ihsan's directorial works in a similar way. Their films all have a sophisticated, cool aesthetic that defies the lack of facilities, equipment and finance in Iraq.
"My team is the biggest reason behind my success," says Al-Shatri. "I consult with them on every detail. Without them, I couldn't make a frame. We've sometimes made zero-budget films. That's impossible to do alone."
Their latest collaboration is the short film Five O'Clock, directed by Al-Shatri, about a man contemplating whether he will really go ahead with a planned suicide attack. He wanders around Baghdad with a fully charged belt, eventually sitting down at a bus stop where he gets into conversation with a female psychology student who has just written a paper on suicide bombers.
"Five O'Clock was made with a very small budget and cost us a lot of effort," Al-Shatri explains.
The short premiered at DIFF last year before hitting the international festival circuit, screening most recently at the Malmo Arab Film Festival, where it garnered a special mention.
Filmmaking for Al-Shatri is a real family business. "My family has always supported me. It was my father who planted the love of cinema in me during my childhood," says the young filmmaker.
"My mother is the one who makes us food when we're busy filming. She's always joking that she is the production manager. My brothers are my critics when I finish a film. They're always the first ones to watch the film at home. They give me their opinion and help me make notes."
Contact Ayman Al-Shatri aymanalshatri@gmail.com