The well-known star of the small screen has snagged the lead in a big new local film which could catapult his career to the next level.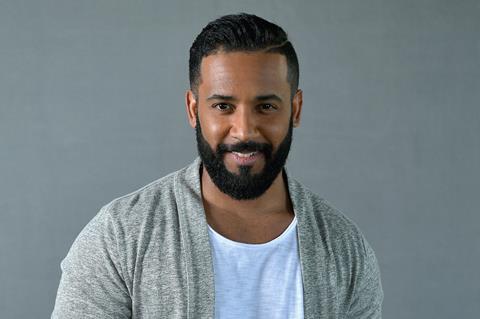 Marwan Abdullah Saleh, a TV and social media star in the United Arab Emirates, is ready to break out internationally with his debut big-screen role in Mohammed Saeed Harib's body-swap comedy Rashid & Rajab.
The eagerly awaited feature is compatriot director Harib's first live-action work following the hit animated series FREEJ and his work on feature-length animation The Prophet, which was spearheaded by Salma Hayek who voiced a major character.
In Rashid & Rajab, which opens in the UAE early next year, Saleh plays workaholic Emirati businessman Rashid opposite Egyptian actor Shadi Alfons as impoverished Egyptian deliveryman Rajab. The pair mysteriously swap bodies after a car crash, giving them a fresh perspective on their lives as they fight to get back their true identities.
"He has this amazing comedic energy," says Harib of Saleh. "I knew that by putting him on the big screen, we would create magic. I always wanted to work with him and I always knew he had potential. I know he is going to be one of the big stars of cinema."
The director says Saleh brought his own unique stamp to the role. "His character became very Charlie Chaplin-esque," Harib explains. "Everyone was laughing on set after we called cut and I knew this was the right tone of the film."
Saleh admits his first time on a film set was a steep learning curve from the TV work he had done previously. "There was a lot more attention to detail and it was a lot more complicated, but it was a challenge I really enjoyed," he says. "The biggest shock for me was shooting one scene for 11 hours. That's unheard of when you shoot a TV series.
"A lot of research went into this, from studying the character's background, to looking into his psychology and physical appearance."
Saleh grew up in the theatre as the son of Abdullah Saleh, one of the UAE's most respected actors and writers. His first role was at the age of six in a play called Destiny, directed by Emirati actor and household name Habib Ghuloom.
However, until he was nine his first love as a child was soccer. "I was playing for the local team but my footballing career was cut short when I was sustained a serious injury," he reveals. "It forced me back to acting."
Saleh started securing small TV parts and has been working regularly in local series ever since. One of his best-known TV roles to date was playing opposite Emirati star Jaber Naghmoosh, as his character's son, in the popular local comedy show Hayer Tayer, which ran for five seasons from 2000 to 2007.
"The chemistry was so fantastic that many of the show's fans and critics said no other actors could play such a great father and son duo. It was incredible feedback," says Saleh. "I hope one day I will be the next Jaber Naghmoosh."
Another role model for the young actor is Hollywood actor Jim Carrey. "As a young boy, I would watch his films Ace Ventura and The Mask, and I would try to copy his expressions and movements, really trying to learn from each scene."
Saleh studied at Tunisia's Arab-African Centre for Training in Theatre, based in the El Hamra Theatre in Tunis and founded by the celebrated late actor and director Ezzedine Gannoun.
Alongside his TV and theatre work, Saleh also has a strong social media following which he hopes to develop further in the future. "I'm active on Snapchat. I've been doing a few sketches on Snapchat to make people laugh. Surprisingly, I recently found out that these are being uploaded to YouTube, where they have a huge number of views. I am planning to develop my own YouTube channel in the next few months," he says.
Alongside his multiple commitments, Saleh finds time for his theatre work. Last year, he produced and directed the comedy Ers Al Ethnain as part of his campaign to revive the UAE's flagging theatre scene.
"I am working on producing a number of plays," he says. "I think Emirati audiences have forgotten about the theatre, and I hope to get them reinterested in this art form."
Contact Marwan Abdullah Saleh, Dubai_theater@hotmail.com