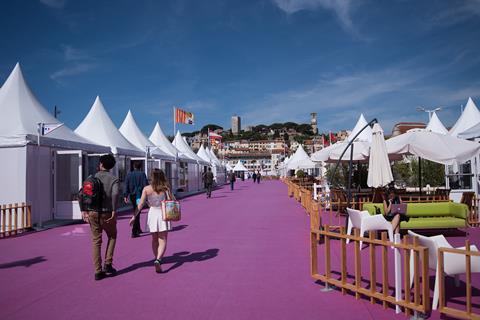 For the past few months, the more internationally-focused producers, sales agents and buyers across Asia's various film industries have watched with alarm as the Covid-19 pandemic has swept through the US and Europe.
China and then other countries in East Asia were among the first to be affected by the coronavirus, but while the crisis is far from over in this region, the infection and death numbers have not been as devastating as in the West and many industries are already easing out of lockdown.
Cinemas have reopened in Hong Kong, South Korea and Japan and production is slowly restarting in Hong Kong, Korea and mainland China.
But the region's biggest film market, Filmart in Hong Kong, has been postponed from March to the end of August (see Asian markets schedule below), and the world's biggest film meet, Cannes Marché du Film, has moved online.
Many other festivals and markets used by Asian companies to promote and sell movies – including Tribeca, Seattle, Locarno and Far East Film Festival in Udine – have been cancelled or become virtual events. Just like everywhere else in the world, sellers in Asia are having to navigate through a confusing new international landscape, at the same time as dealing with the aftermath of closed cinemas and production delays.
As previously reported in Screen, several Asian films were contenders for the now cancelled edition of this year's Cannes film festival – including Yeon Sang-ho's Peninsula, Media Asia's omnibus Septet: The Story Of Hong Kong, Naomi Kawase's True Mothers and Kiyoshi Kurosawa's Wife Of A Spy. The teams behind these films are now having to decide whether to aim for a "Cannes 2020" label (to be announced June 3), hope that Venice and Toronto take place as physical events or come up with another strategy altogether.
It's going to be some time before Asia's typically resourceful film industries see a road map out of this confusion. But now that a clearer picture of the new festival circuit is starting to emerge, with details of the Cannes Marche Online (June 22-26) and CAA-led online platform (June 22-28), Screen spoke to the region's leading sellers to see how they anticipate doing business in coming months.
HONG KONG & CHINA
Most Hong Kong and mainland China sellers work with a small but strong network of international buyers that tend to specialise in Chinese or other Asian movies. The consensus is that they don't need virtual markets to sell to these people.
"I'm talking to my regular buyers every day via WhatsApp, WeChat and email, so I'm not sure we need this kind of online platform," says one seller speaking off the record.
Hong Kong sellers are also concerned about the time difference involved in taking part in meetings through the Cannes Marché Online platform, as they would need to work late into the night. This is less of an issue for Asian buyers who are mostly interested in screenings, which are being held separately for their time zone. But there is nothing technology can do to make real-time meetings across time zones more convenient.
Another issue for many Hong Kong and Chinese sellers is that they simply don't have films that are ready for screening or promotional materials to show. China was one of the first countries to shut down production due to Covid-19, in early February, and only films that were already in production before the lockdown are shooting now. Then there's the fact that cinemas in their biggest market, mainland China, have yet to reopen.
"We don't know when the films on our slate can be released in China – and we can't really sell international if we don't have confirmed release dates," says Media Asia general manager Fred Tsui. "But with lockdowns and no box office nearly everywhere in the world, it would be difficult to sell international anyway."
However, some sellers have decided to give the online Marché a try, just to see how it works, including Taiwan-based Distribution Workshop and companies that have people in Europe, such as Fortissimo Films and Asian Shadows, which makes the time difference less inconvenient.
"We participated in the Visions du Reel festival and industry programme online. It's not like being there, but having online pitching and forums was important and helpful," says Asian Shadows' Isabelle Glachant.
"It's impossible to understand what the situation will be after the world lockdown and closing of cinemas. We're in a dark tunnel, so having Cannes organise a market where we can check the water levels in the middle of this tunnel is important. Especially for the indies."
Some companies don't see physical markets returning until 2021, so are leaning towards online solutions for the rest of the year.
"I don't think it will be safe to travel internationally until early next year. We can keep markets virtual for now, and if things get better, perhaps we can restart the physical markets at Berlin in 2021," says Golden Scene's Felix Tsang, who plans to participate in the CAA-led platform as a buyer.
But there is huge resistance on the sales side towards online markets becoming a permanent solution, especially as foreign-language product has to fight that much harder to create awareness in a digital environment when competing with the rest of the world.
"Physical markets are good for new business – an attractive booth and posters will encourage potential new clients to stop and talk to you – and it's always good to meet somebody face-to-face first time you do business," says Entertaining Power's Grace Chan.
Miriam Cheung, sales chief at Emperor Motion Pictures, adds: "It's much harder to show promo materials and gauge a client's real reaction online."
Most Hong Kong sellers are planning to take part in Filmart in late August, but may not splash out for the large, elaborately-decorated booths they usually host at the market, due to concerns about how many buyers will be able to attend and the volume of business that can be done.
SOUTH KOREA
South Korean sales companies also have a fairly established network of buyers with whom they are already able to conduct business through emails, messaging apps, phone and online screeners, so many question the need for signing up to do this same business on the Cannes Marché virtual platform. But most are opting in out of curiosity and because the fee is not high.
"We were already going to have a booth at the physical market. We can't tell when the next offline market will be, and we have upcoming films for the second half of the year in the pipeline, so we're participating," says Judy Ahn, head of international business at Showbox.
"We're curious about this new format. I think working from home could become more prevalent so this will give us a look at how that might work. But not all our buyers are participating, and they ask us whether they really need to pay to use this virtual market when we are already in touch through email and WhatsApp," says Finecut director of international business Yunjeong Kim, who estimates that around half her buyers will be using the Cannes platform.
The Korean Film Council (Kofic), which usually hosts a Korean pavilion in the International Village of the Cannes Marché, decided to take a virtual pavilion to continue to promote Korean films and festivals.
"We heard that only sellers who opened booths offline before are eligible to take virtual booths, and the applications of small and medium companies that originally used to come join us in the Kofic stand were not accepted, so we'll be helping them as well as other film industry people who would have used the Kofic pavilion for their activities," says James Nam, manager, international relations team.
Dealing with time differences will be an issue and Kim says she's considering setting aside different days for different territories. "Maybe I'll do one day of all Asian buyers and one day of all Europeans. I'm mulling over how to make it work," says the Finecut exec.
Market screenings will be held in different time zones, and the buyers based in each time zone will be seeing films at the same time, so security is more of a concern than time differences for some.
"You'd need to watermark films, but you can't do anything about someone setting up a camera next to their computer and pirating a film, so I'm not sure it's worth paying for a market screening. We can give trusted buyers screener links privately as usual," says one seller speaking off the record.
Korean sellers also voice concerns about the downside of not being able to meet offline, especially with new "walk-in" buyers and the lack of casual, impromptu information-sharing that is possible at a physical market.
"When you're at a physical market, you can pop by another sales booth and ask if they know a certain buyer – you can see when people are in between meetings and have a moment – but doing virtual business, you can't really message them on KakaoTalk when they're probably busy," says Kim. "Researching buyers online is not the same as getting references from other sellers."
Danny Lee, director of international business at Contents Panda, notes there are other advantages to real-life meetings: "Sales is about building relationships. We're very careful about offers that come from walk-in buyers in any case. It's important to meet with them to understand their intentions, and you need to talk personally, get to know one another before doing a deal.
"You need all five senses to figure out if a person is trustworthy and you can't do that over video chatting," he adds.
South Korea has not had a complete lockdown but instead opted for assiduous testing, contact tracing, quarantine and voluntary social distancing measures, which also apply to productions. Although some were delayed, keeping step with government recommendations and voluntary precautions, the bigger issue for sellers is that they cannot be certain of release dates in Korea and even less so elsewhere.
"Since cinemas are closed or not doing well in a lot of countries, buyers are finding it difficult to plan and they are on tight pocketbooks," says Sylvie Kim, head of international sales at K-Movie Entertainment.
So far, none of the Korean sellers can say for sure when their next physical market will be, with Hong Kong, Toronto and AFM all under consideration, although they're concerned about the prevalence of the virus in Europe and North America, as well as the length of time they'll have to spend in quarantine. And while Hong Kong has successfully contained the virus, the city's protest movement restarted this week, in response to Beijing's plans to bypass the Hong Kong legislature with a national security law.
Korean sellers and Kofic all say they will attend Busan if the market opens, but the question is whether buyers will also be able to attend.
JAPAN
Earlier this week, Japan officially ended the state of emergency that been enforced in many regions since mid-April as part of its efforts to fight Covid-19. The country locked down later than most of its Asian neighbours, waiting until after the official announcement of the postponement of the Tokyo Olympics to summer 2021, but appears to have kept the virus mostly in check reporting 16,623 cases of infection and 881 deaths.
As in other Asian territories, production was on hold and cinemas closed during the partial lockdown, but theatres started to reopen this week, screening previously released titles and deploying social distancing measures. On May 14, industry body the Motion Picture Producers Association of Japan (Eiren) announced safety measures for restarting production.
Japan has two high-profile titles from Naomi Kawase and Kiyoshi Kurosawa that were expected to premiere in Cannes and are now considering their options. It's unlikely that Japanese studios and producers, even more piracy-averse than most of their international counterparts, will opt for online premieres of high-profile or big-budget films.
Several major Japanese sellers, including Shochiku, Gaga Corp and Nikkatsu, have registered for the Cannes Marché Online, although most have decided against a virtual booth as the information they want to share will be available on Cinando.
While a few new Japanese productions will be unveiled for the Marché, most companies are focusing on previously announced titles.
"Late June is a little too early for us to return to the real business for new titles," says Nikkatsu's Emico Kawai. "Production and release schedules have been postponed so we need to start tracking everything again. On the other hand, some territories are coming back and they need contents – especially home video, internet/VoD and TV. So it might be a good time for catalogue sales."
Unijapan is hosting a virtual Japan Pavilion during the Marché Online, which will provide a directory of sales companies, producers and film commissions, rather than sellers' slates. If any Japanese films are selected for the Cannes 2020 label, they will be featured separately in the Japan Pavilion.
Following Cannes, Japanese sellers say they're still not sure what their next market will be. "We haven't decided yet about other markets such as Hong Kong and Busan. If there's a regular market at TIFFCOM we will have a booth for sure," says Shion Komatsu, sales executive at Shochiku, which is in the process of rescheduling its 100th anniversary retrospectives in several territories around the world.
As in other Asian territories, Japanese buyers are interested in both the Cannes Marché Online and CAA-led virtual platform, as a way to see new films and receive updates on the latest projects, although like everyone else in Asia, they have reservations about the time differences involved.
SCHEDULE OF MAJOR ASIAN FILM MARKETS:
Filmart, Hong Kong – August 27-29
Busan International Film Festival, South Korea – October 7-16
Asian Contents & Film Market, Busan, South Korea – October 10-13
Tokyo International Film Festival, Japan – October 31-November 9
TIFFCOM, Tokyo, Japan – November 4-6