With updated incentives, low Covid numbers and skilled crew, Australia is luring more international productions than ever. But capacity is an issue.
Australia has always had its doors open to US blockbusters and big-budget TV. Now, with its exemplary reputation built over decades, a new $290m (a$400m) bucket of incentives and relatively few Covid-19 cases, those doors may not be wide enough to accommodate the rush.
"May to September enquiries rose 215% compared to the same period in 2019 and represent an estimated $1.9bn (a$2.7bn) in Australian expenditure," says Ausfilm CEO Kate Marks. That does not include direct approaches to Ausfilm members that are state government agencies.
Capacity is in question, with the country's two studio behemoths full. The Gold Coast's Village Roadshow Studios has Baz Luhrmann's Elvisfor Warner Bros shooting again after shutting down three days before principal photography was due to begin in March. The film's star Tom Hanks and his wife Rita Wilson were among the first high-profile people to test positive for Covid-19 in Australia.
Taika Waititi'sThor: Love And Thunder has replaced Shang-Chi And The Legend Of The Ten Rings, both Marvel/Disney titles, at Sydney's Fox Studios Australia. Loyalties shifted with the sale of 20th Century Fox to Disney: Village housed Waititi'sThor: Ragnarok and Fox was always Luhrmann's home.
Existing facilities are expanding in an attempt to meet demand. Docklands Studios Melbourne is getting a $33m (a$46m) soundstage measuring 3,700 square metres in 2021, increasing stage capacity by 60%. CEO Rod Allan will have 8,300 square metres available after holding back some space for local production. "A dynamic domestic production base is what enables the state to handle international," he says.
But the difference can be increasingly blurry. Two series with substantial Australian elements are being made at Docklands and receiving incentives aimed at internationals: Shantaram, which Justin Kurzel is directing for Apple TV+, and Netflix's Clickbait, which Tony Ayres co‑created.
Allan and Film Victoria CEO Caroline Pitcher work together closely to chase television — for its long shooting schedule and repeat business potential, and because it fits Melbourne's capability. Pitcher says she can see a doubling of expenditure in her state in the $290m (a$400m) Location Incentive's seven-year time frame. This new discretionary federal government grant money is for international projects that will inject cash into the economy and generate jobs and skills development.
Other government facilities include South Australia's Adelaide Studios, which proved itself on New Line Cinema'sMortal Kombat, and Screen Queensland Studios, which recently cut its teeth on Paramount Pictures' Love And Monsters. It is now housing three Universal Studio Group series.
The Western Australia government is looking over proposals for a studio development in or around Perth, and local government is backing a proposal in the Northern Rivers region of New South Wales, where Hulu series Nine Perfect Strangers, executive produced by and starring Nicole Kidman, is underway.
The Australian screen industry has Covid-19 protocols in place, but it is the low-risk exposure to the coronavirus outside of the workplace that makes the country attractive. There is also the perception among US and European producers that Australia has got its act together when it comes to both the coronavirus and film and TV production during the pandemic. As of October 30, there had been 27,668 Covid-19 cases in Australia since the beginning of the year and 907 deaths, mostly in Victoria.
Nine Perfect Strangers was one of the first US productions to relocate from California to Australia in order to shoot in 2020, but it is not expected to be the last. The US cast and crew members had to self-isolate for two weeks before any filming could begin.
"The lack of studio space is the number-one limiting factor," says Jon Kuyper, the US-turned-Australian production executive, in reference to the country's ability to service all the $100m-plus productions that may want to shoot there. The former senior vice president of physical production for Warner Bros was production executive onMad Max: Fury Road, The Great Gatsbyand Gods Of Egypt, and says he is now witnessing a mad scramble for any and every warehouse space in Australia: "If you build them, they will come. The streamers are hungry and it won't let up for a long time."
"Do not think of Australia as Fox and Village Roadshow," says Mortal Kombat's US producer E Bennett Walsh. "Spiderhead [a Netflix film to star Chris Hemsworth] is going into the Convention Centre on the Gold Coast and I'm doing reshoots at [event space] ICC Sydney."
Walsh says the seasoned nature of the Australian crew gave him a predictability that is good for action adventure. He continually uses Australia for visual effects no matter what he is working on or where — and claims the 30% Post, Digital and Visual Effects (PDV) Offset. He works on big films so is not put off by the fact the $360,000 (a$500,000) minimum expenditure is set to rise to $719,000 (a$1m).
Walsh will claim the 40% Producer Offset for Australian features, on all Mortal Kombat's Australian expenditure. This means the film, directed by Simon McQuoid and produced by James Wan, who are both Australian, passed the 'significant Australian content' test. If it had not, it could claim the 16.5% Location Offset and try to get a slice of the discretionary $290m (a$400m) Location Incentive, which aims to attract three to five big productions per annum over seven years, each obliged to spend at least $10.8m (a$15m) to be eligible.
The government acknowledges the uncapped Location Offset is not globally competitive, but will not increase it to 30%. The additional contribution to individual projects via the Location Incentive is meant to give them the equivalent of a 30% rebate. "I don't know if I would have got it over the line at 30%," says Walsh of Mortal Kombat. "If we couldn't close the gap, we would have gone to Romania or Bulgaria."
Rebate claims
According to the office of federal arts minister Paul Fletcher, 128 projects were issued with certificates worth a total of $75m (a$103m) in rebates through the PDV and Location Offsets in 2019-20. Also, since mid-2018 when an earlier tranche of $102m (a$140m) was allocated for the Location Incentive, $103m (a$142.5m) has been promised to 13 productions, generating spend of about $805m (a$1.14bn), supporting the employment of more than 9,500 Australian cast and crew, and engaging more than 11,000 Australian businesses. The $290m (a$400m) is under the Covid-19 government strategy JobMaker and also promotes training and upskilling.
Another government strategy, JobKeeper, which has supported businesses and their employees through the pandemic, has been a lifesaver for Village Roadshow Studios, which has reopened with strict risk mitigation protocols in place. "When the government announced the a$400m [$290m], we were inundated [with enquiries], more than we'd ever seen before," says president Lynne Benzie, who has been at the company for 30 years.
"It won't physically open the floodgates — there is a natural cap because of infrastructure and crew — but it will help with consistency. [The incentives] have been ad hoc over the years. We have to make sure we don't grow too big too fast."
Kuyper believes Australia has ironed out the "chinks" of the past. For example, there is now an agreement between the Media Entertainment and Arts Alliance and all six Hollywood studios on crew rates and conditions. But the discretionary nature of the Location Incentive creates uncertainty.
"It is good the top-up is there and it is as fluid as it can be, but you may not get it," says Kuyper. "It's fine if you have a lot of time to put in the application and you've got back-up shooting locations if you don't get it, but sometimes you're working with a tighter timeline and don't have time to wait."
Agents of change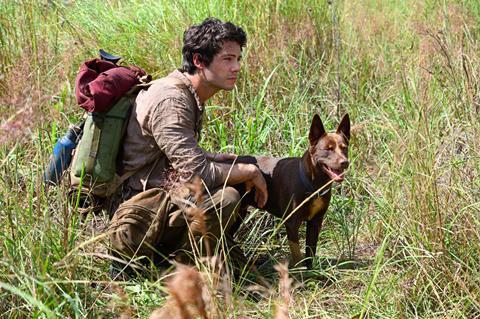 Projects have to first secure support from a state or territory film agency to be eligible for the Location Incentive. Kuyper says these agencies are some of the most knowledgeable in the world and help find locations, assist with the application process for incentives and recommend local vendors and crew. When the projects come to apply for federal money, Fletcher and his staff know they have been vetted and there is capacity. The agencies might provide up to 10% of expenditure in their jurisdiction through their own funds and incentives.
Producer Dan Cohen says Love And Monsters was filmed pre-coronavirus and in Australia for creative, fiscal and convenience reasons: he inherited the crew from Paramount Pictures' Dora And The Lost City Of Gold, which had recently shot there.
Gold Coast stood in for northern California and 60% of the 42-day shoot was on location, mostly within easy reach of the Brisbane-based Screen Queensland Studios. The new complex features two refurbished warehouses.
"In Australia there was a healthy rebate, strong crew and beautiful locations," says Cohen. "It was very appealing. Queensland had the right everything, the right algorithm."