Christopher Markus and Stephen McFeely wrote the biggest film of 2019 — and of all time — with Avengers: Endgame. They tell Screen why it was the emotions, not the punches, that really landed.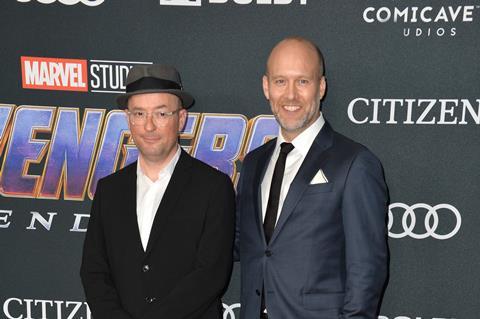 When Iron Man beat The Chronicles Of Narnia: Prince Caspian at the box office in 2008, the super­hero could not have known that two of the Narnia film's writers would come back to kill him off. But over a decade later, that is exactly what Christopher Markus and Stephen McFeely did, sending Tony Stark to the grave as the writers of Avengers: Endgame. There were no complaints from producer Marvel Studios or distributor Disney, of course, as the superhero epic went on to become the highest-grossing film of all time with close to $2.8bn at the worldwide box office.
"It's like looking at the Grand Canyon," says Markus of the box-office record. "It's very big and kind of hard to find your spot in it. But what that number has to mean is repeat viewings and that's not because people like the punching. It's because there's a real emotional element in there and an experience they want to feel again. To have achieved that on this large scale is really satisfying."
It marks the end of a long road for the writing duo, who first joined the Marvel cinematic universe (MCU) in 2008 as the writers of Captain America: The First Avenger. "Iron Man had come out and our agent told us they were thinking of making a Captain America movie," recalls Markus.
"We were very aware Iron Man came out because we had a movie come out on its second weekend called The Chronicles Of Narnia: Prince Caspian, which didn't do nearly as well because Robert Downey Jr was riding roughshod over Hollywood," says McFeely of the star, with a laugh.
After winning their first Marvel job "mostly by sheer enthusiasm", the duo co-wrote Thor: The Dark World, two more Captain America films and TV spin-off Agent Carter. It was close to Christmas in 2014 when director Joe Russo walked into Markus and McFeely's office and revealed he would likely be directing the next two Avengers movies with his brother, Anthony.
"I'm pretty sure you just groaned," says McFeely to his writing partner. "I was looking forward to a break," recalls Markus, "but, instead, came the two biggest movies ever made."
"We had to think about what we wanted out of our lives and our careers," continues McFeely. "But we knew it would be the biggest puzzle as screenwriters we'd ever had to put together, so the challenge was too great to pass up."
War room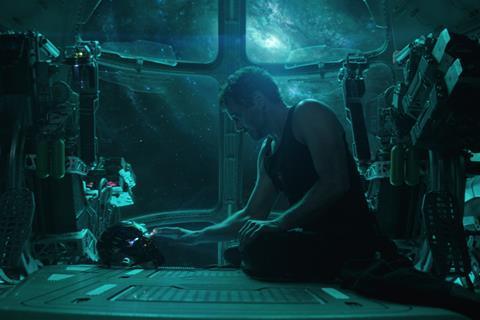 It was in September 2015 that the pair began "four months locked in a conference room" to break the story. Two outlines emerged by January 2016, for Avengers: Infinity War and Avengers: Endgame, and they went to draft both of those scripts. "They changed plenty but the stories essentially were the same," states McFeely. "The end of the first movie was 'the snap' [which saw antagonist Thanos wipe out half the universe's population at the snap of a finger] and the end of the second movie was Tony's death and Steve [Rogers] going back in time."
These huge spoilers were written on a white board, which McFeely took photos of at the end of every day in case any of the plot got erased. "I often thought that if I were mugged for my phone, it would be bad news for Marvel," he laughs.
With Endgame providing the climax to the first 22 films in the MCU, the duo had to ensure it connected with other movies in the series, many of which had different writers and some of which had yet to be released.
"You read every script you can get a hold of, see every movie you can and talk to people when they are available," says Markus of how they tackled this issue. "We did speak to the folks making Ant-Man And The Wasp and Captain Marvel, as they came out between our two movies.
"That's a unique situation," adds McFeely. "Usually, it's not like that. But we needed at least one person trapped in the Quantum Realm [the mystical sub-atomic dimension that allowed Paul Rudd's Ant-Man to survive 'the snap']."
Famously, the architect of the entire MCU is Marvel Studios president Kevin Feige, who helps ensure everything connects and empowers the writers and directors to do their best work.
"He is an incredibly sharp audience-goer and a great storyteller, even if he doesn't direct," says McFeely of Feige's influence. "He'll remind you not to think too small. I specifically remember we were about to shoot a bunch of stuff for Infinity War, and he wanted to make sure we were being as crazy as Jim Starlin [comic-book creator of the villain Thanos] to make sure there was a cosmic element and we weren't missing some of the trippy nature of his comic."
Other influences included The Godfather: Part II, according to Markus ("Something giant and sprawling"), and screenwriters such as Lawrence Kasdan (Star Wars: Episode V — The Empire Strikes Back), William Goldman (Butch Cassidy And The Sundance Kid), Robert Towne (Chinatown) and Andrew Kevin Walker (Se7en). Perhaps surprisingly, from television, was the influence of fantasy series Game of Thrones.
"There were characters over the course of that series who we, the audience, knew very well but never met," says McFeely of HBO's George RR Martin adaptation. "I was eager to watch them meet and knew that would be part of the secret sauce of this movie. The anticipation of your two favourite characters from different franchises coming together."
But if they were going to kill Iron Man, Tony Stark would still have the last laugh. The superhero sacrifices himself in the final battle of Endgame and the writing duo toiled over a tear-jerking speech as he bid farewell to the Avengers. However, Downey Jr made the decision to barely utter a word in Stark's dying moments. McFeely concedes: "He was right, ultimately, because what I didn't understand is that the guy who always had something to say throughout all these movies — suddenly rendered speechless — is the most heartbreaking thing you can do."
"Also, on a character level, Tony is so verbal and always doing this tap dancing, partly out of some sort of anxiety," adds Markus. "There is something great about him finally not having to do that any more. The voices in his head have quieted."
Things are seemingly no quieter for the writer duo. The pair helped launch studio AGBO Films with the Russo brothers and will write one major movie a year, the first of which centres on the 2018 Cambridge Analytica data privacy scandal and is set to go into production next year. They also man a "quality control writing room" where they sit with writers to crack stories and provide notes on the first draft of scripts.
As to why they work so well together, McFeely says: "We learned the craft together. It's not like I was an established novelist and had Chris come join me. Chris and I moved to a place together, which was learning how to write screenplays."
Markus adds, with a laugh: "We don't have any choice."
Screen's full interview with Markus and McFeely is available as a podcast, below.