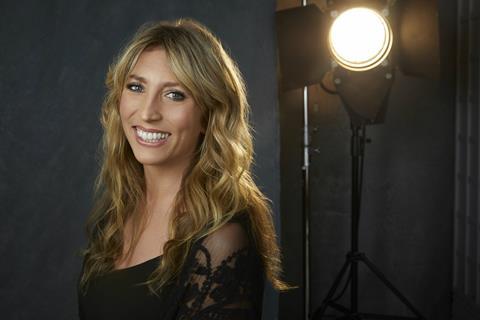 With US networks hunting for another UK show that can break out in the United States as Golden Globe and Emmy winner Fleabag did last year, Showtime Networks president of entertainment Jana Winograde has identified Daisy Haggard's British dramedy series Back To Life, from Fleabag production company Two Brothers Pictures, as one of the shows exemplifying "what Showtime does best."
The premium cable network, now part of the newly re-merged ViacomCBS, recently signed on to co-produce the upcoming second series of Back To Life with BBC Three after acquiring the first series for the US.
Speaking to Screen at this week's Television Critics Association (TCA) press tour in Los Angeles, Winograde said the series "has a singular vision in Daisy as writer-creator-star, with a really unique and different point of view. And that's our hallmark: singular voices and unique point of view."
Showtime, which earlier co-produced Episodes, in which Haggard appeared, with the BBC, has "always been open to great content, wherever we find it," said Winograde. "And as we've seen with Back To Life or Fleabag on Amazon, there's tremendous content coming out of the UK. To the extent that we have relationships and can avail ourselves of that, [when] we feel something's right for Showtime we're going to buy it, now, yesterday, tomorrow."
At the TCA, Showtime announced that its US version of Shameless, based on Paul Abbott's UK comedy series of the same name for Channel 4, has been picked up for an 11th and final season.
The network also highlighted the eighth and final season, set to begin next month, of Homeland, the US thriller series based on Israeli drama Prisoners Of War. Winograde's fellow entertainment president Gary Levine said Homeland, winner of the 2012 best drama series Emmy and numerous other awards, has been "a monumental series for all of us."
The just-completed ViacomCBS re-merger - which brings Showtime and CBS's other TV divisions together with Paramount Television and its productive first-look deal with Anonymous Content – will create new original content possibilities for the premium network, Winograde suggested.
"The hope," she said, "is that now we're part of the bigger corporation the IP of all of the entities can flow freely amongst us. Which is an amazing opportunity because Viacom/Paramount has such as amazing library, as does CBS, so it flows both ways."
Winograde was also optimistic about Showtime's ability to compete for original series projects in the era of free-spending streamers and new entrants to the streaming war. "What we've seen over the past year is that despite this intense competition, not only can we compete, we can win," she said.
"A big part of that is our approach: we're really a bespoke operation. We really treat each show individually. We are not a big box store, we're a boutique operation, and that allows us to really support our creatives and our talent in a unique and different way. And they really appreciate that and come to Showtime for that.
"When we really want something and go after it we've found that we're able to compete even if we're not the ones who are offering the most money."