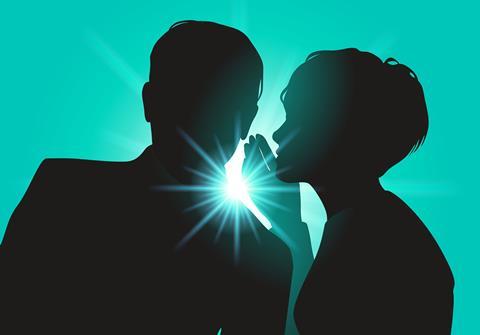 A new group of anonymous Bafta and Ampas voters reveal their early awards favourites and the under-the-radar gems they want to highlight as the crucial voting period looms
Screenwriter, male, Bafta voter
What has caught your eye so far? I loved The Quiet Girl and Aftersun, two films that draw you into their worlds. Glass Onion: A Knives Out Mystery is hugely entertaining — it made murder mysteries look easy. In performance, Vicky Krieps in Corsage, Brian Tyree Henry in Causeway and Ke Huy Quan in Everything Everywhere All At Once.
Are you back to physical screenings or watching Bafta View?
Physical screenings as much as possible, even if it seems perverse to be watching certain movies on the big screen that are going straight to streaming. But I watch the majority on Bafta View. I ordered the Fire Stick and I can now watch films with the dialogue in sync.
Any under-the-radar gems?
A Bunch Of Amateurs, the documentary about a struggling Bradford film club, is wonderful and had a twist I didn't see coming. Robot comedy Brian And Charles is lovely.
Producer 1, female, Bafta voter

What has caught your eye so far?
Emily succeeded in capturing the Brontës and energy of Wuthering Heights — an unexpectedly inventive and thrilling debut from veteran actor Frances O'Connor with a fantastic lead performance from Emma Mackey. Elvis is also riding high for me — an explosive, moving and energetic visual feast with a mesmerising performance from Austin Butler. Florence Pugh and Kila Lord Cassidy's performances made The Wonder for me, although I wasn't a fan of the score or stylistic bookends. Michelle Yeoh's performance in Everything Everywhere All At Once still stands out, even though I had problems with the film.
Are you back to physical screenings or watching Bafta View?
My favourite films and performances are largely from physical screenings but I haven't been able to make as many as I normally would. As I have a young baby, I will be sticking more to Bafta View.
Any under-the-radar gems?
I enjoyed the natural complexity and beauty of performances in Aftersun, as well as Blue Jean, which was well cast and executed. Two standout feature debuts from British women.
Casting director, female, Bafta and Ampas voter
Any favourites so far?
Triangle Of Sadness, The Banshees Of Inisherin, Everything Everywhere All At Once. Michelle Yeoh is the standout performance for me this year. And Bill Nighy revelling in a gift of a role in Living.
Are you back to physical screenings or watching Bafta View?
Bafta View. So useful!
Any under-the-radar gems?
Rosy McEwen in Blue Jean.
Distribution executive, female, Bafta voter
What has caught your eye so far?
TÁR, led by Cate Blanchett and supported by Nina Hoss — two phenomenal actresses who personify their characters with great punch throughout. Jennifer Lawrence and Brian Tyree Henry are great in Causeway. It feels like an underrated film and performances, which excels in its simplicity of story but complexity of trauma. Ana de Armas is amazing as Marilyn Monroe in Blonde, and Letitia Wright and Tamara Lawrance stand out as The Silent Twins.
Are you watching films at physical screenings?
I am mostly watching films on Bafta View or through secure links sent by distributors. I have attended some physical screenings when there are live Q&As, which really makes a difference by adding to my fabric of a deeper understanding and communal viewing experience. I've seen many of the films at festivals so don't need to rewatch them to consider for voting — but some I really want to watch again and even again. Bafta View is great — much better this year than last.
Any under-the-radar gems?
Documentaries Three Minutes: A Lengthening and Louis Armstrong's Black & Blues are very strong and original in storytelling. And I'd like to give a shout out for Murina, which won a Gotham award.
Producer 2, male, Bafta voter

What has caught your eye so far?
Nothing has gripped me as much as Holy Spider, which I thought was remarkable and Zar Amir Ebrahimi is astonishingly good in it. I felt lucky to see All Quiet On The Western Front at a screening as the story­telling, acting and craft in every department were excellent and bene­fited hugely from being seen on the big screen. Alcarràs is a beautiful, rich piece of filmmaking with excellent performances.
Are you watching films at physical screenings?
I managed to see a lot at the BFI London Film Festival and have been to a lot of in-­person screenings, which I've missed terribly during the pandemic. Bafta View has improved a great deal and I recently bought a Fire Stick, which makes the process much easier. But I hope more attention will be paid to sound — a lot of streamers offer 5.1 and Dolby Atmos on their Apple TV apps and it's a shame that isn't happening yet with the online copies.
Any under-the-radar gems?
All That Breathes was quietly moving and a very well-made documentary. I thought Blue Jean was a very good debut, with bravery and confidence in its subject and storytelling.
Sales and production exec­utive, female, Ampas voter
What has caught your eye so far?
Cate Blanchett in TÁR but with some reservations on the film, and the boys of The Banshees Of Inisherin, Colin Farrell and Brendan Gleeson. Also the ensemble performances of Women Talking and She Said. My top individual performance of the year goes, without a doubt, to Vicky Krieps for Corsage.
How have you been watching films this year?
As I am based in a city with no in-person Ampas screenings, it is on the Ampas portal and at festivals.
Any under-the-radar gems?
The Kings Of The World, Mars One and Ajoomma, all on the Ampas international list. I wish the Oscars campaigns were not such money-­driven operations and these films were able to get more recognition.
Producer 3, female, Bafta voter
What has caught your eye so far?
Aftersun is a luminous debut from Charlotte Wells. This film is brimful of humour and nostalgia and pathos and all the 'feels'. Wells gives me hope for our industry and for British independent film. A Bunch Of Amateurs has made me consider a move to Yorkshire to join the Bradford Movie Makers to finally be among kindred spirits. One of the greatest things about filmmaking is collaboration and the opportunity to work and bond and debate and argue with other creative minds. The particular madness and misery we share as cinephiles needs company. The film is joyful and you're likely to shed a tear or two, plus it is a specific, powerful record of the impact of the pandemic on our society.
I don't like the bookends but otherwise The Wonder is a deeply intelligent and provocative film. It is a film of ideas, quite a rare thing, and those ideas are as pertinent and relevant today as they were after the Irish famine when the film is rather beautifully and poignantly set.
Are you watching films at physical screenings?
I go to as many as humanly possible, although I'm now frantically catching up with those I missed via Bafta View.
Any under-the-radar gems?
I enjoyed the ideas explored in After Yang, which showcases Colin Farrell's gentler and more serious side. Not under the radar exactly, but Park Chan-wook's Decision To Leave more than justifies its somewhat-­lengthy running time. Corsage is a flawed but fantastic film with a magnetic, complex central performance from Vicky Krieps. The film explores various themes, among them women's mental health or, more specifically, men's estimations of women's mental health.
Producer 4, male, Bafta voter
What are your two or three favourite films and performances so far?
So far, I've avoided the studio films as I know there will be time to see them. Instead, I've focused on seeing some of the more indie movies. I've been completely swept away by three films this year: Aftersun, Blue Jean and Emily. They've all been made with such a distinct voice, and conjured the purest emotions. Deceptively simple, brilliant cinema.
Bill Nighy deserves to be seen as a frontrunner for best actor, but I also hope Paul Mescal's delicate and precise performance in Aftersun makes him a genuine contender.
How have you been watching films this year?
Mainly through links and Bafta View – although I did see some films at festivals through the year. It's personal circumstance that means I'm watching so much at home. I would much prefer to watch in the cinema. Every movie is better in the cinema, but quieter films like The Wonder and After Yang would especially benefit from the immersive experience.
Any under-the-radar gems?
Not so much under the radar but I'm surprised Emily hasn't been generating more buzz within the industry. It's an astonishing debut and Emma Mackey's performance is phenomenal. She's literally quivering with life, creativity and sexuality.
Exhibition analyst, male, Bafta voter
What has caught your eye so far?
There are two that hail from Belgium and have child protagonists: Lukas Dhont's Close and Laura Wandel's Playground. Both are beaut­i­fully observed and quietly devastating coming-of-age dramas with naturalistic performances from their young leads. I would like to see Close break into categories beyond foreign-­language. Among English-­language films, I've been particularly taken with The Fabelmans and Women Talking.
Are you watching films at physical screenings
I've seen about 40 on the big screen but I'm not back to pre-pandemic levels.
Any under-the-radar gems?
I hope the beguiling, heartbreaking and laugh-out-loud funny animated feature Marcel The Shell With Shoes On goes all the way.