Rising talents from the Balkan region have praised the setting and masterclasses of the second edition of Ponta Lopud Film Festival, held last month from June 22-27.
US director Joel Coen and actress Frances McDormand each gave three lengthy masterclass sessions on the Croatian island of Lopud, near Dubrovnik.
Further international talents to attend included directors Pawel Pawlikowski, Michel Franco, Danis Tanovic, Lili Horvat, Juho Kuosmanen and Ognjen Glavonic, plus UK cinematographer Nanu Segal.
At the start of the event, founders Mirsad Purivatra and Tilda Grossel Bogdanovic told Screen of their plans to innovate with the film festival format. This year's event, expanded substantially from last year's first edition, included screenings both on the beach and in a local monastery, plus dinners at local restaurants prepared by Michelin-starred chefs.
Coen and McDormand then wrote to the 18 participants after the event to let them know how much they valued their time with them during the festival, which they described as "stimulating and inspiring."
Screen has spoken to several of the 18 participants from the Balkan region to see if it was as positive for them, and if the innovation succeeded.
What did you learn from Frances McDormand and Joel Coen?
Dado Cosic, actor: Spending time with them, I thought how blissful it must be to have a team – Joel creating movies with Ethan, Frances creating roles with Joel and Ethan, Chloe [Zhao] creating Nomadland with Frances.
Timon Sturbej, actor: They were so open and honest about every aspect of their work and didn't mystify the process. An important piece of advice from Frances was to try to produce your own stuff [as an actor] – create your own opportunities.
Tamara Kotevska, filmmaker: Their masterclasses were extremely useful for me regarding the switch from documentary to fiction, as a documentary film director in preproduction for my first fiction film.
Una Gujak, filmmaker: Joel's calm and composed approach was an example on how to be comfortable and at ease with your own way of making films; Frances' charisma and energy were an inspiration. One thing she said will stay with me for a long time: fear is fuel. They both valued long term creative partnerships with their crew and cast.
Amila Terzimehic, actress: I learnt that the goal in art is not five minutes of fame – art is the goal itself.
Did the event bring valuable connections for you?
Antoneta Alamat Kusijanovic, filmmaker: As somebody who is living on two continents, it was interesting to hear from my colleagues about what their projects are for the future. I really liked connecting with Tamara Kotevska to talk about our next projects. I also got to know Anja Matkovic, a beautiful Croatian actress, on a much deeper level.
TS: It was brilliant to meet Brian Swardstrom from United Talent Agency – he gave us very useful advice and I hope we will stay in touch. The most fruitful connections were formed between the participants of the masterclasses.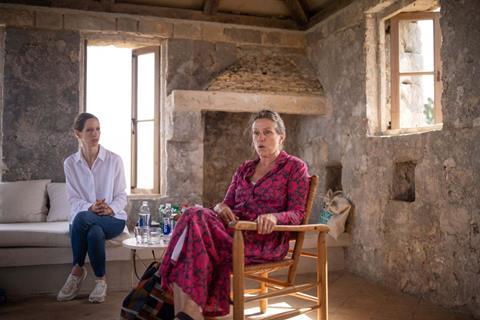 UG: It was incredibly precious to get to know more my close colleagues from the region – my fellow directors, plus the actors and cinematographers. The same goes for the some of the moderators and special guests that I got the chance to speak to during many informal gatherings, such as Nanu Segal and Pawel Pawlikowski.
What was your highlight of the event?
UG: The talk we had with both Frances and Joel, and with our fellow participant actors, on the final morning. I am very interested in working closely with my actors so having them talking about their separate and joint work, and at the same time engaging with questions from participants - was incredibly precious. The conversation fed itself naturally; also by that time, we were all very much at ease with each other.
AT: The organisation was fantastic, as well as the atmosphere and energy of the festival. The masterclasses we attended inspired me the most.
TK: One of the most beautiful events was one of the dinners we spent with Joel and Frances – we had chance to meet them privately and discover their wonderful personalities.
TS: Besides meeting Joel and Frances, one of the highlights was [musician and composer of the Birdman score] Antonio Sanchez performing live in the old monastery – it was an amazing, rare experience.
What is the value of Ponta Lopud for the Balkan region?
DC: For us in the region, 'teamwork' is what we should seek. We are blessed that all the different beautiful languages we speak actually connect us – they bring understanding but also diversity. The time on Lopud was all about togetherness and love.
AAK: It's such a small world; it's encouraging to understand that intimacy. That was the best takeaway – you could speak differently with people.
What suggestions would you make for future editions?
TK: I would suggest more private meetings with the mentors and the participants on their individual projects.
UG: The chance to talk to the masters about individual work. That could be done in advance, either individually or in the group, where participants would be able to discuss concrete issues, obstacles and doubts.
TS: My only wish for the future would be a practical workshop, where the participants from different sectors could have the opportunity to work together under the supervision of the masters.
AAK: It's important to keep this festival at the small size that it is - to keep this intimacy between the new generation, and already established artists. If that genuine connection and size of the festival is preserved, it will be as successful as it has been this year.