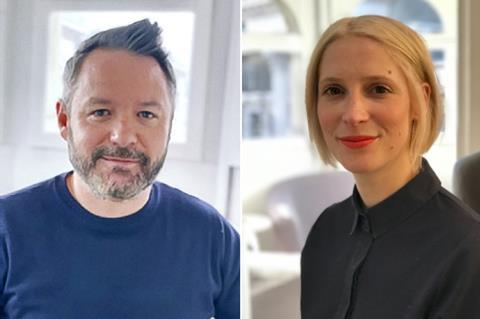 UK sales and finance company Bankside Films has been quietly building up an active development slate over the last couple of years, as it looks to complement its international sales business, expand opportunities as an executive producer, and generate its own productions for a highly competitive market.
The initial slate of projects range from treatment stage to out for packaging. They include a trio of genre features: The Banshee from producer Brian J. Falconer (Ordinary Love), Rowan Athale's In Her Shadow and domestic horror Remnants from producer Benedict Turnbull; a real-life drama about police infiltration of an animal-rights group titled Everything I Ever Knew, from producers Daisy Allsop and Katherine Churcher; and a TV drama series from Trigonometry creators Effie Woods and Duncan Macmillan and producer Andy Brunskill.
The development slate has been assembled by managing director Stephen Kelliher and head of acquisitions and development Sophie Green, who joined Bankside in April 2018 and has been building up the roster with projects sourced mainly through the company's long-standing producer and talent relationships. (Sister company Head Gear Films provides the development finance.)
Kelliher observes that while sales companies developing their own projects is nothing new, shifts in the market have brought more urgency to ramping up its activities in this area.
"On almost every film, we find ourselves, whether officially or unofficially, in an executive producer role, where we're giving notes on the scripts, we're advising on casting and budget, we're raising finance, we're putting finance plans together, and we're marketing and selling the film to distributors.
"That's great and long may it continue but it led us to think, 'Well, if we're doing it on essentially third-party films, there should be scope for us to be doing the same thing on projects that are owned and nurtured by Bankside.'"
Possum in 2018 was an early project on which Bankside tested the waters, putting late-stage development funding into Matthew Holness's dark drama. "It worked out well and proved to us that there is a model that works for a sales company to be approaching development in this way," says Kelliher. "It gave us confidence to go forward and be bolder with our ambitions on the development side."
The company is taking a flexible approach to its slate. "We have the capacity to commission things from treatments and be right in at the start," says Green. "But we can also match-fund with financiers, and we can come in at late-stage development where a project may already have been cooked to a degree with other funders."
Bankside, however, isn't looking for deep development opportunities that require a significant initial outlay. "I'm not book scouting or trying to option great IP independently," says Green. "Our focus is more a short to mid-term path to production."
The right projects
They favour partnering with producers from the offset who can eventually take the lead on production. Not all projects developed in-house will necessarily be sold by Bankside – although it is handling sales on many of the current titles in development.
Kelliher cites Cargo, The Hole In The Ground and In Fabric – all Bankside sales titles the company also executive produced and which contained Head Gear finance – as the kind of "authored" genre space it prefers to operate in. "Those films have been incredibly successful in the marketplace so of course they help to inform the other decisions we make on our development slate," he says.
Green adds there are two types of projects in the Bankside wheelhouse: filmmaker- and talent-driven projects likely to require larger budgets, and projects from early-career filmmakers, particularly in the genre space. "They are often simpler to put together because it's more about an exciting new voice, the high concept, their vision," she says.
The titles driving the in-house development slate reflect that genre-focused approach. The Banshee is a "feminist horror" set in mid-19th-century, post-famine Ireland in which a woman sets out to find her missing sister following strange deaths in her community. Bankside and Northern Ireland Screen have commissioned a first draft from debut writer Patrick Loughran; Out of Orbit's Brian J. Falconer. whose credits include Ordinary Love, is producing and Bankside also represents international sales.
Remnants, from debut writer/director Jed Hart, is a horror containing social commentary (and "shades of The Shining" says Green), about a widowed young father moved into social housing with his daughter after their house burns down, only to find their new accommodation is anything but safe. Hart is working on a second draft; producer is Benedict Turnbull of Haus Pictures.
Rowan Athale's pagan horror In Her Shadow follows a college professor who ends up fostering the child of her late, estranged sister, only to discover that the little girl hasn't arrived in her new home alone. Bankside fully financed development and is co-producing with Ed Barratt. The project is out for casting.
Magpie is a religious-themed horror about an isolated church community ruled by an omipotent pastor; when a man is killed in the forest, a brutal witch hunt ensues that forces the pastor's daughter to question her loyalties. It will be the feature debut of writer/director Dean Puckett and is an extension of his 2018 short The Sermon, which was produced by Rebecca Wolff – also his partner on Magpie through their company Grasp The Nettle. Initially hatched through the iFeatures scheme before Bankside took it over, the project is currently casting.
At an early stage is Everything I Ever Knew, a drama set around a real-life case of state-sanctioned abuse, whereby an animal-rights group in 1980s Britain was infiltrated by undercover police officers, many of whom entered into sexual relationships with the activists. Bankside and co-producers Daisy Allsop and Katherine Churcher have life rights to one of the women who ended up having a child by one of the officers. Bankside has paid for a treatment and the partners are now looking to attach a writer. Bankside also has the project for sales.
Bankside also has its first TV project in development, a high-concept series from writer/showrunners Effie Woods and Duncan Macmillan – who made last year's BBC/House Productions drama series Trigonometry – and producer Andy Brunskill of Sums Film & Media.
Projects that Bankside boarded at late-stage development – "where we've come in for a polish, and to pay for a casting director, budget plan or recces" – include two match-funded with Screen Ireland: Andrew Legge's L.O.L.A., about two sisters in 1940 who build a machine that can intercept future radio and TV broadcasts, now in post; and sci-fi Patashnik about a lone woman caretaker on a lost spaceship. Emer Reynolds will direct from a script by Gavin Burke.
A third late-stage project is The Devil from Couple In A Hole director Tom Geens, which Zorana Piggott is producing. The BFI-backed feature is a modern-day adaptation of Tolstoy's story in which a young woman discovers dark forces when she goes back home to live with her mother after her father's death. Bankside is funding a new script draft from Geens and co-writer Kefi Chadwick.
Busy year ahead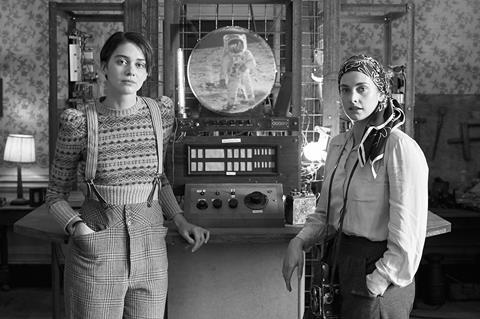 Kelliher and Green hope The Devil will progress to production in 2021, along with Magpie and In Her Shadow. Even in a pandemic, six productions on Bankside's sales roster were able to shoot last year including development title L.O.L.A., Ballywalter, Niels Arden Oplev's Rose and Terrence Davies' Benediction.
The company negotiated worldwide deals on the other two completed titles with Focus Features: Irish-set horror Wolf starring George MacKay and Lily-Rose Depp and supernatural thriller You Won't Be Alone starring Noomi Rapace, which shot in Serbia.
While Kelliher says Bankside remains committed to the territory sales model for independent film, worldwide deals with the likes of Focus and Netflix (which bought Cargo from the company in 2017) also demonstrate new market realities. But the role of deep-pocketed streamers as buyers and producers has also brought benefits – and creative urgency – to a company like Bankside, he notes.
"It's lead us to be ambitious in terms of the kind of talent and storytelling that we want to bring to the world," says Kelliher. "One of the motivating factors behind our creative decisions is, 'Can you see this [project] with Netflix or Focus Features or Apple or A24?' When the answer is yes, they are the projects that we want to develop and be EPs on and handle international sales for. Our films are finding that calibre of partner in the marketplace.
"Who knows what happens over the next five to 10 years but sitting here today, I feel that being that boutique-style company enables us to bring material that those bigger companies want to distribute and want on their slates. Very often those big companies will look at your company because they know your tastes, and they know the films that excite you as a person or you as a team."