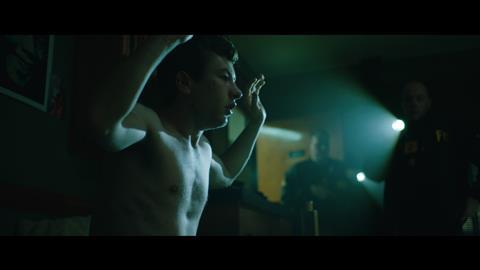 American Animals, UK filmmaker Bart Layton's second feature, is, he hopes, genre-defying. The story of four US college students who make off with rare, covetable art books from a university library in Kentucky in 2004, it would be easy to describe it as a heist movie based on a true story.
But Layton's aim was for American Animals to transcend easy categorisation and challenge audience expectations of truth and fiction on screen. "I wanted to explore the idea of whether there is a new or a slightly different way of telling a true story that is definitely not a documentary but includes some non-fiction elements," Layton says.
Speaking ahead of the film's premiere today (Jan 19) in US Dramatic Competition at Sundance Film Festival, Layton is at pains not to give too much away before an audience sees it for the first time. "In this version you are constantly aware it is a true story and because of that you have more skin in the game and you have to lean in in a slightly different way," he says.
Sundance return
Layton is back at Sundance six years after The Imposter debuted at the festival, a feature documentary that probed the concept of identity by telling a 'stranger-than-fiction' true story in a cinematic way. (It went on to win Layton a Bafta for best British debut.)
In 2013, he was selected to participate in the Sundance Screenwriter's Lab, followed by the Director's Lab in 2015, working both times on American Animals. The film is Layton's first with actors and a screenplay. He was interested in how the young thieves were directly inspired and informed by the plots of heist movies such as Ocean's Eleven and Guy Ritchie's Snatch.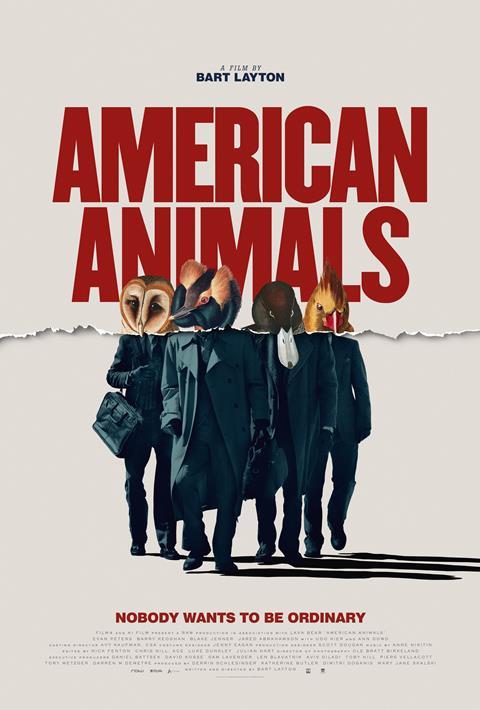 "There's a point in the story and the movie where they become slightly detached from reality and possibly are closer to living out a movie fantasy than they are in touch with the reality and the consequences of their actions," he explains.
American Animals stars a quartet of rising actors – Evan Peters and Blake Jenner from the US, Canadian Jared Abrahamson and Dublin-born Barry Keoghan, a 2015 Screen Star of Tomorrow – as the four disaffected, middle-class boys who steal rare art books, including a first edition of Charles Darwin's On The Origin Of Species from a university library in Kentucky.
Layton was fascinated by their story after reading about them in a magazine and wrote to them in prison. "It was that correspondence that took it from a great yarn to a really unusual and compelling story," he says. "[The crime] wasn't about what I thought it was about. There were other complexities I hadn't expected. The letters were so honest and incredibly thoughtful and articulate. It felt important to me to find a way to include these real people in the movie somehow in some form that maybe we haven't seen before."
A Raw deal
The film is produced by Katherine Butler, head of film and TV drama at London-based production company Raw. She had first worked with Layton when she was an executive at Film4, which had produced The Imposter with Raw, where Layton was the creative director. Butler left the UK broadcaster in 2014 to join Raw on a full-time basis. (The other producers on the film are Dimitri Doganis, Poppy Dixon, Derrin Schlesinger and Mary Jane Skalski.)
Layton was keen to move onto more ambitious projects and as they began to knock on the doors cracked open by the success of The Imposter, the clear first port of call was Film4.
"It needed financiers who were really up for the journey and something a bit different, a bit unknown," Butler explains. "After The Imposter, Film4 wanted to build a relationship with Bart and with Raw. They said [about American Animals], 'We're going to work with you to raise the money.'"
"They" at that time, in 2015, was the then-head of Film4 David Kosse with deputy head of creative Sam Lavender. When Daniel Battsek took over from Kosse in 2016, he gave the project his total backing and Butler describes the transition as "seamless".
UK and US-based AI Film, part of Len Blavatnik's Access Industries, then boarded the project as co-financier. Butler is coy about the budget, describing it simply as "more than The Imposter". Sierra Affinity is handling international sales with UTA looking after the US.
On the eve of the film's world premiere, one in which the real people as well as the actors are expected to attend, Layton ponders what drew him to the story. "I'm attracted to stories that are real, that happen in the real world," he says. "Enough sane stuff happens without you having to fictionalise it or fabricate it. The other part of what I look for is something that speaks to a bigger idea or a bigger theme. In this case, it's a coming-of-age, existential movie masquerading as a heist movie."