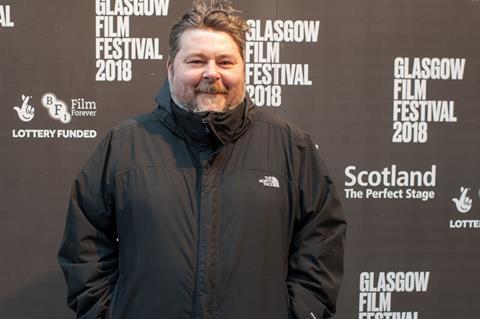 Ben Wheatley travelled to a snowed-under Glasgow Film Festival (GFF) this weekend to take part in an in-conversation event about his career so far.
The Free Fire and Kill List director has an affinity with GFF, which has screened every one of his films since his 2009 debut Down Terrace. "The audience here is fantastic, they're super smart, and the programming is really adventurous," he told Screen at the event.
Wheatley could attend the event because he has already delivered a first cut of Colin You Anus, his mysterious new project which rapidly went into an under-the-radar production earlier this year.
Full details are still being kept under wraps, but the prolific director reveals that the edit has progressed swiftly and that the team have already hosted an early screening of the film.
"We've had a cast and friends screening, we're going through the motions of that and seeing what the reactions are," says Wheatley. "We're just getting on with it really."
The director denies that the project was a particularly remarkable turnaround, insisting that the schedule mirrored his debut feature Down Terrace and some of his TV work. "You don't shoot much so there's not much to cut, it's only in film that it becomes an epic marathon of editing."
Starring Neil Maskell, Joe Cole, Charles Dance, Hayley Squires, and Sam Riley, the production had an 11-day shoot on the Isle of Portland on the southwest coast of England in January this year. It was produced through Wheatley's company Rook Films with his producing collaborator Andy Starke and went straight into the editing suit after wrap.
Wheatley says the idea behind Colin You Anus had been gestating for a while, but that he regularly has multiple ideas on the go and that it's just a question of the stars aligning to get a greenlight. "I'm a filmmaker and I hate sitting around not working, eventually I have to snap and make something," he comments.
Screen understands that the film is a re-working of Shakespeare's Coriolanus tale, as has been rumoured due to the project's title seemingly being a play on the name of the stage play. That story was last adapted into a feature film by Ralph Fiennes in 2011, with Fiennes starring alongside Gerard Butler in the story of a banished hero of Rome who allies with a sworn enemy to take his revenge on the city.
Wheatley also reveals that Colin You Anus was funded through BFI Locked Box, the programme that allocates a share of any profit from a BFI-supported film into a pot that the production team can then re-apply for use on a future project.
Full details will be revealed once the film is completed, says Wheatley, who explains that the team is looking to avoid generating too many headlines until they have the final product to show people.
"In the past I've talked about stuff really early doors, but it's pointless until the thing is out, otherwise you talk about it for a year and people get bored by the time it appears," he says. "It's a perverse position in this current world of all the information all the time. My position on all these things is that the film should speak for itself – hearing the director chat on about stuff is always dangerous."
The year ahead
Despite being hard at work wrapping his latest project, the director is also casting his eye further down the line for 2018 and is hoping to shoot a "larger project" as soon as summer or autumn.
That is likely to be the long-gestating sci-fi Freak Shift, which Wheatley says he has "been trying to make for ages". At last check, it was set to star Alicia Vikander, Armie Hammer and Sasha Lane in the story of a group of misfit cops who hunt down nocturnal monsters.
The Colin You Anus situation appears to be similar to events in 2012, when the director shot A Field In England while he was trying to pull the pieces together for a previous incarnation of Freak Shift.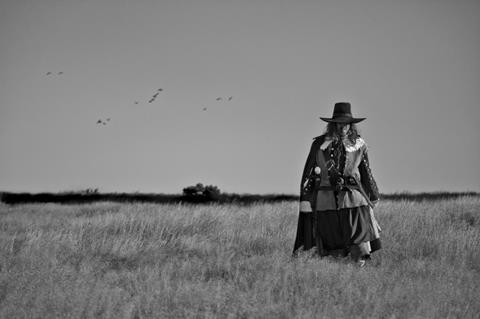 Whether this latest project goes ahead will be down to the funding and casting falling into place. "Once the budgets get over £1m, films become very difficult to make," comments Wheatley.
2018 could also involve some TV work for the filmmaker, who has previously directed episodes of Doctor Who. He reveals that a collaboration with Netflix could happen, and that he has been "in conversation [with the streaming service] for doing TV over the last few years" and that ideas are "bubbling around".
Working consistently is clearly important for Wheatley, who has directed an impressive six features in the last nine years alongside his work in TV and as a producer.
"Every time I make a film the industry seems to be completely different, there's no consistency with it at all," he says. "Distribution business models seem to be slipping and sliding around all over the place, certainly with the death of DVD and the coming in of VoD."
While getting films in front of audiences continues to be a challenge, Wheatley thinks the current climate contains opportunities for young filmmakers. "Back in the day you had to make short 16mm films and then try to get funding out of the government bodies. That's not the case so much anymore, but now you can self-finance and make stuff for virtually no money, that's brilliant and that side is massive improvement."
One thing that is consistent is the importance of film festivals such as Glasgow, Wheatley adds. "I think festival audiences are the shock troops of film fans. That's where your real audience buzz starts," he says. "Without that, it's very hard to get traction unless you've got a massive P&A budget and then you bombard every bus in Britain with your film poster. Everyone else doesn't have much of a chance, if you're a no-budget to low-budget filmmaker, there's such a strong audience at these places that you can start your film's life off here – it's the only way to do it."