Underworld gangsters, secretive students and an animated pig take centre stage among the Taiwanese films at EFM, as local films look to firm up market share at home.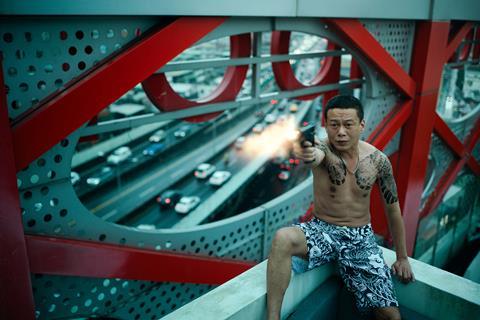 The Taiwanese box office is making a healthy recovery in the wake of the pandemic, up nearly 20% to $186.3m (nt$5.6bn) in 2022 as a result of Hollywood tentpoles such as Top Gun: Maverick and Avatar: The Way Of Water. The same cannot be said for local films, as their market share dropped from 24.4% in 2021 to 10.3% last year.
Found-footage horror title Incantation was the only local film to break into the top 10 with $5.7m (nt$171.8m), and no other crossed the nt$100m milestone in 2022.
However, 2023 has started strongly, with local time-travel romance Someday Or One Day taking $4.3m (nt$130m) since its December 30 opening. Based on a hit 2019 drama series of the same name, the film earned an extra $58.7m (rmb400m) in China, and has rolled out in Hong Kong, South Korea and North America.
Taiwanese films were unable to keep up this momentum in the lucrative Chinese New Year period. Local features Scams­giving, Lost In Forest and U Motherbaker: The Movie were overshadowed by Japanese animeThe First Slam Dunk, which has taken $13.3m (nt$400m) since its January 13 release. At time of writing, hopes were pinned on local supernatural comedy Marry My Dead Body, which opened on February 10 for Valentine's Day audiences.
Berlinale
Tomorrow Is A Long Time
Dir. Jow Zhi Wei
Set to premiere in Berlin's Generation 14plus competition, the feature directorial debut of Singapore's Jow is a family drama shot between Singapore's urban jungle and Taiwan's tropical forest. It revolves around a pest-control exterminator and his sensitive teenage son, played respectively by Taiwanese actor/director Leon Dai (Godspeed) and Singaporean newcomer Edward Tan. Singapore's Akanga Film Asia and Taiwan's Volos Films are producing with France's La Fabrica Nocturna Cinéma, Singapore's Potocol and Portugal's Oublaum Filmes. Jow's short films have played in competition at Cannes Cinefondation, San Sebastian and Busan.
Contact: Benjamin Cölle, Pluto Film Distribution Network
EFM
Bad Education
Dir. Kai Ko
This high-school drama about three students sharing secrets on graduation night marks the directorial debut of actor Ko from You're The Apple Of My Eye and Till We Meet Again. It is produced and written by Giddens Ko, the director of those two hit films. The cast includes Berant Zhu (who won best supporting actor at the 2022 Golden Horse Awards for his performance), Kent Tsai and Edison Song. Backers include Machi Xcelsior Studios, which will release the film in Taiwan on March 10, and director Midi Z's Seashore Image Productions. Its international premiere will be in Osaka Asian Film Festival's competition.
Contact: Sanling Chang, Harvest 9 Road Entertainment
Day Off
Dir. Fu Tien-Yu
Best known for 1983's A Flower In The Rainy Night and 1987's Osmanthus Alley, actress Lu Hsiao-Fen returns to the big screen after two decades, playing a hairdresser who embarks on a long journey to cut the hair of a bedridden customer. Her co-stars include Fu Meng-po (Detention) and Annie Chen (Terrorizers). Produced by Wu Nien-Jen (My Egg Boy) and Dennis Wu (Little Big Women), the film will open in Taiwan on March 3 through Bole Film and Vie Vision Pictures before receiving its international premiere in Osaka Asian Film Festival's competition. Director Fu's credits include Somewhere I Have Never Travelled and My Egg Boy.
Contact: Desmond Yang, MandarinVision
Lost In Forest
Dir. Johnny Chiang
Lee Kang Sheng, best known for his roles in Tsai Ming-liang's art films, plays a gangster in this feature directorial debut. His character, released from jail after 12 years, returns to the underworld to avenge a comrade; Chienna Lee and Prince Chiu co-star. The script was nominated for Taiwan's Excellent Screenplay Awards. Having closed Kaohsiung Film Festival in October, Lost In Forest opened in cinemas in mid-January and has earned around $430,000 (nt$12.7m). Chiang directed drama series N Generations.
Contact: Swallow Wings
The Pig, The Snake And The Pigeon
Dir. Wong Ching Po
Ethan Juan (Monga), Ben Yuen (Tracey), Chen Yi-Wen (A Sun) and Gingle Wang (Detention) star in this crime drama that follows an arrogant fugitive who wants to get rid of two fellow criminals and be crowned Taiwan's most-wanted criminal. The film is produced by Lee Lieh (Detention) through An Attitude Production. Hong Kong-born Wong's credits include 2004's Jiang Hu, winner of the best new director prize at the Hong Kong Film Awards, and 2010's Revenge: A Love Story, winner of best director at Moscow International Film Festival.
Contact: June Wu, Distribution Workshop
Pigsy
Dir. Chiu Li-Wei
This futuristic take on the Chinese classic Journey To The West centres on the lazy character of Pigsy, who gets himself and his friends into all kinds of trouble. The 3D-animated action comedy received the top prize from Singapore's ATF Animation Pitch at the Asia TV Forum & Market in 2017 for its creativity and strong export potential. Director Chiu's Tainan-based studio2 Animation Lab and Bruno Felix's Amsterdam-based Submarine co-produce. Chiu has directed TV works including Weather Boy!, The Little Sun and Pigsy Expressas well as Barkley The Cat, based on his animated feature of the same name.
Contact: Grace Chuang, studio2 Animation Lab
Salute
Dir. Yao Hung-I
Produced by Hou Hsiao-Hsien, this semi-autobiographical story combines fiction, documentary and experimental components, and follows Sheu Fang-Yi, former principal dancer of New York's Martha Graham Dance Company. She became the first dancer to receive the best action choreography award when Salutetook the prize at the Golden Horse Awards. DoP/director Yao has worked closely with Hou for more than two decades in almost every department. His directorial debut Reflections received the young audience prize at Nantes' Three Continents Festival in 2005, while Hometown Boy won best documentary at the Golden Horse Awards in 2011.
Contact: Chen Wei, Triple Film House
Untold HerStory
Dir. Zero Chou
Chou's latest film, which received its European premiere at Rotterdam, is a historical drama about a group of female political prisoners who held onto their beliefs while being locked up on Green Island, off the coast of Taiwan, in the 1950s when Taiwan was under martial law. Despite its serious subject matter based on once-taboo historical events, the film earned a respectable $1.3m (nt$38m) at the Taiwanese box office, making it the fourth-highest local film of 2022. Chou has made several documentaries and feature films including Spider Lilies, winner of the Berlinale's Teddy Award in 2007.
Contact: Wang Sin, Activator
Who'll Stop The Rain
Dir. Su I-Hsuan
Set in the early years of post-martial-law Taiwan, this directorial feature debut follows a fine-art freshman who joins a student strike demanding freedom of creative expression, only to find herself in a love triangle with a young man and woman from the movement. The story is based around the true events of Taiwan's longest student strike, which lasted 34 days in 1994. In 2018, director Su's TV feature Where The Sun Don't Shine won three awards at Taiwan's Golden Bell Awards, including best telemovie.
Contact: Hope Marketing Entertainment