Scorned by many critics at its launch, Culinary Cinema has become a respected part of the Berlinale programme.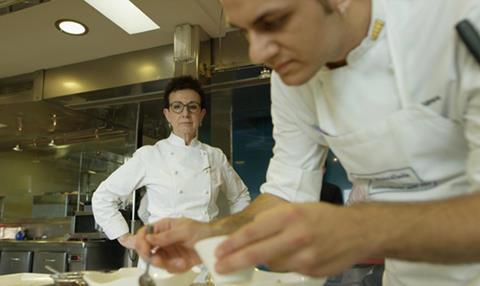 When festival director Dieter Kosslick first launched Berlin's Culinary Cinema strand in 2007 with his colleague Thomas Struck, the response among some critics was bafflement and hostility. "When we announced it at our own programme press conference, I really thought it was not the beginning of the Culinary Cinema, but the end," Kosslick recalls. "Some fancy film critics were really laughing at me, saying, in a way, 'He is really going mad, this guy. He should look for great Competition films, not ones about vegetarian food and how animals are treated.'"
A decade later, Culinary Cinema is a respected part of the official programme. Screenings are sold out, other festivals have imitated the idea, and more and more food-themed films are being produced. Just as the Berlinale now takes food seriously, so does the city. There was a time when you would struggle to find any Michelin-starred restaurants in Berlin. "Now, we are in the centre of the food movement," Kosslick says.
For sales agents, Culinary Cinema can be an excellent marketing tool. Peter Jaeger, CEO of global sales and distribution outfit Jaeger Creative, has had several films in the section over the years, among them El Bulli: Cooking In Progress, Slow Food Story and Mussels In Love. He describes it as "the most important platform" at which to launch a food documentary.
"The fact it is a side section doesn't matter because the whole world is there and you are in [official] selection," Jaeger says. "You will attract all the rights buyers from Magnolia in the US to Cinéart in Benelux, and buyers from Japan to Brazil. You can sell the whole film worldwide within a week."
Culinary Cinema, he adds, can help propel a film towards "a great festival career" because so many festival programmers attend Berlinale.
This year, Culinary Cinema will have four world premieres and several top chefs in town to cook in the Gropius restaurant.
Culinary Cinema encompasses everything from fine-dining documentaries to films about sustainability and stories about the brutality of factory farming. This year's line-up includes Mark Tchelistcheff's André — The Voice Of Wine, about Russian emigre André Tchelistcheff, the so-called 'dean of American winemaking'; José Antonio Blanco and Angel Parra's Spanish documentary Soul, which opens the programme and profiles Basque chef Eneko Atxa; and Monsieur Mayonnaise, where Australian director Trevor Graham accompanies painter and filmmaker Philippe Mora as he researches his family's past.
In Culinary Cinema, the programmers have always tried to balance playfulness with polemic; to celebrate food but also to encourage audiences to question the way it is produced. "We have to do both — eat and drink — and fight," Kosslick says.
The Berlinale director, who used to be a food writer and once co-authored a book on bagels, is passionate not just about food but about the politics behind it.
"Now I know why I am a vegetarian," Kosslick reflects when talking of films that have shown in Berlin, such as Food, Inc (2008), about the harmful effects of mass food production. "Having seen these films, I cannot go back. We have to stop this [meat production], and not just for ecological reasons or because of global warming. We must stop it because people become sick. If you eat meat every day, this is absolutely unhealthy."
Culinary Cinema is not just about film premieres and gala dinners. Kosslick also tries to ensure festivalgoers, whether journalists, industry delegates or the public, can eat well and quickly, which is why the festival started its Street Food initiative. If you don't eat properly during the 10 stressful days spent rushing around a festival like Berlin, Kosslick warns, you risk becoming "sick and depressed".
As for the critics who once mocked Culinary Cinema, they seem to have fallen quiet. "They are not laughing at me now — at least not when I'm in the room," laughs Kosslick.