The 2015 BFI London Film Festival will build upon the momentum of previous years' events to present an eclectic and thought-provoking series of films and panel discussions.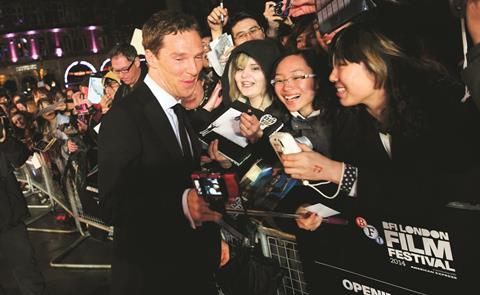 With 240 features and 182 shorts from 71 countries, the 2015 BFI London Film Festival will bring a packed 10-day programme of screenings and events to the capital. Bookended by the European premieres of Sarah
Gavron's Suffragette and Danny Boyle's Steve Jobs, the festival, which runs from October 7 to 18, will have a particular focus on the issues of gender diversity, emerging talent and the future of film, explored through screenings, talks and public and industry-facing events.
In competition
Thirteen features have been selected to play in official competition, among them UK director Terence Davies' Sunset Song starring Agyness Deyn as a Scottish farmer's daughter coming of age in the 1900s. Europe is well-represented, with veteran Polish director Jerzy Skolimowski's multi-stranded thriller 11 Minutes joining Greek film-maker Athina Rachel Tsangari's Aegean Sea drama Chevalier, French director Lucile Had‑ihalilovic's foreboding Evolution and Hungarian helmer Laszlo Nemes' Auschwitz-set Son Of Saul.
From across the pond comes Sean Baker's working-girl drama Tangerine, Cary Fukanaga's adaptation of Uzodinma Iweala's novel Beasts Of No Nation and Lenny Abrahamson's adaptation of Emma Donoghue's best-seller Room, which arrives with its Toronto Audience Award prize in tow. Representing Latin America is Mexican director Jonas Cuaron, whose Gael Garcia Bernal-starring border drama Desierto will receive its European premiere.
Other European premieres playing in competition are Hong Kong film-maker Johnnie To's musical Office and Lebanese director Mir-Jean Bou Chaaya's drug-smuggling comedy Very Big Shot. Thai director Apichatpong Weerasethakul returns to the LFF with the hallucinatory Cemetery Of Splendour and Australian actor-turned-film-maker Simon Stone makes his feature debut with family drama The Daughter.
All will be scrutinised by a multi-national jury headed by Bafta and Oscar-winning Polish director Pawel Pawlikowski, whose Ida won LFF Best Film in 2013. Fellow jury members include Christine Vachon, producer of this year's American Express Gala Carol, actors Chiwetel Ejiofor and Kristin Scott Thomas and film-maker Maggie Cheung, whose Tale Of Three Cities is receiving its European premiere at the festival.
Elsewhere, 12 documentaries will compete for the coveted Grierson Award, including Fear Of 13, UK film-maker David Sington's portrait of death row inmate Nick Yarris. Twelve first-time film-makers will be considered for the Sutherland Award for best debut feature (see box, right), and this year also sees the inaugural Short Film competition. All winning films will be honoured at the official awards ceremony on Saturday October 17.
The programme
As it has been since 2012, the out-of-competition programme is split into 10 distinct strands designed to help audiences navigate the line-up of new films, restorations and classics.
Included in the Love strand are Kent Jones' documentary Hitchcock/Truffaut, which looks at the iconic 1966 book by the latter on the former, and Guillaume Nicloux's Valley Of Love, which reunites French icons Isabelle Huppert and Gerard Depardieu.
One of the hottest prospects of the Debate strand is John Dower's My Scientology Movie, in which Louis Theroux travels to Los Angeles to explore the controversial religion; also screening in this category is a compilation of 21 short films under the banner 'Make More Noise! Suffragettes in Film'.
The features of the Dare strand have all been chosen for their ability to push boundaries — and buttons — and include the digital restoration of Ken Russell's 1970 classic Women In Love alongside new films such as Lukas Valenta Rinner's Parabellum, in which strangers commune at an apocalypse training camp. Also included in this strand are three restored 35mm shorts by puppetry pioneers Stephen and
Timothy Quay, alongside a new short by Christopher Nolan that reveals the inner workings of their studio.
Bao Nguyen's Saturday Night Live documentary Live From New York! is part of the Laugh strand, which also includes Paul Weitz's road-trip comedy Grandma, starring Lily Tomlin as the foul-mouthed matriarch of the title, and the newly rediscovered 1927 Laurel and Hardy classic The Battle Of The Century.
The Thrill strand promises to keep audiences on the edge of their seats, with nerve-shredding features including Roar Uthaug's natural disaster epic The Wave and David Farr's Polanski-esque pregnancy chiller The Ones Below. Elsewhere, the Cult strand houses one of the festival's most controversial films, Hector Hernandez Vicens' The Corpse Of Anna Fritz, in which a group of young men take intimate advantage of the corpse of the titular celebrity.
The Journey strand's features revolve around the theme of the temporal voyage, and includes James Ponsoldt's The End Of The Tour starring Jason Segel as late American writer David Foster Wallace and Jesse Eisenberg as his Rolling Stone profiler David Lipsky. Also screening in this section is 'London Calling', a selection of shorts from some of the capital's most exciting upcoming film-makers.
The music-inspired Sonic strand houses Amy Berg's Janis Joplin documentary Little Girl Blue, while the Family strand's cross-generational features include Tim Clague's UK indie Who Killed Nelson Nutmeg? and Studio Ghibli's When Marnie Was There. Finally, the Experimenta strand includes Tacita Dean's groundbreaking Event For A Stage, and Kevin Jerome Everson's Park Lanes, an eight-hour, real-time look at a bowling alley equipment factory.
New directors
For the first time, Screen will launch its annual Stars of Tomorrow programme (now in its 12th year) at the festival, unveiling the selected writers, directors, producers and actors at a high-profile event.
This is a symbiotic partnership, in line with the festival's dedication to identifying and nurturing emerging UK film-making talent.
A total of 67 international film-makers will have their debut features screened at the festival, 12 of them in competition for the Sutherland Award for best first feature.
Among these is Bafta-winning UK short film-maker Esther May Campbell, whose Light Years is described as a "poignant and poetic eulogy to a lost parent".
Other UK film-makers making their feature debuts at the festival include Andrew Steggall (Departure); William Fairman and Max Gogarty (Chemsex); Chanya Button (Burn Burn Burn); David Farr (The Ones Below); Stephen Fingleton (The Survivalist); James Caddick and James Cronin (Elephant Days); Johanna Schwartz (They Will Have To Kill Us First: Malian Music In Exile); Miranda Pennell (The Host); William English (Heated Gloves); and Tim Clague and Danny Stack (Who Killed Nelson Nutmeg?).
Industry Programme
The festival will again run a series of industry-focused events underscoring the BFI's commitment to the support and development of the UK film industry.
New this year is LFF Connects, a series of talks exploring the future of film and its place within the creative industries. Launching with a conversation between Christopher Nolan and artist Tacita Dean on October 9, it also includes contributions from visual artist Laurie Anderson and virtual reality pioneer Chris Milk.
Power To The Pixel's Cross-Media Forum will return from October 13-16, including a conference of expert talks and Pixel Market's presentation of 35 international cross-platform and interactive projects to financiers and commissioners.
Also returning is the Film London Production Finance Market (October 13-14), hosting more than 800 meetings between international producers and financiers alongside workshops and networking opportunities. The Film London Micro Market will give 25 film-making teams a day of meetings with financiers looking to source sub-£1m projects.
Additionally, the second annual Net.Work@LFF talent development programme will give 15 emerging UK writers, directors and producers the chance to participate in workshops with high-profile festival guests, and Meet The Buyers gives international sales agents the choice to network with UK buyers via a day of speed-dating-esque meetings.
The BFI Diversity Discussion will look at the progress being made by the BFI's 'Three Ticks' initiative, and an Academy of Motion Pictures Arts and Sciences panel event will highlight the organisation's support of the global film-making industry. The festival's international industry focus on China will see co-production workshops alongside a showcase of some of the country's recent successes.
Additional activity includes The Greenlights, a series of informal lunchtime talks with key executives at Picturehouse Central. New partnerships will also be in place with both the Geena Davis Institute for Gender in Media and Screen International, which will launch its 2015 Stars of Tomorrow during the festival (see box above).
For more information visit: www.bfi.org.uk/lff/professional-delegates
Role models
Clare Stewart on gender and why the 2015 festival is dedicated to 'strong women'.
'It feels very important to be having this conversation'
Clare Stewart
In announcing this year's programme, BFI chief executive Amanda Nevill and festival director Clare Stewart proclaimed it to be the year of strong women.
Of the 240 programmed features, 45 are directed by women; that's a little under 20 per cent. As Stewart states, it's a figure that is significantly higher than seen in the commercial sector.
"When you're looking at theatrical distribution, you're talking about something like 11 per cent [of films being directed by women]."
While the BFI has long been committed to increasing diversity within UK film, Stewart felt that the time was right to use the LFF as a platform to highlight the issue of gender.
"We're increasingly hearing prominent actresses talking about the paucity of roles, and we are also hearing much debate about festivals and the number of films they are selecting that are directed by women," she says.
"So it feels very important to be having this conversation front and centre. We are also striving to ensure that our selection accurately reflects, in brushstroke terms, the volume of films submitted that are directed by women."
As well as championing the work of female film-makers, the line-up also showcases a large number of strong female performers and characters, kicking off with Carey Mulligan, Helena Bonham Carter and Meryl Streep in Sarah Gavron's opener Suffragette and taking in the likes of Cate Blanchett - recipient of this year's BFI Fellowship - and Rooney Mara in Todd Haynes' Carol, Kate Winslet in Danny Boyle's Steve Jobs, Saoirse Ronan in Brooklyn and Maggie Smith in The Lady In The Van.
"This is a year where we have a lot of strong roles for women and it felt very important to shine a light on that as a positive example," says Stewart.
This is underscored by the festival's new partnership with the Geena Davis Institute on Gender in Media, an organisation dedicated to bettering the representation of women on screen, which is launching its first international symposium at the festival.
"Part of our evolving partnership has come because of their interest in the BFI's Three Ticks strategy [which dictates that projects must meet certain quotas for the number of female, gay and ethnic minority cast and crew to achieve funding]," says Stewart.
"This is a very important opportunity to bring more attention to the issue of onscreen representation and I'm delighted that storytellers like Deepa Mehta, who directed Beeba Boys, will be involved in the conversation about the importance of strong role models for women and girls."
Other keynote speakers at the symposium will be institute chair Geena Davis, Women in Film and TV chair Elizabeth Karlsen and the BFI's Nevill.
While 2015 may be LFF's year of women, this commitment to gender diversity is something Stewart is determined to continue.
"What we see across our programme mix is that the more you move to truly independent, low-budget film-making the more equity there is in terms of the number of women behind the camera," she says.
"There must be some kind of barrier in terms of women making second and third films of a more ambitious scope and scale. This is a threshold that female directors are not getting across as readily and as easily as male directors. With all the new partnerships and initiatives, our goal is absolutely to see a long and lasting impact."