Celebrating its 20th anniversary, Bucheon International Fantastic Film Festival (July 21-31) has a new festival director and an expanded industry event. Jean Noh reports.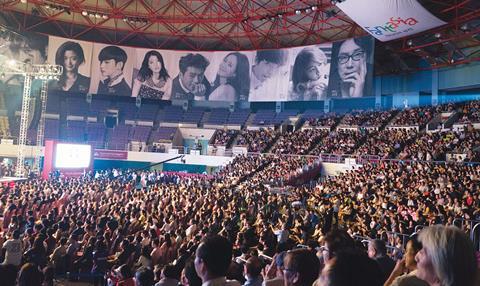 Asia's largest genre film event, Bucheon International Fantastic Film Festival (BIFAN), is celebrating its 20th anniversary this year (July 21-31) with the launch of an expanded industry event and a host of special programmes. This year's main line-up was unavailable at time of writing but BIFAN's selection has ranged from hardcore gore to zombie thrillers to family comedies. Its Network of Asian Fantastic Films (NAFF) was the first event to launch a project market exclusively for genre films in 2008.
A satellite city of South Korea's capital Seoul, Bucheon's festival venues are concentrated in shopping and eating districts, conducive to late nights out. Katherine Lee, Ivanhoe Pictures' head of development and production, Asia, says: "Genre films are strong from Korea and BIFAN not only has films from Korea but from all over the world. For people looking for genre films, NAFF is a bright hub."
This year, BIFAN has a new festival director, Choi Yongbae, a veteran producer whose credits include Bong Joon Ho's The Host and a professor at the School of Film, TV & Multimedia at the Korean National University of Arts.
Choi's revamped team includes producer Ellen Kim, who programmes Europe and the Americas; Alice Yoo, who continues as Asia programmer; and producer/programmer SK Kang and NAFF managing director Thomas Nam, who are handling the launch of the BIFAN Industry Gathering (BIG). Kim programmed for the festival's fifth to eighth editions before walking out in support of then festival director Hong-Joon Kim, whose political firing triggered an industry boycott.
Redressing the balance
"With changes over time, the film industry started coming back to Bucheon, but some still felt the issue was unresolved," says Choi, who was appointed in January and lobbied BIFAN's general assembly to express "regret over wrong-doing" to Hong-Joon Kim. The city's mayor Kim Man-soo also agreed to step down as the festival's ex officio chairman to be replaced by a film industry professional.
Special programmes this year include 'BIFAN (20 Years, 20 Favorites)' for which audience members voted on their all-time favourite BIFAN selections. Screenings include The Kingdom, Save The Green Planet!, Samurai Fiction and Velvet Goldmine.
Other showcases include a Gaumont celebration, a David Bowie tribute with screenings and concerts, a masterclass with Japanese director Nakashima Tetsuya and 'Best of Asia', which will screen the top three domestic box-office hits from 11 Asian countries. "I'm using my producer's mentality," says Choi. "Whether it's about putting together the programming team or selections and events, I've been trying to make the most of the human network I've grown over my lifetime."
BIG (July 22-28), the expanded industry event, will contain four components: NAFF, Made In Asia, Korea Now! and New Media. NAFF (July 25-28) will showcase 16 projects from 11 countries, including a new one from 19-year-old Matsumoto Hana, whose dadadada seventeen won Yubari International Fantastic Film Festival's special jury prize.
Indonesian director Joko Anwar, a BIFAN regular whose Modus Anomali won NAFF's top award in 2011 before world-premiering at SXSW 2012, says: "NAFF was very important because we got feedback from people who love genre films. Every time I go to Bucheon, I get inspired."
NAFF will also hold a Project Spotlight on Malaysia and the 2nd Nordic Genre Invasion project exchange. Companies due to attend include Ivanhoe Pictures, Huayi Brothers, Blumhouse Productions, Edko Films, Fortissimo Films, ICM Partners, CJ and Showbox.
Made In Asia (July 22-24) will host exchanges on box-office trends and hit-making know-how. Korea Now! (July 22-29) will include a script contest, casting board and sci-fi forum, while New Media will include a VR showcase.
"This launch is to commemorate the 20th edition but I'm hoping we will see the fruits of it coming together in about 10 years' time," says Choi.
BIFAN Dos & Dont's
DO get ready for the mental assault from BIFAN's fantastic films mixed with some very late nights. Take vitamins, drink plenty of water, eat in moderation and get as much sleep as you can before arriving.
DON'T miss the chance to belt out a few tunes at the NAFF Karaoke Night (July 27).
DO prepare for rain, scorching sun and lots of Korean barbecue.
DON'T think that because everybody was out partying the night before they won't show up to their morning meetings.
DO try the sponsored hangover cures offered at parties — festival regulars swear by them.