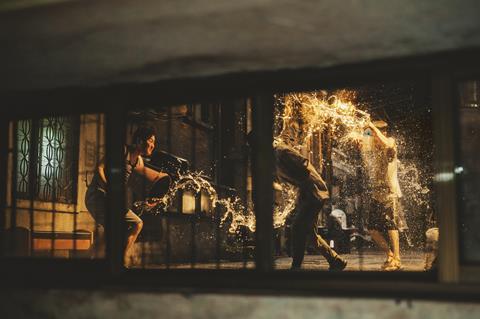 Bong Joon Ho triumphantly returned to Cannes Competition with Parasite, winning the Palme d'Or for his first Korean-language film since Mother, which debuted in Un Certain Regard in 2009.
The retrospective of the director's work is one of the highlights at this year's Munich Film Festival.
His two English-language films, Snowpiercer (2013) and Netflix title Okja (2017), expanded global recognition of the director's thrillers with their subversive social commentary and black comedy.
In Parasite, Song Kang Ho stars as the head of a family in financial straits. When his son, played by Choi Woo Shik, is introduced to the Parks, a wealthy family headed by Lee Sun Kyun and Cho Yeo Jeong, the two families become entangled, leading to a series of violent mishaps.
"It deals with polarisation — a universal issue," says the director, who is making a plea to critics not to reveal the story's secrets. "Even if you don't have a villain, bad things can happen. That's why it's an unpredictable tragicomedy."
A fan of stage drama, Bong's Memories Of Murder (2003), which he directed, and Haemoo (2014), which he produced, were both based on plays. He was originally thinking of directing a play himself when he came up with the idea for Parasite, which takes place mainly in the confines of the two families' homes.
While Bong was off making Okja and Snowpiercer, the Korean film industry implemented improved labour regulations to reflect a 52-hour working week, which he says was easy to adjust to after working with Hollywood guilds and unions. "I came back with a lot of good training. I had more than 100 shooting days for films like Memories Of Murder and The Host, but I erased all those memories and made Parasite in a calm 77," says Bong, who puts the film's budget at roughly $11m (kw13bn).
Produced by Barunson E&A and backed by CJ Entertainment, the film pre-sold to territories including North America (Neon), French-speaking territories (The Jokers Films) and Japan (Bitters End). Bong describes the production as a smooth ride, working with companies who had been previous partners, as well as reteaming with cast and crew including cinematographer Hong Kyung Pyo and art director Lee Ha Jun.
The one glitch was the record-breaking heatwave of 2018 (the shoot lasted from May to September). "The film was shot around Seoul and in Jeonju for the rich family's house, about which I talked a lot with the art director," he says. "There's a scene where Lee Sun Kyun was [inside] talking and the kid was outside playing, which we could see through the window. He had to stay out in the scorching sun, and it seemed too dangerous. So we shot the window with a blue screen and later in early September, after the heat had passed a bit, we shot the outdoor scene and put them together. The CGI cost a little bit more but [it was worth it] to protect the child."
Bong's concern for his young actors goes back to The Host, when he directed Koh A-sung being pulled through the Han River in a simulation of her character being dragged away by the titular monster. Putting the young actress through this ordeal made him think: "Live-action filmmaking is a sin."
But he learned a lot shooting Snowpiercer in Europe and working with the Screen Actors Guild's detailed regulations to protect child actors. "I liked those regulations so when we shot Parasite, I tried to do the same for the children," he says. "We had a lot of night scenes, but Song Kong Ho and the other grown-up actors all co-operated so that we could shoot with a priority on the children going to bed quickly."
Streaming debate
Two years ago, Bong had to run the gauntlet of Netflix-Cannes controversy when Okja and Noah Baumbach's The Meyerowitz Stories were selected to Competition, leading the festival to announce a subsequent ban on Netflix films vying for the Palme d'Or following intense pressure from French theatre owners.
"I hope they figure it out themselves and get along together. In any case, there will have to be co-existence between theatres and streaming," says Bong, adding he is open to working with anyone who respects his creative freedom.
Looking to leave behind the Netflix debate on his latest visit to Cannes, the director also hopes Parasite will become a vantage point for him to start thinking about his second decade in filmmaking.